Rillettes recipe from the duck
This is the first post of a new one culinary series about Regional cuisines in the worldthat we worked with Azlin Bloor from LinsFood start. In it we will introduce you to regional recipes that we brought back from our travels. Azlin is a cook and will show you in her videos how to cook these dishes. We start with a recipe for a dish I've been dreaming of for years: Rillettes de Canard or "Potted Duck" as it is called in English. I did this for the first time many years ago in a hotel in Quebec City eaten. It was served there every morning for breakfast. This delicious duck dish sweetened my Québec stays every morning.
Rillettes is actually one french Specialty. In the capital of the French-Canadian province, they are served with pleasure. You often cook there according to traditional French recipes. This dish was also easy to prepare for the French settlers in the country. Poultry abounds in the province's lakes. The French settlers already used ducks and geese as ingredients for their main meals. Even one of the earliest colonists, Samuel de Champlain, kept his companions happy with good food. Be Order Bon Temps was a kind of culinary men's club, in which every member had to cook a feast with the game that had been shot. Champlain made sure that his men survived the first winter in Canada. With good food and high spirits. Rillettes de Canard certainly played a role in this.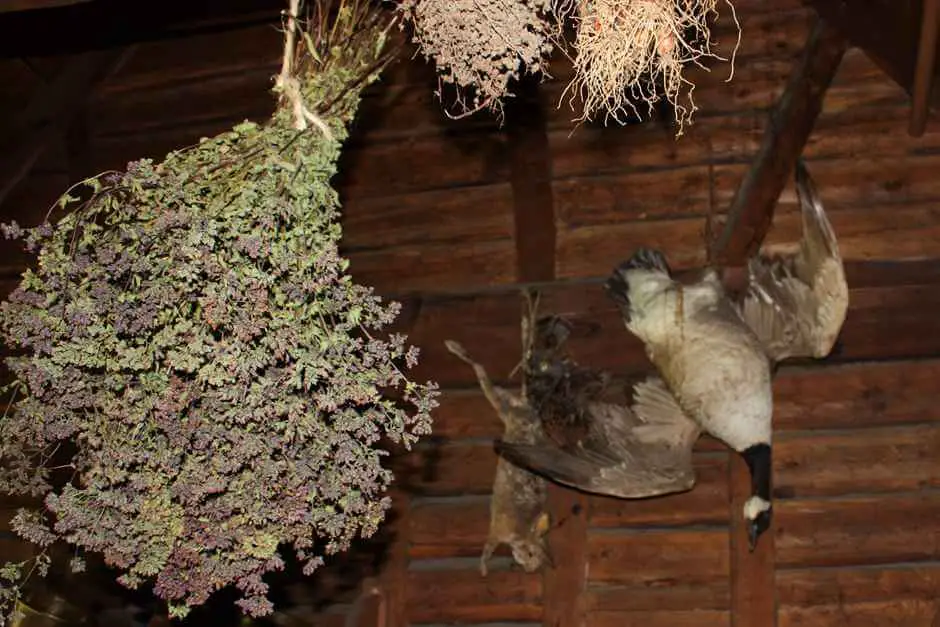 Where did the recipe come from?
This meat paste was originally made in France. The type of meat can vary. They come with pork, goose or duck. Even rabbit meat is used for it. The canned meat dish is now also known in England. In Germany there is a regional specialty that reminds us of this. In the Harz, however, lard is prepared with more herbs and spices than in France. There it is known under the name "Pottsuse".
The meat is cooked in its own fat at a low level until it breaks down easily. This can take three to four hours. Then the meat is chopped up. It gets its flavor from herbs, alcohol as desired and the meat's own fat, which ensures the durability of the dish. Place the meat paste in a glass or container and cover it generously with the boiled fat. This will make it last longer.
You can also prepare the Rillettes recipe with fish. But I haven't tried it yet.
How do you eat rillettes?
The canned meat can be kept refrigerated for up to a week. But with us it rarely lasts that long. I like to do it for starters on special occasions. This year we're serving rillettes on Christmas Eve. With white bread they are also a good starter for the meal Christmas dinner. You can also take rillettes with you to a picnic. Add bread and the snack is ready. It tastes best on a simple baguette. The taste of the meat should play the main role. Then its taste comes into its own.
Here I present you a recipe from Azlin Bloor from LinsFood before that is easy to boil. From Lin's YouTube channelI can highly recommend the video to anyone interested in the world's kitchens. This shows how to cook the dish.
Ingredients for one serving
Two duck legs
Two heaping tablespoons of duck fat
250 ml dry white wine (optional)
Three cloves of garlic
Three sprigs of thyme
Two sprigs of rosemary
A teaspoon of black peppercorns
A teaspoon of salt
For the marinade:
Two cloves of garlic
A sprig of rosemary
Two sprigs of fresh thyme
A heaping tablespoon of salt
A tablespoon of calvados
For crushing and potting:
Two tablespoons of calvados or brandy (optional)
A teaspoon of salt
Freshly ground black pepper
Preparation of duck rillettes
Marinate the duck legs overnight
Crush garlic, thyme, rosemary and salt in a mortar until a coarse paste forms. Stir in the calvados.
Rub the paste over the duck legs and into all folds and under the skin where possible.
Put them in a container, cover with cling film and put in the fridge overnight.
Cooking the duck legs
Wash the duck legs well and dry them.
Heat the duck fat in a flat pan over medium heat.
Fry the duck legs on both sides, about two minutes each.
Add the white wine. The duck fat will splash, so be careful! Then add enough water, until the duck legs are completely covered with liquid. The skin side must face upwards.
Add garlic, thyme, rosemary, peppercorns and salt and bring to a boil.
Then turn the heat back on and let the meat simmer for three to four hours. In the end, the meat must be very fine and easily detached from the bone.
When it's done, take the meat off the heat and let it cool covered.
Chopping and potting
When the meat is cool enough, separate it from the bones. Remove the skin, tendons and ligaments.
Put the meat in a bowl and chop it with two forks. Add cooking liquid and fat, that provide the taste. Add the calvados and plenty of salt and pepper.
Then you fill the meat in glasses. Skim the fat off the cooking liquid and spread it over the meat, so that it is completely covered.
Seal the jars with aluminum foil or a screw cap and refrigerate them for at least 24 hours to a week before you eat the duck rillettes.
In Lin's video you can see how easy it is to prepare.
We wish you good appetite.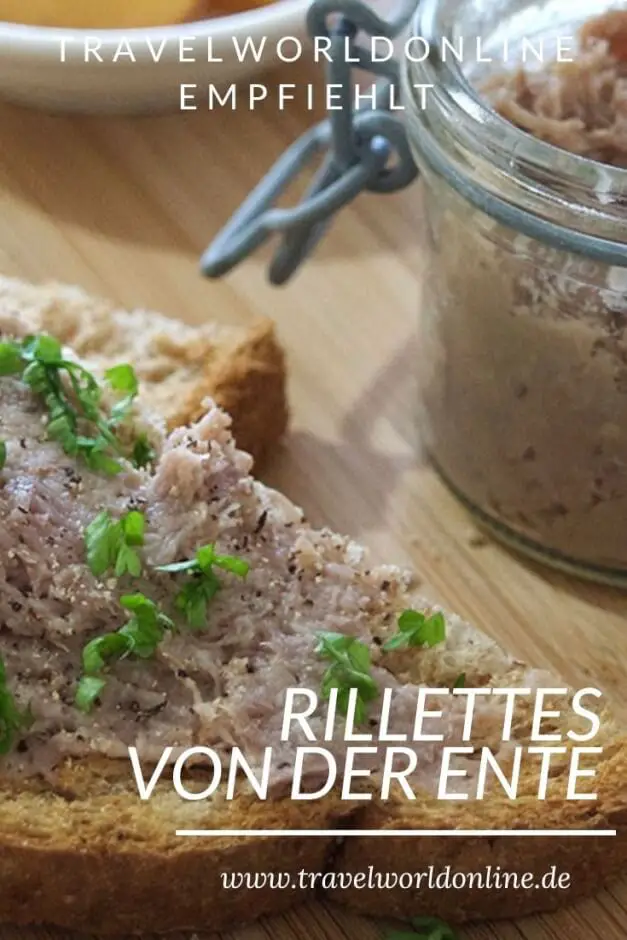 Do you already know:
Source Rillettes de Canard: Research and Rillettes recipe from Azlin Bloor by LinsFood
Text: © Copyright Monika Fuchs, TravelWorldOnline
Photos © Copyright Monika Fuchs, TravelWorldOnline and Azlin Bloor
Rillettes Recipe and Memories of Canada