Hotels in Fort Lauderdale on the beach
First, we will introduce you to the Fort Lauderdale hotels on the beach where we stayed during our trip. First of all: there are only a few hotels in Fort Lauderdale on the beach. Most are separated from the beach by Highway A1A. While that doesn't mean a lot of walking, car traffic passes by many of the beachfront hotels in Ft. Lauderdale right between Beach and hotel entrance. So we're glad that our first hotel - the Sun Tower Hotel & Suites - is right on the beach. In the morning we wake up to the first rays of sunshine that tickle our noses through the window. We enjoy our morning hours with the unobstructed view out to sea. We watch the cruise ships and deep-sea tankers sailing past in the distance on their way to the port of Port Everglades.
Two beachfront hotels in Fort Lauderdale that we tested
The Sun Tower Hotel & Suites is located in north Fort Lauderdale on the ocean side of Highway A1A. A little south of there is Hugh Taylor Birch State Park. Hotel guests have direct access to the mile-long sandy beach via the steps below the hotel. In the evening, the sound of the waves in front of the windows and balcony doors of our room is the only sound that lulls us to sleep.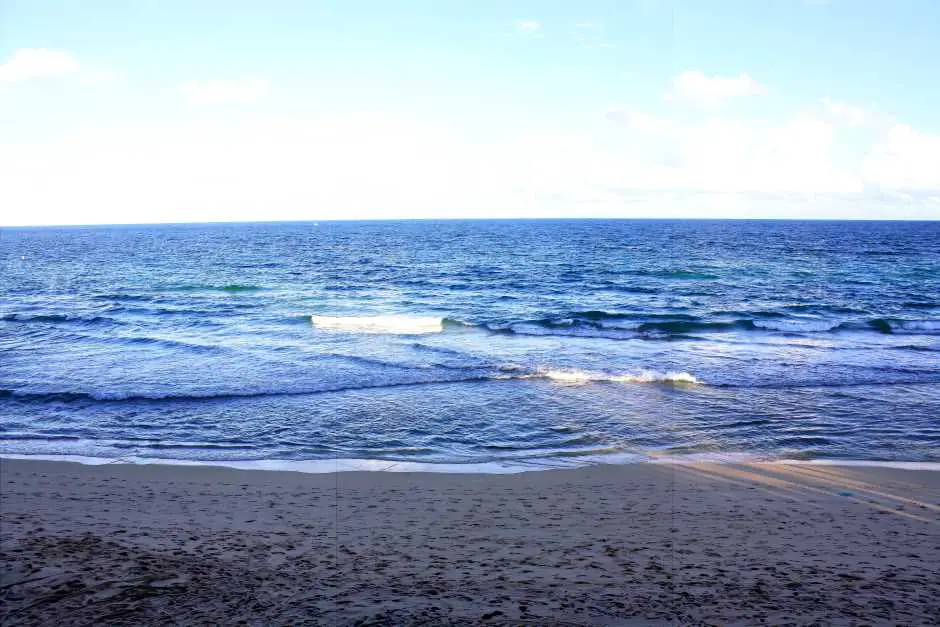 Rooms at the Sun Tower Hotel & Suites
Our room has a window and balcony front that runs almost the entire width of the room facing the sea. It allows us an unobstructed view of the sea. Wonderful when a swim at the beach is all you want as a guest. The room amenities provide everything we need for a comfortable stay on the Fort Lauderdale beach.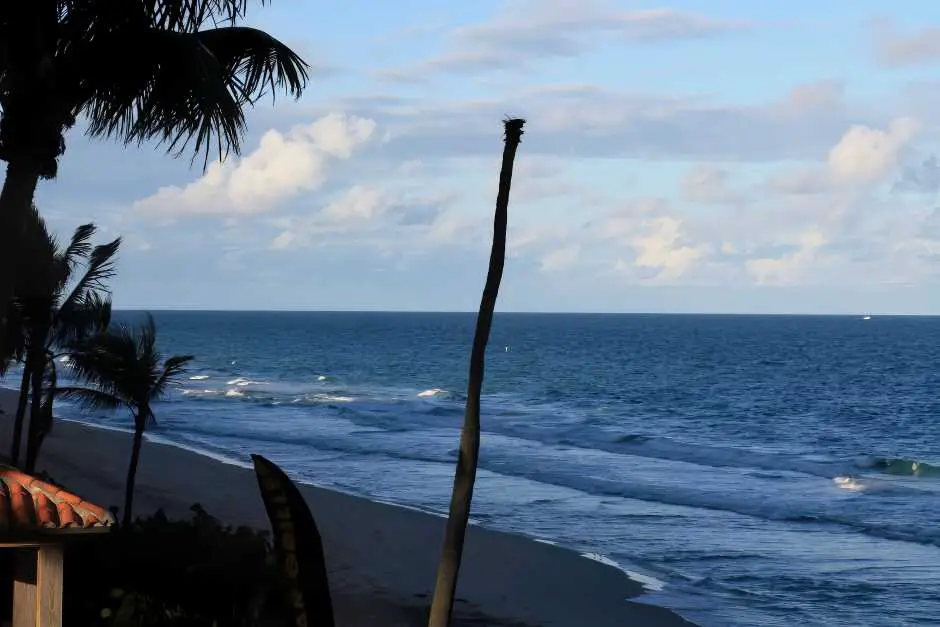 Restaurant and pool
For swimming, we recommend bathing in the Atlantic. There is a pool but it is rather small and is located on the street side. That's why you prefer to swim directly in the sea, which is also right next to the hotel. However, the restaurant did not convince us. For a breakfast with a view of the sea, however, it is sufficient. And alternatives for fine dining during the day are plentiful in Fort Lauderdale.
The second hotel during our stay was just south of Fort Lauderdale, also on the beach. Unlike most beachfront hotels in Fort Lauderdale, this one has direct beach access. Diplomat Beach Resort & Spa is located in Hollywood Florida. It offers the amenities of a luxury hotel. The valet service takes the car from us and parks it. The concierge gets our bags to the room faster than we can do it ourselves. Our elegantly furnished room leaves nothing to be desired. We can really feel at home here, I think after the first impression. Our room is on the 28th floor with unobstructed views of the Atlantic. From the balcony we look at the elegant pool landscape below us. Here we enjoy the fresh Atlantic wind and the wonderful view of the sea.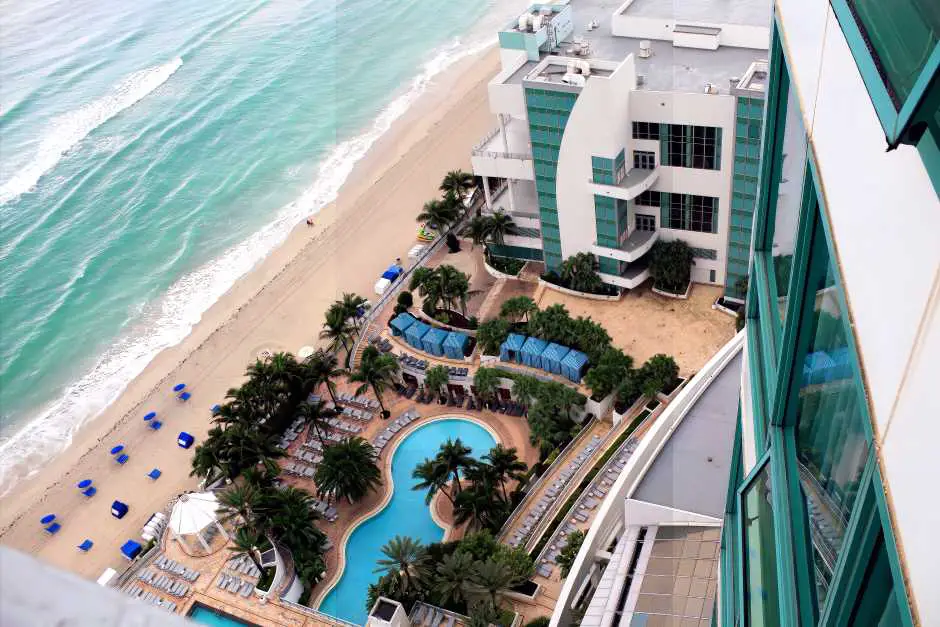 Pool area at the Diplomat Beach Resort
Who wants to swim has a choice of pools for beginners and experts. And if you want your privacy, simply rent a beach cabana with perfect service. Iced tea, soda or water are included, along with cable television, an umbrella and a private sitting area. Elegant, relaxed and just how we expect our beach vacation in Florida to be.
Dining at Diplomat Beach Resort
When it comes to food, there are choices. There is a coffee shop on the ground floor where we can get warmed up pizzas, wraps or similar snacks. There is also a buffet restaurant with a delicious breakfast buffet. You can also dine a la carte there. At higher prices, which, however, are quite appropriate for what is on offer. Dinner is not served in the restaurant. However the prices are high! The only thing that bothers us about this hotel is that we really have to pay extra for anything and everything that we use. It doesn't matter whether we use the telephone, want Internet access, have our car parked, have our suitcases fetched or have other special requests - everything costs money, and not a little. This adds up to quite a bit of money at the end.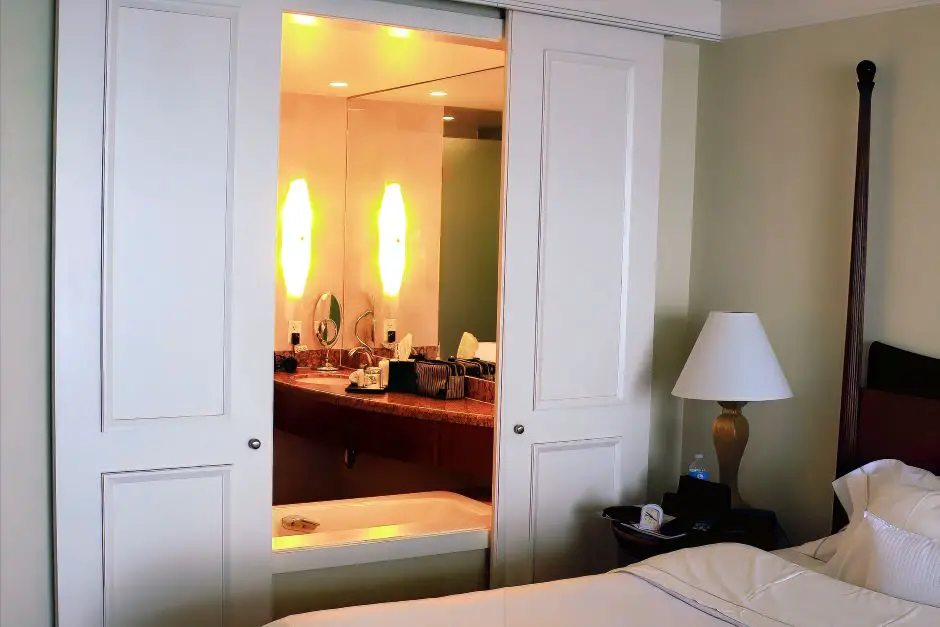 Service at the Diplomat Beach Resort & Spa - one of the Fort Lauderdale Beach Hotels
In addition, the service in this hotel is strictly organized, also due to its size. Everything is regulated and thought out. When I call reception for information about the area, I am addressed by my name - but that of the lady who occupied our room before us. Even after I pointed this out to the lady at reception, nothing changes. We simply get baptized during our stay at this hotel. This is certainly not as personal as the hotel management probably would like it to be. Nonetheless, the Diplomat Beach Resort & Spa is a hotel that we remember well for its luxurious standards.
More top hotels in Fort Lauderdale on the beach
The following Fort Lauderdale hotels may be on the beach. However, Highway A1A runs between the beach and the hotel.
Location and view: Located right on the beach, it offers spectacular ocean views.
Special features Restaurant, free bikes, fitness center, bar.
User Ratings and Prices: 9/10, praised as the perfect family hotel.
Location and view: In the Lauderdale By-the-Sea neighborhood, right on the beach.
Special features Outdoor pool, garden view, grab and go breakfast.
User Ratings and Prices: 9.1/10, praised for the beautiful location and large bathroom.
Location and view: Right on the beach, with 5 star accommodation.
Special features Free bikes, outdoor pool, terrace, excellent service.
User Ratings and Prices: Positive reviews for the pool area and staff.
You can find more good beach hotels in Fort Lauderdale at this site*.
These hotels offer a mix of luxury, comfort and breathtaking views. User ratings reflect guest satisfaction, and prices may vary depending on the season and availability. You can click the links to see more details and make your booking.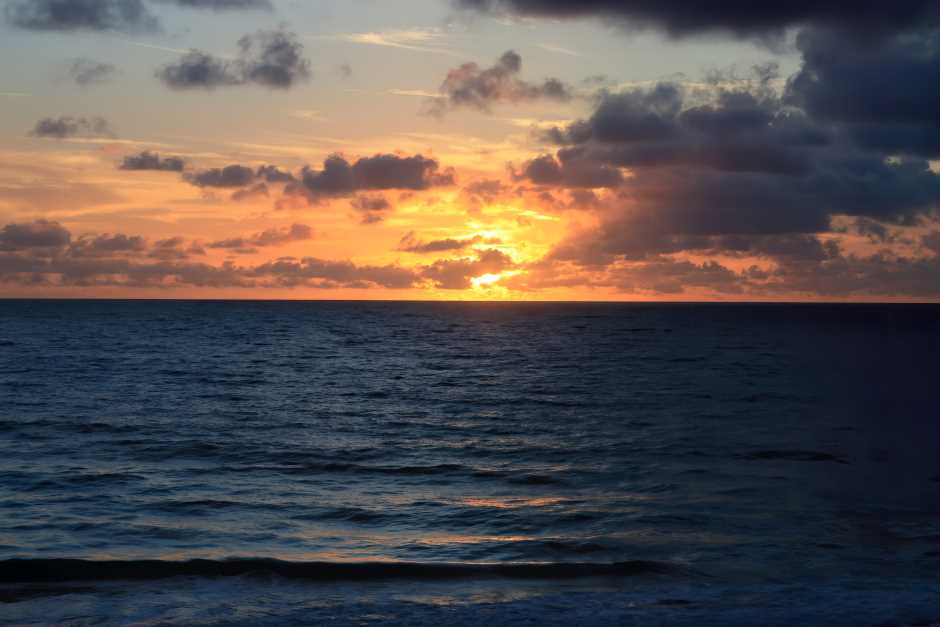 Activities and sights near the beach hotels
If you stay in one of the beach hotels, there are many activities and sights to explore.
Water sport possibilities:
Fort Lauderdale's clear waters are perfect for water sports. You can surf, dive or snorkel. If you like it quieter, try stand-up paddling. For fishing enthusiasts, there are also fishing charters that will take you out to sea.
Cultural attractions:
The city also offers a rich culture. Visit the Museum of Discovery and Science. Or stroll through the Stranahan House historic district. For example, the Broward Center for the Performing Arts regularly hosts theater performances and concerts. More Fort Lauderdale attractions can be found in this article.
Shopping and restaurants:
For shopping fans there is the Las Olas Boulevard. But there are even more exciting shopping opportunities in Fort Lauderdale and the surrounding area. Here you will find boutiques, galleries and souvenir shops. After shopping you can go to one of the many restaurants for food. From fresh seafood to international cuisine, there's plenty to choose from.
Fort Lauderdale offers a variety of activities. Whether you're a sports fan or a lover of culture, there's something for everyone. The beach hotels are the perfect starting point to explore all these attractions.
Travel tips and best time to visit Fort Lauderdale
Here are some tips to make your trip perfect:
Weather and climate:
Fort Lauderdale has a tropical rainy climate. Summers are warm and humid. The winters are mild. The best travel time is from November to April. Then the temperatures are pleasant and it rains less. We were there in January and really enjoyed our stay.
Events and festivals:
The city is known for its lively cultural scene. The annual Fort Lauderdale International Film Festival takes place in March. In October, the Las Olas Art Fair attracts art lovers. Be sure to check the events calendar so you don't miss anything.
Tips for getting there:
Fort Lauderdale-Hollywood International Airport is easily accessible. You can book a direct flight or fly via Miami*. There are also numerous transport options from the airport to the city. Rental cars, taxis and shuttles are available.
Booking options and filter options for Fort Lauderdale beach hotels
Booking your next vacation to Fort Lauderdale should be as easy and enjoyable as possible. Here are some tips to help you choose the perfect hotel:
Explanation of the filter options: Online booking sites offer many filter options to make your search easier. For example, you can sort by price to stay within your budget. The availability also shows you which hotels are free on your travel date. Other filters such as star rating, location or facilities also help you to find the right hotel.
Link to trusted booking sites: There are many booking sites out there, but it is important to choose trusted ones. pages like Booking.com* or Kayak* are known and safe. They also provide detailed information and customer reviews.
Note on special offers and discounts: Many booking sites offer special offers and discounts. Look for icons or banners that indicate them. Early bird discounts or last-minute deals can save you money. Be sure to sign up for the newsletter to be informed about current offers.
In summary, filter options make your hotel search easier. Trusted booking sites offer security. Special offers and discounts help you save money. Use these tips to find and book the perfect hotel in Fort Lauderdale
Conclusion on the Fort Lauderdale hotels on the beach:
Fort Lauderdale is a popular travel destination known for its beautiful beaches. The beach hotels that we have featured offer a wide range of amenities. From luxury resorts to family-friendly accommodation, there's something for everyone.
The water sports possibilities, cultural attractions as well as the shopping possibilities will make your stay even more pleasant. The best time to travel is from November to April when the weather is mild. Events and festivals provide entertainment throughout the year.
When booking your hotel, you can use filter options to find the perfect hotel. Trusted booking sites like Booking.com and Kayak provide peace of mind. Watch out for special offers and discounts to save money.
If this is your first time traveling to Fort Lauderdale, I recommend choosing a hotel near the beach. So you can enjoy the sea to the fullest. The featured hotels are all well rated and offer different price ranges.
Your dream vacation in Fort Lauderdale awaits. The city offers fun, relaxation and culture. The beach hotels are the perfect starting point to explore everything. Book now* and enjoy your vacation at one of the best beach hotels in Fort Lauderdale!
Travel Arrangements
Parking at the airport
Here you can reserve your parking space at the airport.
Excursions and tours
Excursions and Tours in and around Fort Lauderdale * is available at Get Your Guide, for example
Travel guide for Florida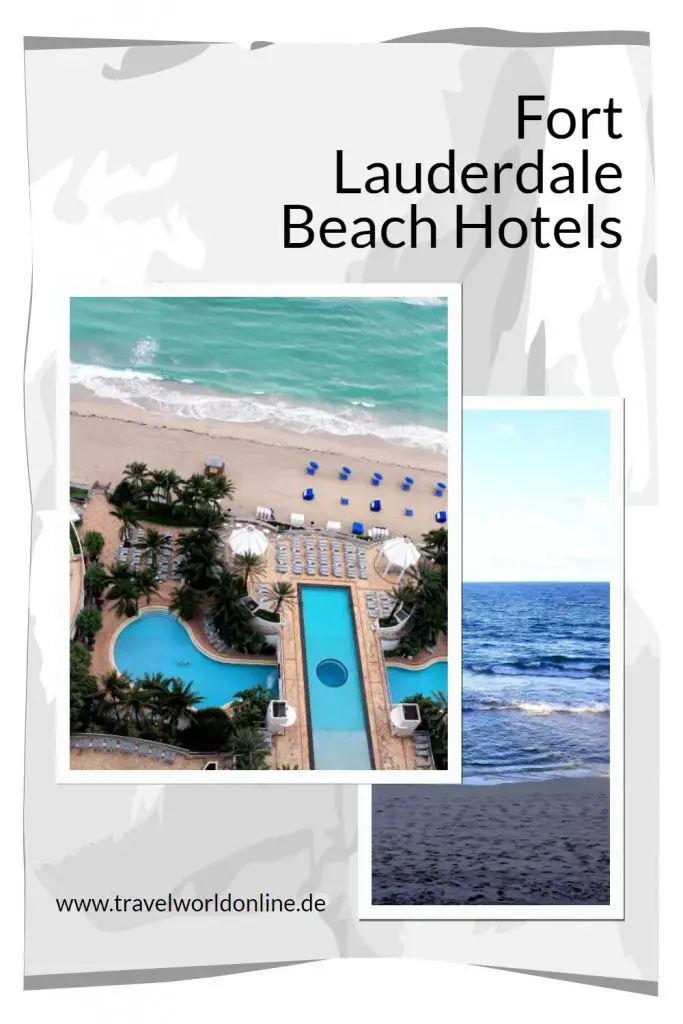 Do you also know:
Source: On-site research with trip support from The Greater Fort Lauderdale Convention and Visitors Bureau. However, our opinion remains our own.
Text: © Copyright Monika Fuchs and TravelWorldOnline
Photos: © Copyright Monika Fuchs and TravelWorldOnline
Hotels in Fort Lauderdale on the beach