I first came across the potjiekos recipe from South Africa on my early travels through Africa. Potjiekos are simple stew dishes. This food goes back to the Voortrekkers, who traveled through the country with their heavy ox carts. In it they lived, slept and ate. They carried everything they needed for life. They didn't have much space for kitchen equipment in their covered wagons. Instead they took one Dutch Oven with, in which they easily open their recipes over the Campfire could prepare. Recipes like this are still good for today Cooking in the camper.
Potjiekos is a Voortrekker recipe
The term potjiekos comes from Afrikaans, the language of the immigrants from Holland. It means nothing other than "the food from the pot". There is no fixed one-pot recipe for this. Because the trekkers rarely had more than flour, rice and legumes with them on their great trek into the interior of South Africa. Usually they used game that they killed during their journey. There was also rice or legumes such as beans or peas. They dried them and took them away in sacks. Fresh vegetables were rare. If so, then it consisted of fruits that they found along the way. They put the ingredients in a cast-iron pot that they placed above the Campfire hung on a tripod.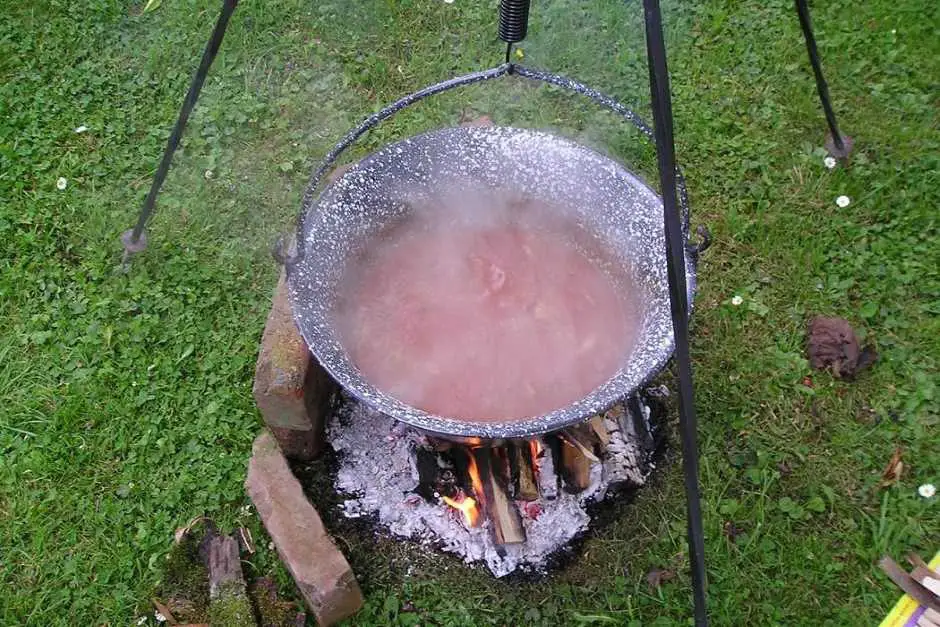 The recipes of the Boers are stews, which were usually ready quickly. When cooking potjiekos, it's important to place the ingredients in the pot so that the ones that take the longest go in the pot first. Then add the other ingredients over time until they are all cooked through.
On the travels of the Boers, cooking stew recipes also spread among the black African tribes of South Africa. I always noticed the big pots at the roadside markets we saw. Chunks of meat and vegetables were usually stewed in them.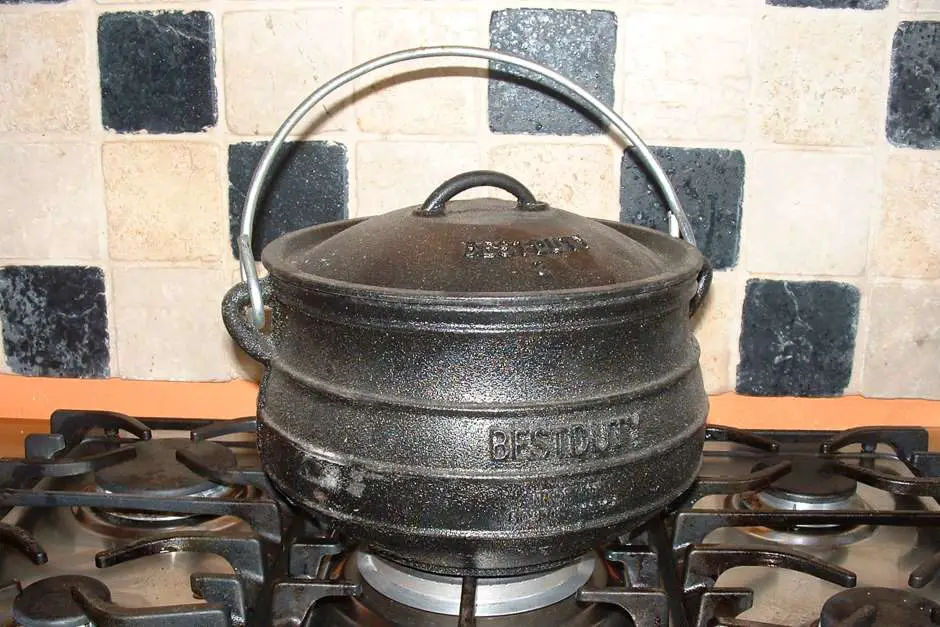 Such a stew is made when meeting friends
Potjiekos are still popular today at festivals in South Africa. Being invited to a potjiekos always means going to a party. Then the guests gather around the pot in which the recipe is simmering. That's how I got to know it. During my travels as a tour guide around South Africa, I made friends with local people. I often called her on the way to announce my arrival. Then I knew that there would soon be one of the stews.
Most of the time the pot was already hanging over the fire and the recipe of the day had been simmering for some time. I can still remember well that I often didn't know exactly where the party should take place. However, it was never difficult to find my friends. All I had to do was follow the smells that lured me to the beach. Unlike the Voortrekkers, however, they always used a lot of vegetables for their potjiekos. Potatoes, carrots, beans, peas, and large chunks of meat—lamb, beef, or venison—mingled into a delicious stew. There was a lot to talk about while we waited for it to cook. With a glass Wine from South Africa the wait wasn't difficult. After that the food tasted even better.
One of my favorite potje recipes for potjiekos
Ingredients for potjiekos with beef
2 Esslöffel Öl
1.5 kg of beef
three onions
a pound of carrots
a pound of potatoes
1 tablespoon sugar
2 teaspoons curry powder
1 teaspoon ground turmeric
120 milliliters of milk
Salt to taste
black pepper
Preparation
Cut the beef into bite-sized pieces and season with salt and pepper. We fry these pieces of meat in oil. Then we take them out of the pot and set them aside.
Now we cut the onions into rough cubes. We fry them in the drippings until translucent. Then we add the meat back in and pour enough water over it to cover everything. Then we cover the potjie and let it simmer for about an hour.
Meanwhile we peel the potatoes. Along with the carrots, we cut them into bite-sized pieces. We then add this to the meat and onion mixture for about half an hour.
After that we mix milk with sugar, curry and turmeric. We add this sauce to our stew. After a quarter of an hour we gently stir the whole thing. If the dish is too dry, you can add some water.
Let the dish simmer for another 15 minutes and then serve.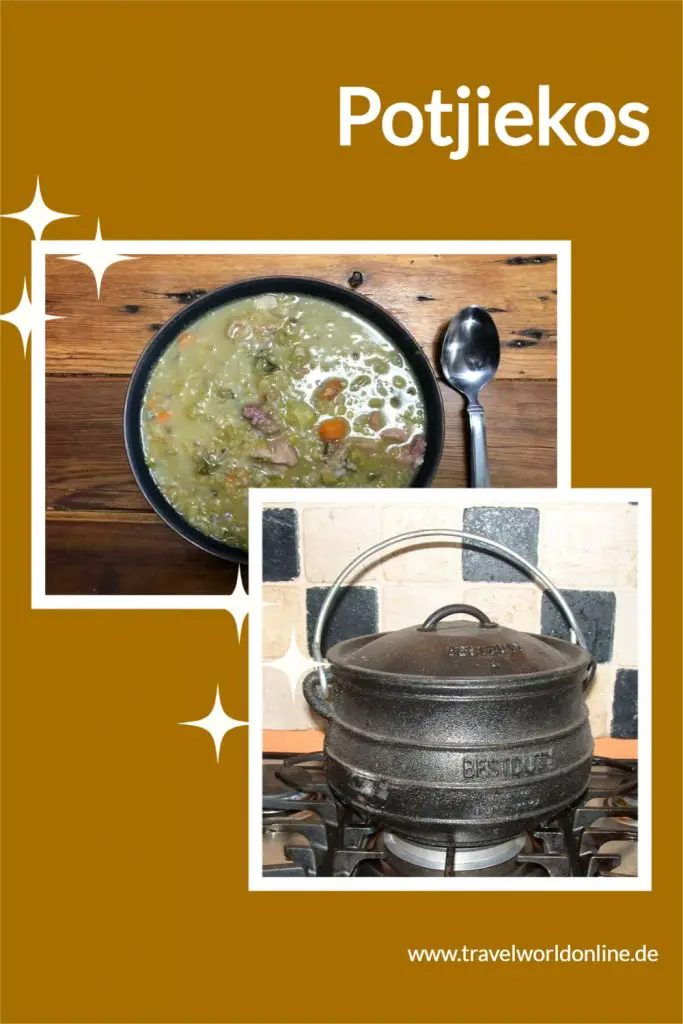 Do you already know:
Source recipe from South Africa - Potjiekos: own research.
Text Recipe from South Africa – Potjiekos: © Copyright Monika Fuchs, TravelWorldOnline
Photos Recipe from South Africa – Potjiekos : © Copyright Canva Pro, Flickr and Wikimedia (public domain and as indicated in the caption)
Recipe from South Africa – Potjiekos