Ljubljana - the capital of Slovenia
We visited three Ljubljana sights on a flying visit during our trip through Slovenia got to know. That is by far not all Ljubljana has to offer in terms of attractions. But our tour showed us that the city has a lot to offer. We were in town for a couple of hours in September. We used this for a walk through the old town. However, there was not enough time to really get to know Ljubljana. A longer visit is definitely worth it. ten Places to visit in Ljubljana should, introduces Travel Notes & Beyond (in English).
Three sights in Ljubljana for a short visit
in the short time we therefore limited ourselves to the old town of Ljubljana. We start our tour on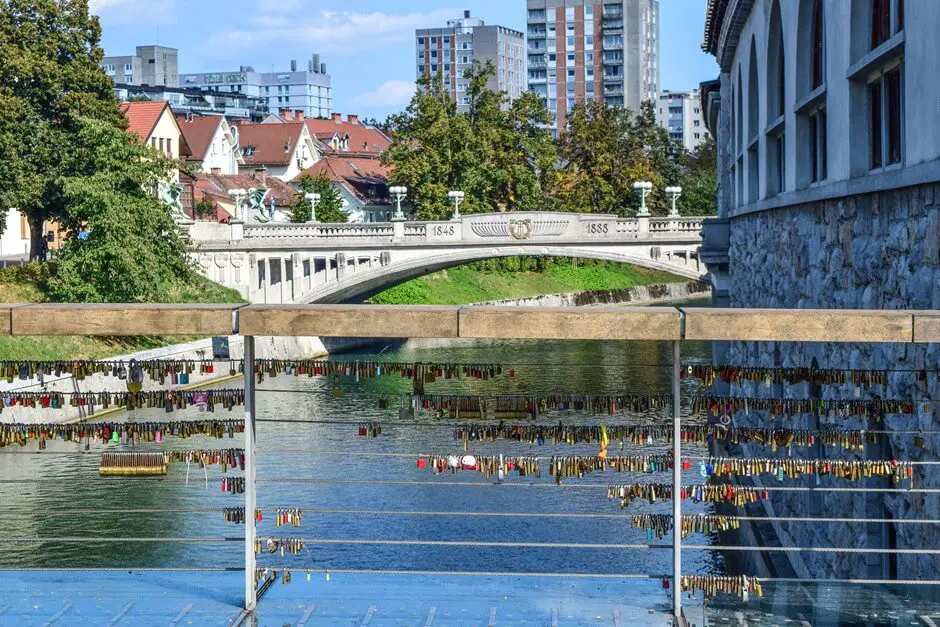 Central Market of Ljubljana
The market consists of two parts. Farmers sell their products at the outdoor market in the squares Vodnikov trg and Pogačarnev trg. In addition, there are also the Plečnik's market halls. There is meat, wood oven bread, baked goods, cheese, dried fruit, pumpkin seed oil and other food products. Every Wednesday an organic market takes place on Pogačarjev trg square. Then products of surrounding farms are sold there. Occasionally, there are also culinary events.
Colorful fruit stalls with crunchy vegetables are just as enjoyable as the fresh fruit from the surrounding farms. An ice cream seller smoothes his ice on a metal surface, before handing it over to the customer in a waffle. Our time does not allow us to stroll through the market halls. Instead, we cross the Mesarski Most Bridge, where lovers swore eternal love with love locks. From there we watch a group of standup paddlers on the river Ljubljanica.
We follow the waterfront, where one Restaurant and Café next to the other is waiting on customers. Numerous guests meet friends in the shade of trees. Others take a break from shopping at the market. We save this for later. For now, we continue our walk on Trubarjeva cesta street. It brings us to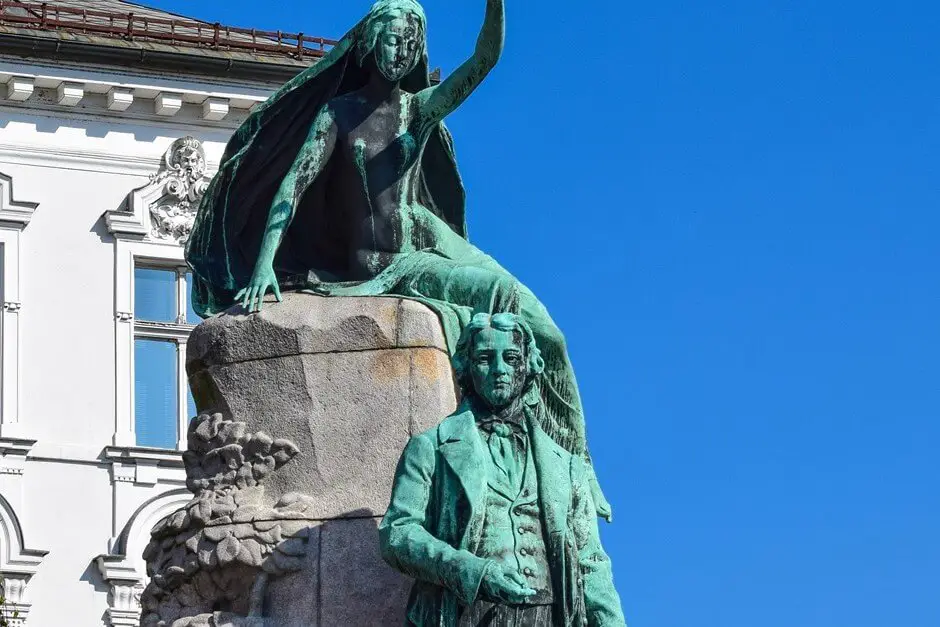 Spomenik Franceta Prešerna
Slovenia's national poet watches over this place France Prešeren. From there he looks out over three bridges. These cross the river towards the old town. On the other side, Galerija Emporium towers over the intersection. The Art Nouveau building of this shop is well worth seeing. Art Nouveau can often be found in Ljubljana. Opposite is the Church of the Annunciation. Their red color is typical of Franciscan churches. It has been a cultural monument since 2008.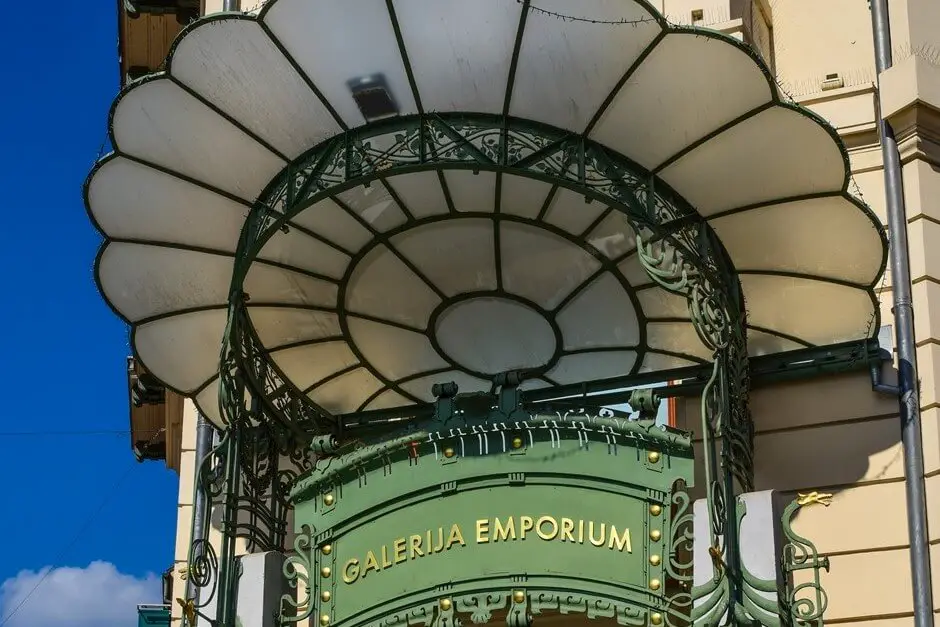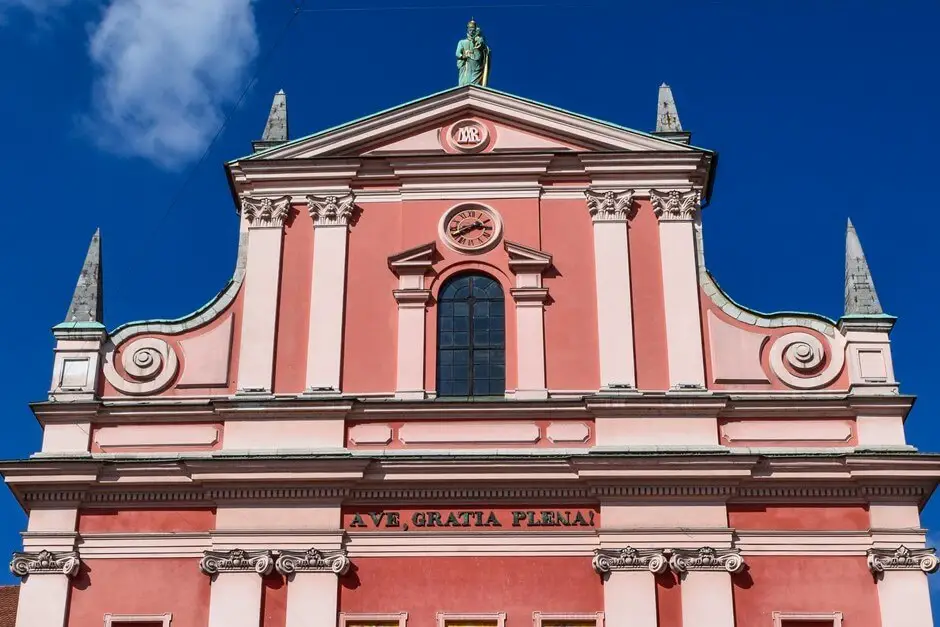 Our walk leads us past Congress Square to the Shoemaker's Bridge. We cross Šuštarski most, as the bridge is called in Slovenian. On the other side of the river we reach the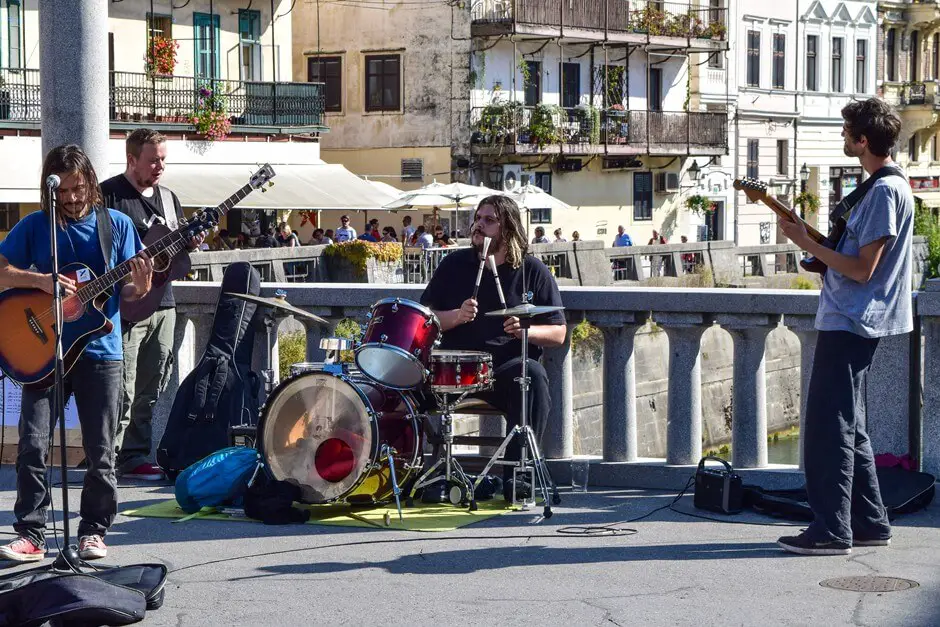 Pedestrian area of ​​the city
Here we see how young Ljubljana is. A band rocks on the bridge and captivates us for a few moments with their music. Below us one of the excursion boats, that offer tours on the river, passes. The fortress of Ljubljana rises above it, but we have to skip a visit. Instead, we follow the street Mestni trg, the pedestrian zone, to the town hall. This stands on the town square in the center of the city near the cathedral. It's worth taking a look inside. The courtyard has frescoes worth seeing. In addition, there are always exhibitions there.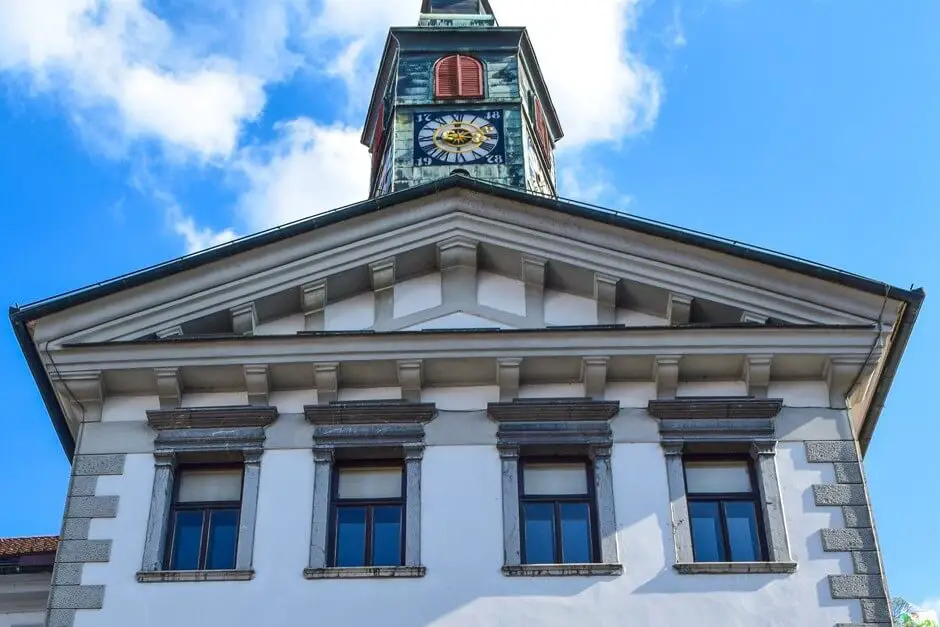 Stritarjeva ulica street brings us back to the river and the three bridges. We have some time left, before we continue on our journey to Bled. Time enough for a visit to Ljubljana's supposedly best ice cream parlor, at Cacao. This ice cream parlor joins the cafés and Restaurants, which we passed at the beginning of our tour. Now we sit down with our friends at one of the tables and enjoy a huge sundae. It tastes delicious in the late summer sun. We observe the passers-by, who stroll along the riverbank.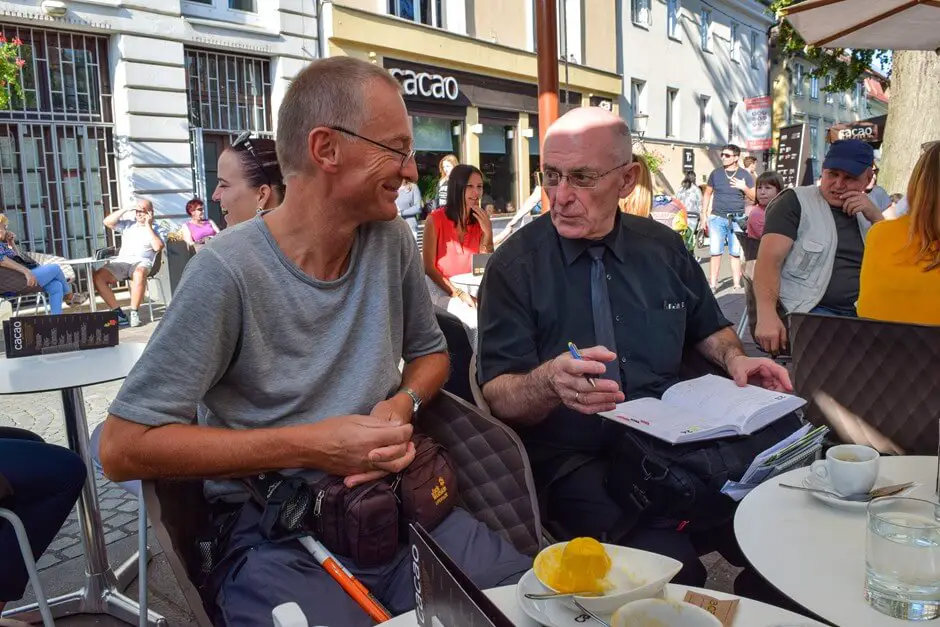 Ljubljana is a city to savor. It radiates a lovable charm, that captivates us. And who knows, maybe we'll be back soon to see the rest of the city's sights.
---
Travel Arrangements:
Check in:
Book yours here Arrival by plane, bus or train*. By car you can reach the city of Ljubljana from Munich in four hours fifteen minutes (without traffic). away Salzburg takes three hours, ex Vienna four hours, ex Graz two and a half hour. It is possible to travel to Ljubljana by train. Also drive Long-distance buses * to Ljubljana. In addition, the city has its own airport.
Car Rentals:
Cheap car hire - book quickly and easily!
Excursions and city tours:
An extensive selection of Excursions and city tours in Ljubljana * you can book online under this link.
Hotels:
Book accommodations in and around Ljubljana * via our partner booking.com.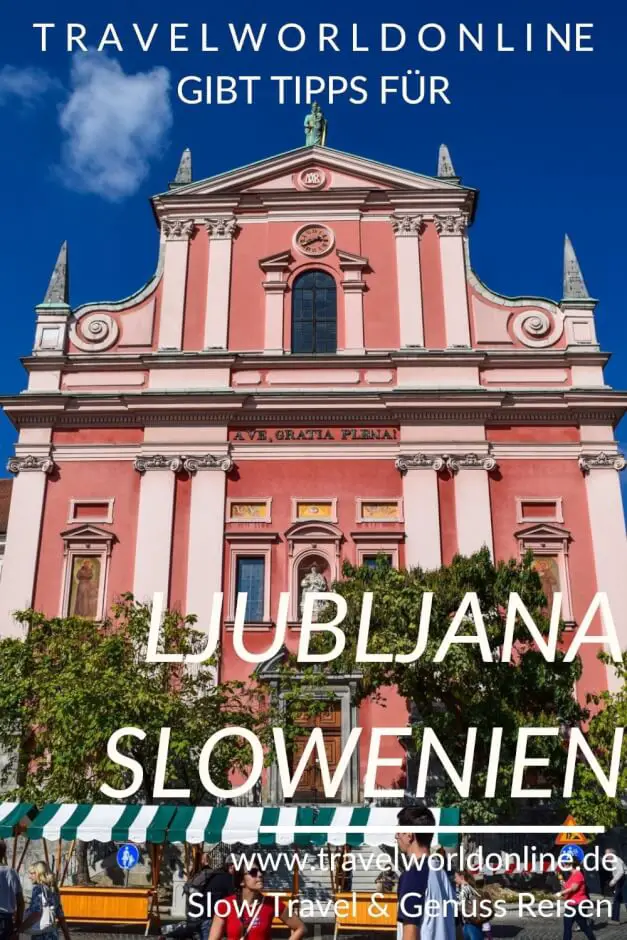 ---
Find more Slow Travel Destinations here.
Source: own local research for sights in Ljubljana. We thank Best Press Story for supporting this trip. Our opinion, as always, remains our own.
Text: © Copyright Monika Fuchs, TravelWorldOnline
Photos: © Copyright Monika Fuchs, TravelWorldOnline
Three sights in Ljubljana