Piran on the Adriatic
At first glance, Piran in Slovenia does not look like a fishing village. The city's square, the Piazza Tartini, is too magnificent and too big for that. In the middle, the namesake of the square, the musician Giuseppe Tartini, who comes from the city, watches over the place. Below him, the youngsters of the city romp around loudly and full of joie de vivre and practical jokes under the eyes of their mothers and are emphatically pulled by the pointed and dangerous-looking fence spikes, which are supposed to keep cheeky rascals of this kind away from the musician statue. They don't manage to keep their offspring from doing so for long. They climb up again and the mothers have to intervene again to save them. A grueling job keeping your kids in check at Tartini Square.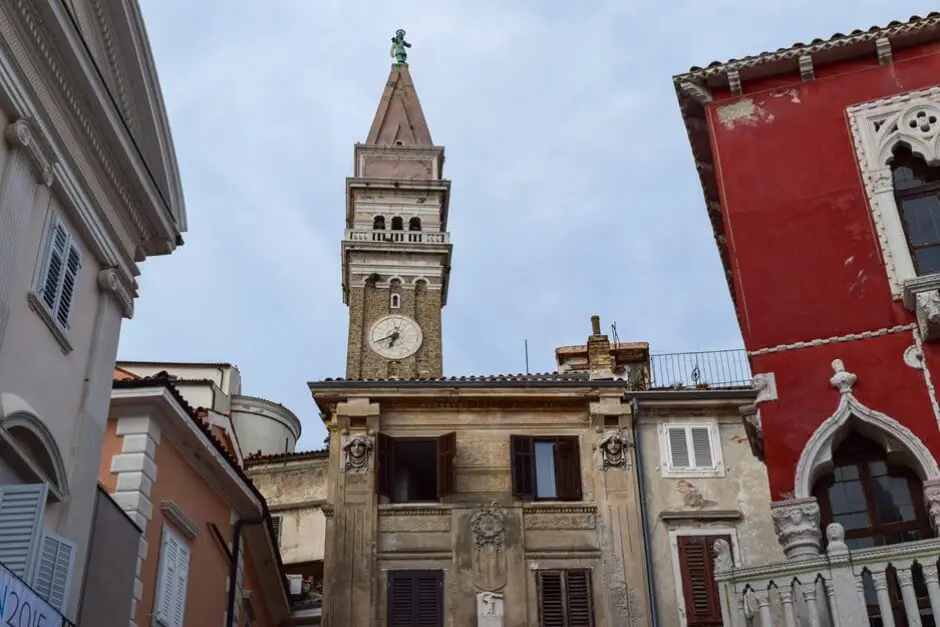 Since it is good that the fishing village on the Adriatic, is closed to traffic. We go by bus from Portoroz across, which stops directly at Tartini Square. Those arriving by car must park in one of the parking garages in front of the city and walk to the center of Piran. Only the inhabitants of Piran are allowed to take the vehicle into the city.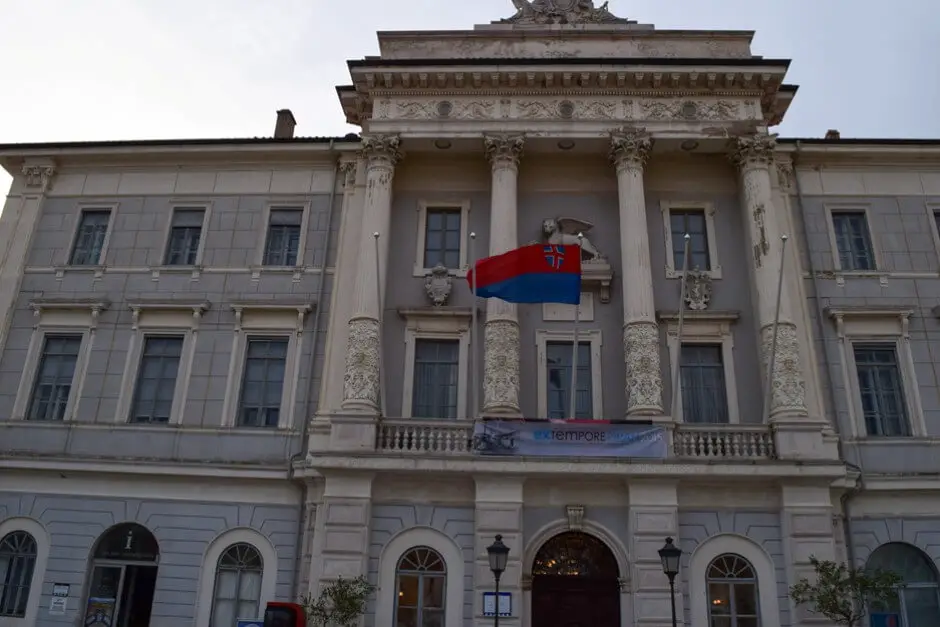 Here you will find top accommodation for every budget. Just click on the name. Then you can find out more about the accommodation and book it easily. Alternatively, you can use the link above to find an extensive list of Piran accommodation to choose from.
This luxurious hotel offers you a breathtaking view of the Adriatic Sea and a prime location in the heart of Piran. Enjoy the comfort of the modern rooms and relax in the hotel's own spa.
If you want to experience the authentic flair of Piran, this boutique hotel is ideal. It is located on the picturesque Tartini Square and offers charming rooms with historical charm.
Are you traveling on a budget? Then this hostel is a good choice. It offers good-value accommodation in cozy rooms and a communal self-catering kitchen.
If you value the flexibility of having your own home, these apartments are a great option. They are just a few steps from the beach and offer a well-equipped kitchen and a cozy atmosphere.
Hotels Piran and Art Hotel Tartini also meet Level 1 in the program "More Sustainable Travel" on Booking.com. You can find out more about this on the hotel pages of the links provided.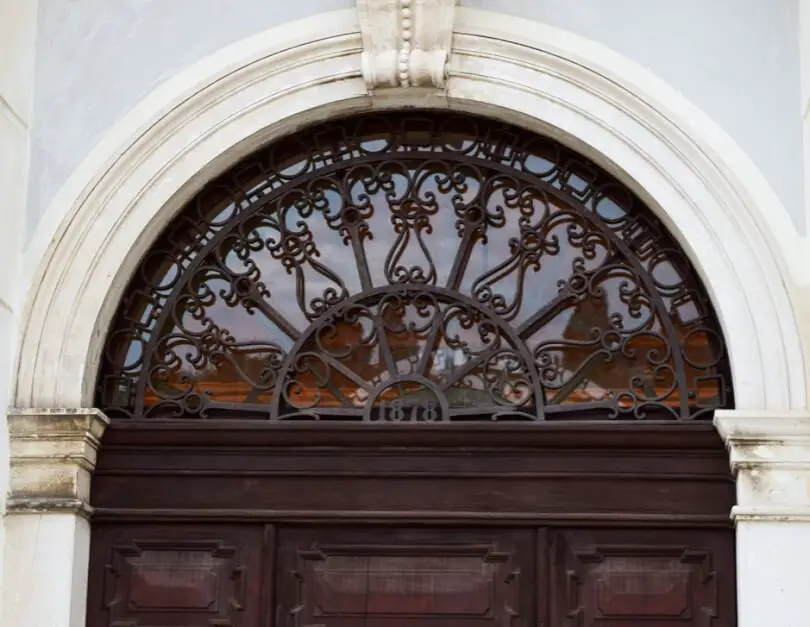 Piran Slovenia with Venetian architecture
Which does not contribute to the fact that we immediately perceive Piran as a fishing village, are the magnificent buildings on Tartini Square. On the façade of the town hall is the Venetian lion, holding a book in his paw - a sign that the inhabitants of Piran were friendly to the Venetians. That's how Janez, our Slovenian companion, shows us Piran. It is no wonder that Venice had such a strong influence on Piran, the fishing village on the Adriatic. The lagoon city is only about 100 kilometers away from the sea. A stone's throw, so to speak, and for the dealers from Venice anyway. These came to the Bay of Piran because of the salt, which is mined on its south side. The salt pans can still be visited today.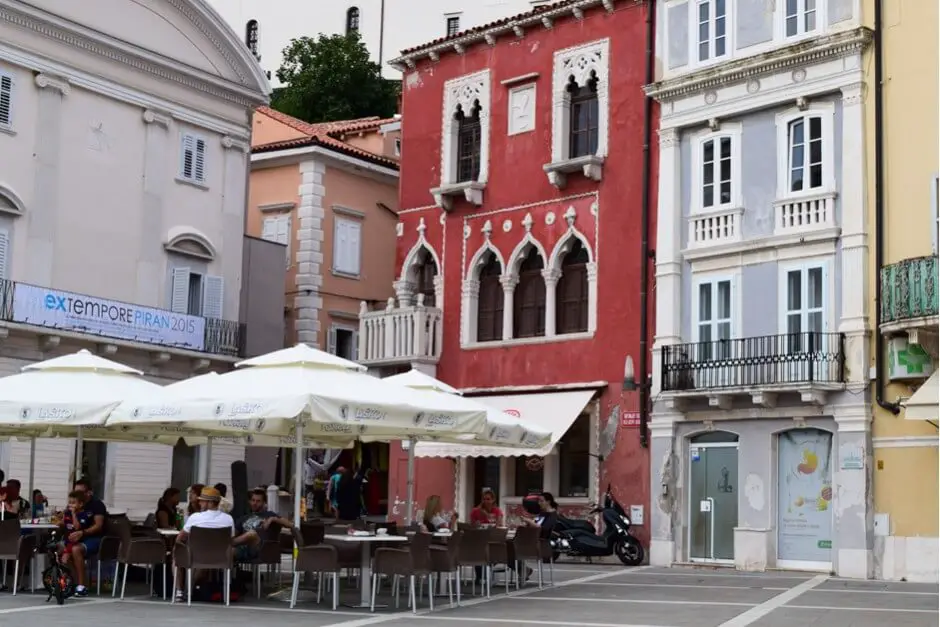 A Venetian even had a love affair with a piran for years. The love was so great that he built her a house in the city center. Not to be mistaken for its Venetian architecture and red color, it still seems to be true to its owner's motto: "let it go" (let it talk). This can still be seen on a relief between the two windows on the top floor of the house.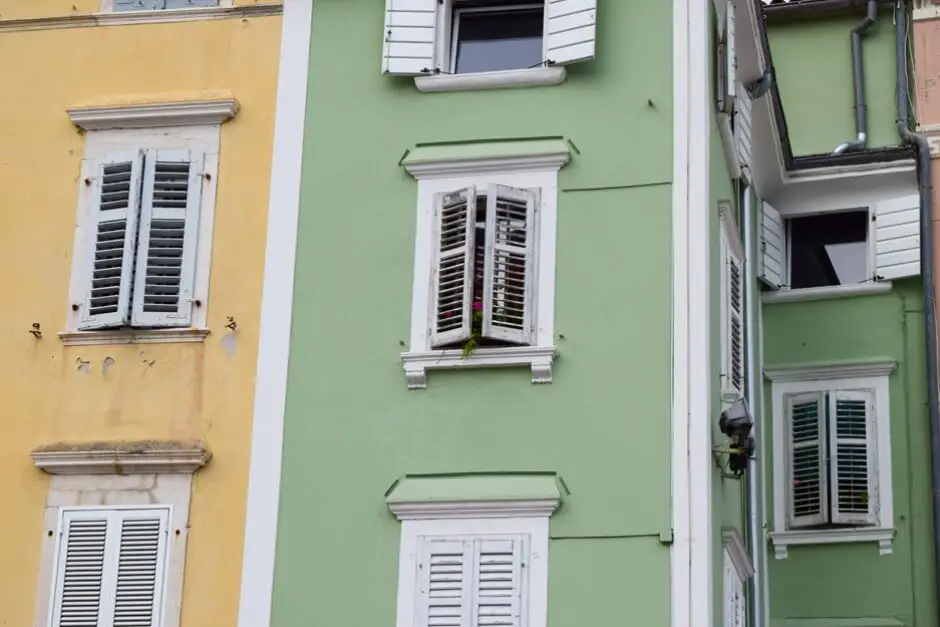 Italian tracks in Piran
Petar joins the others on a tour of the streets that lead up to the Cathedral of St. George. From the top you can see the remains of the city fortifications that stretch along the ridge. On the way they pass the Minorite Monastery, which was once built by the Franciscans in Piran. Once at the top there is a view of Piran and the bay in front of it, where a tall ship with five masts is just anchoring, just as if the merchants from Venice are still traveling the Mediterranean. In fact, it is a cruise ship sailing along the Adriatic coast. It offers an impressive sight in the evening sun.
Petar's video also shows that there is more evidence of Italy's proximity to Piran. On the tour through Piran, the fishing village on the Adriatic, he encounters Italian traces. There is the hairdressing salon called Verdi or the signs showing the cathedral Sv. To designate Jurij as Chiesa di San Giorgio. After all, 7 percent of the population of Piran speak Italian. There are even Italian kindergartens and elementary schools in the city. It is no wonder that the kitchen of Piran has something Italian about it. By that I do not mean the pizzerias that are in the side streets of Tartini Square. No, Spaghetti Vongole (spaghetti with mussels) is served as our own course during our delicious dinner.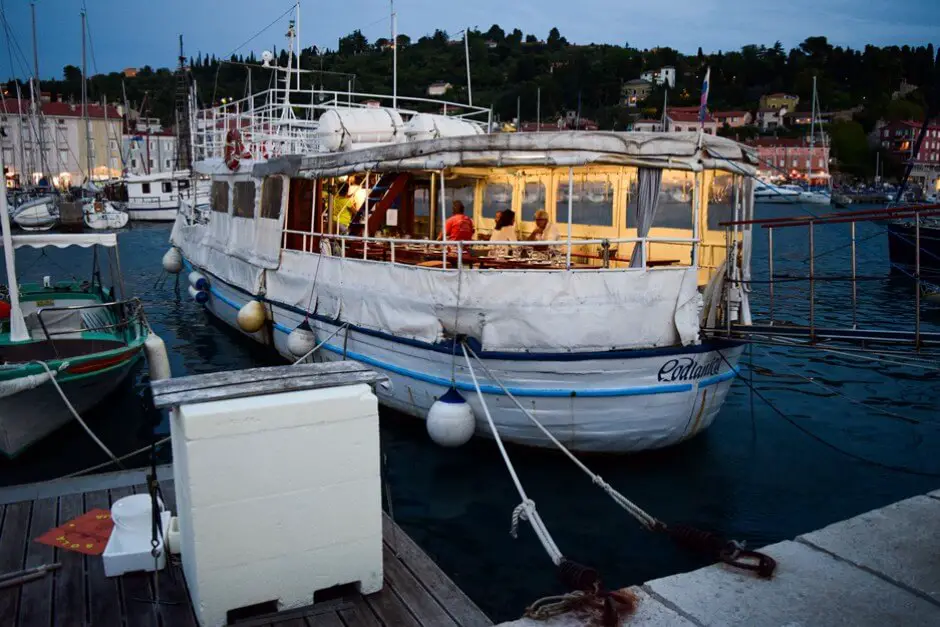 Piran Slovenia, the fishing village on the Adriatic Sea
After all these influences of Venetian architecture, Janez wants to prove to us that Piran is still a Slovenian fishing village. He leads us to a restaurant that cannot be recognized as such from the outside. "Locals prefer to eat here," he explains to us as he heads for an old fishing boat that we wouldn't even have noticed on a walk around the harbor, it looks so weathered. "Here you get your fish fresh from the sea and directly from the fisherman's kitchen." My mouth watered immediately. And I shouldn't expect too much!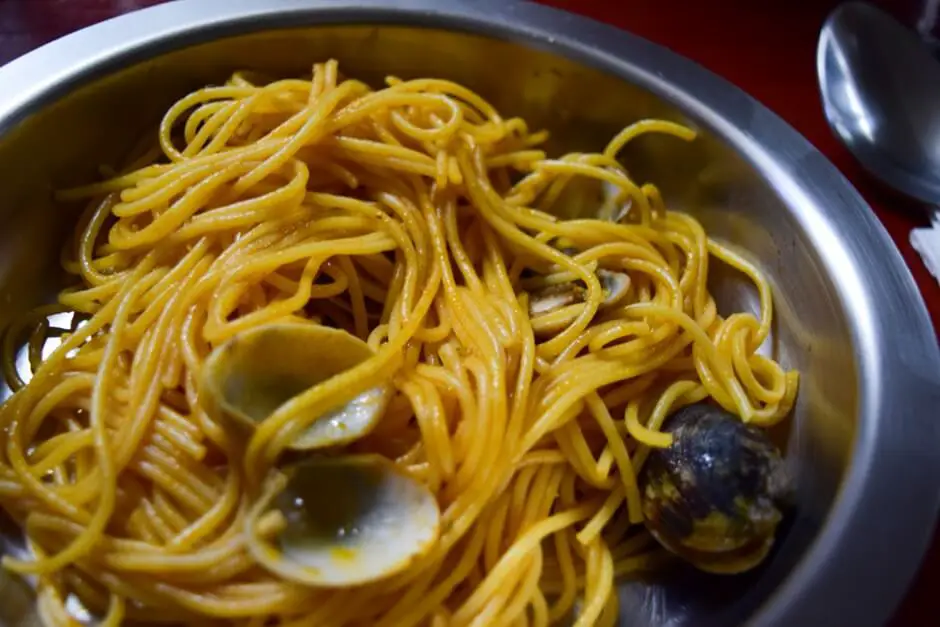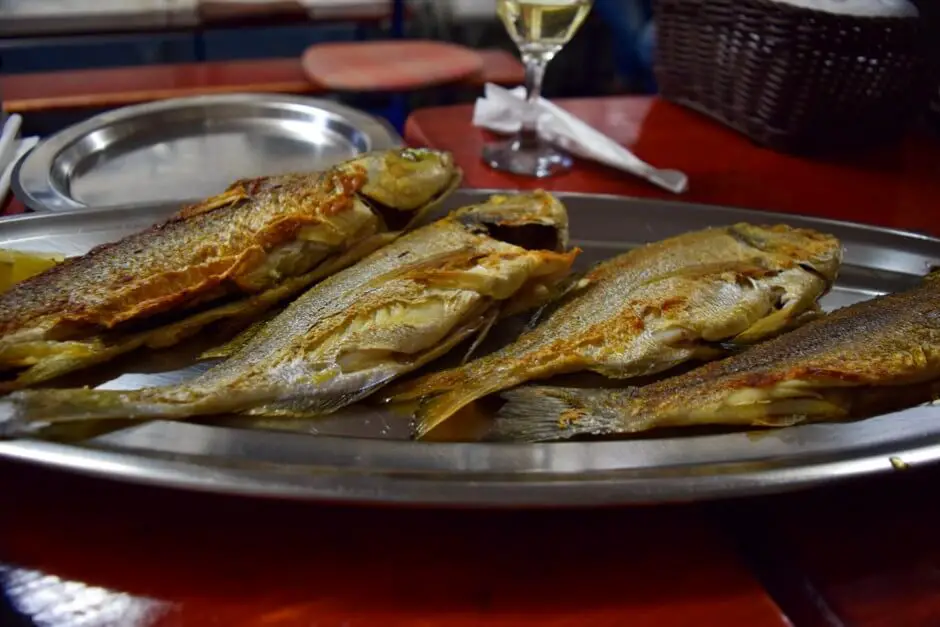 The best sea bass I have eaten so far
On the contrary, my expectations were exceeded. Neither Petar nor I are particularly fish lovers, but the fish dishes that Katarina and her husband Rokis served us on their fishing boat in the port of Piran still make me daydream and may prompt us to make another trip to Piran soon. There was a paste made from cod as a spread on homemade olive bread and sardines in it olive oil. They open our epicurean meal, which we enjoy on the beer garden tables on board their boat. As a greeting from the kitchen, there's spaghetti with Vongole. Our dinner in the Bay of Piran concludes with fish that Rokis had freshly caught from the sea that morning. A sea bream, a sea bass and two local fish species whose names I could not find out.
During our supper the tall ship had set sail in the bay and sailed into the sunset. We separate ourselves first from our hosts Janez, Katarina and Rokis, as weather lights in the distance thunderstorm announces. What a nice evening in Piran, the fishing village on the Adriatic.
Do you like to travel by motorhome?
Piran campsite:
Camping Kanegra*: This campsite is located directly on the sea and offers you a spectacular view of the Adriatic Sea. Here you can enjoy the sun and the sea in a relaxed atmosphere.
Camping Savudrija*: If you like being active, this campsite is perfect for you. Here you can try water sports such as windsurfing or kite surfing and let off steam in the waves.
Campsite Stella Maris*: This campsite is known for its variety of entertainment. Here you can, for example, take part in sports tournaments, enjoy live music or try local specialties in one of the restaurants.
Find more Campsites near Piran* can be found here.
Questions and answers about Piran Slovenia
What is there to do in Piran Slovenia?
In Piran you can walk along the coast, explore the historical sights, taste local delicacies and take boat tours along the coast.
Which are the best beaches in Piran?
The best beaches in Piran are Fiesa Beach, Bernardin Beach and Portorož Beach. They offer fine sand, clear water and a relaxed atmosphere.
Which attractions should you visit in Piran?
Places of interest in Piran include Tartini Square, the city walls, St. George's Church and the Aquarium. They all offer a unique insight into the history and culture of the city.
What is the best time to visit Piran on the Adriatic?
The best time to visit Piran is in spring and autumn, when the weather is pleasant and the crowds are fewer. But the fishing village also offers a vibrant atmosphere in summer.
Are there opportunities for water sports activities in Piran?
Yes, definitely! In Piran you can practice various water sports such as surfing, diving, sailing and kayaking. There are local providers who offer courses and rental opportunities.
Which culinary specialties should you definitely try in Piran?
In Piran you should definitely taste fresh fish and seafood. Also try the traditional dishes like scampi na buzaro (scampi in a garlic and white wine sauce) and Istrski pršut (Istrian ham).
Are there other interesting places to visit near Piran?
Yes, definitely! Nearby Piran you can take trips to the charming town of Portorož or explore the stunning scenery of the Škocjan Caves National Park. Both destinations are only a short drive away and definitely worth a visit.
You can book activities in and from Piran Slovenia here
Other destinations in Slovenia
---
Travel Arrangements:
Parking at the airport
Here you can reserve your parking space at the airport.
Arrival
Arrival by plane, bus or train*. Airports are Ljubljana and Trieste. From there you can continue by rental car, train or bus.
Arrival by bus to Piran Slovenia:
Arrival by train:
It is possible to arrive by train to Ljubljana and on to Koper. Alternatively you can arrive via Trieste.
Car Rentals:
via the motorways from the directions of Trieste (Italy) and Ljubljana (capital of Slovenia) and via the road from Pula (Croatia)
Cheap Car Hire - Book Fast and Easy! *
Accommodation in Piran and Portoroz:
At our partner booking.com you can book hotels and Accommodation in Piran * and Portoroz * easy to book online.Our travel tips for Slovenia
We have tested these travel tips ourselves. Maybe there is something for you?
Guide to Piran and Istria
Piran for all seasons: With trips to Portorož, Koper, Izola and to the landscape parks Strunjan and Sečovlje: With trips to Portoroz, ... Strunjan and Secovlje (cultural hikes)
Baedeker travel guide to Slovenia: with a practical EASY ZIP map
TRESCHER Guide Istria and Kvarner Bay: With Piran, Izola and Koper
Places of longing on the Adriatic: Grado - Trieste - Piran - Portoroz - Pula - Opatija: Grado - Trieste - Piran - Portorož - Pula - Opatija
Piran for all seasons: With trips to Portorož, Koper, Izola and to the landscape parks Strunjan and Sečovlje: With trips to Portoroz, ... Strunjan and Secovlje (cultural hikes)
Baedeker travel guide to Slovenia: with a practical EASY ZIP map
TRESCHER Guide Istria and Kvarner Bay: With Piran, Izola and Koper
Places of longing on the Adriatic: Grado - Trieste - Piran - Portoroz - Pula - Opatija: Grado - Trieste - Piran - Portorož - Pula - Opatija
---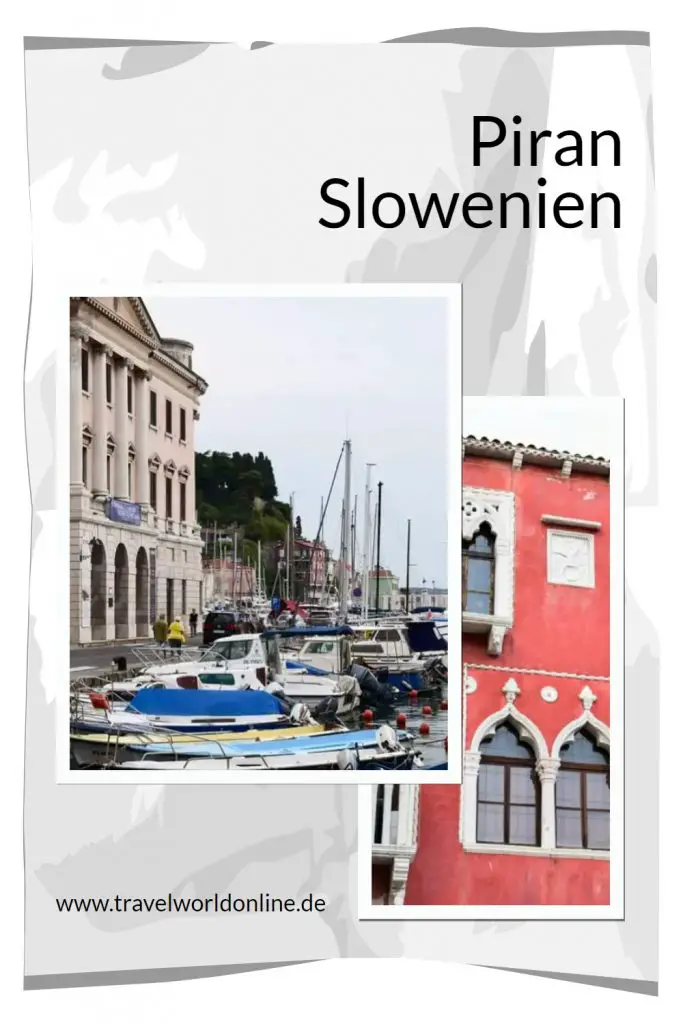 Besides, do you know?
Find more Food Travel is for example here.
Source: own research on site. We thank you for the invitation Slovenia.info and Portoroz Lifeclass hotels. However, our opinion remains our own.
Text: © Copyright Monika Fuchs and TravelWorldOnline
Photos: © Copyright Monika Fuchs as well as TravelWorldOnline and Pixabay
Video: © Copyright Petar Fuchs and TravelWorldOnline
Piran, the fishing village on the Adriatic
Last update on 29.11.2023/XNUMX/XNUMX / Affiliate links / Images from the Amazon Product Advertising API