Chocolate Crinkle Cookies
This year we're bringing you a few simple recipes for American Christmas cookies. The cookies go perfectly with our series Regional Cuisines of the World. They are easy to bake. And they taste great. That Chocolate Crinkle Cookies are a Betty Crocker invention is actually incorrect. Little is it known that Betty Crocker wasn't a real person. It was a trademark that the American company General Mills created in the 1920s. The company used it to advertise a type of flour in radio broadcasts. Various actresses played the role of Betty Crocker. The advertising character became so popular that Fortune magazine even voted her the most popular woman after first lady Eleanor Roosevelt.
Where did the recipe come from?
The Chocolate Crinkles recipe is from Helen Fredell of St. Paul, Minnesota. The cookies appear for the first time in Betty Crocker's "Cooky Carnival". It says, "When we went to see Mrs. Fred Fredell's in St. Paul, Minnesota, these cookies were so delicious we got the recipe. Thanks to her, thousands now enjoy these spicy cookies." Attributing the Chocolate Crinkle Cookies to Betty Crocker is therefore only partially true.
The original crinkles were made from molasses. The recipe also included sugar, fat, eggs, molasses, flour, baking powder, salt, cloves, cinnamon and ginger.
In our recipe we swap the fat for oil and the spices for cocoa. We use vanilla instead of molasses. Finally, we roll them in sugar.
In these cookbooks you will find cookie recipes
Chocolate Crinkle Cookies
Ingredients
200 g sugar
60 g cocoa powder
60 ml of vegetable oil
2 eggs
1 TL vanilla extract
130 g flour (405)
a teaspoon of baking powder
a teaspoon of cinnamon
a pinch of salt
100 g icing sugar
Preparation of the Chocolate Crinkle Cookies
Mix the sugar with the cocoa. To this you add the oil, eggs and vanilla extract. You stir this until no more lumps form.
Then you sieve the flour. Add baking soda and a pinch of salt. You mix this with the mixer to a smooth dough.
Then put the batter for the chocolate crinkles in the refrigerator for several hours. After that it can easily be processed afterwards.
Heat the oven to 180 ° lower / upper heat and prepare two baking trays. Cover them with baking paper.
Divide the cooled dough into small heaps with a teaspoon. From this you form balls, which you then roll in powdered sugar.
Then you place the dough balls on the baking sheets with sufficient space between them. The dough spreads out during baking. Bake the cookies for 10 - 12 minutes.
Let them cool down a bit and pack them in an airtight container.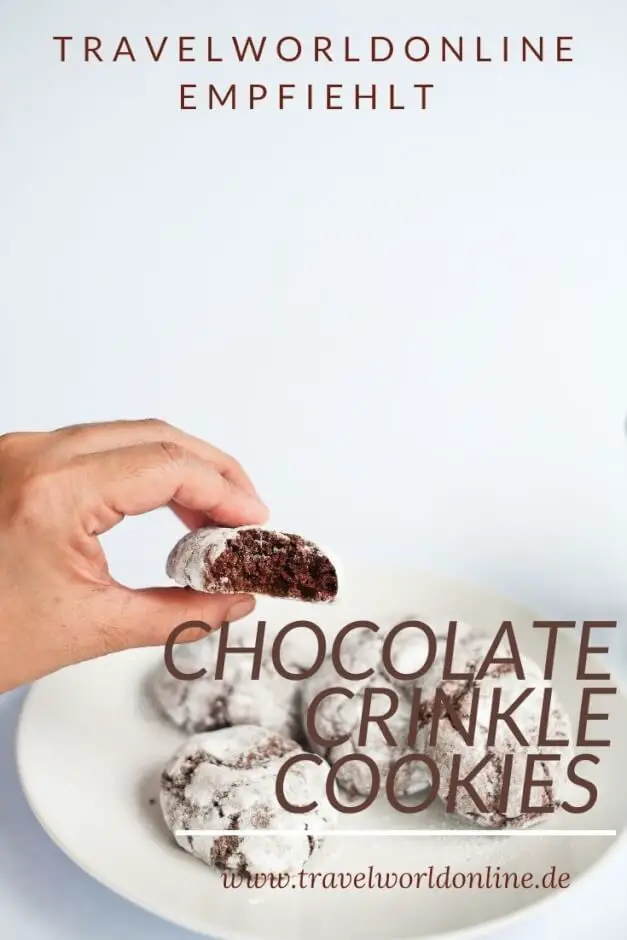 Do you already know:
Source: for the recipe we took inspiration from Janina von small culinary
Text: © Monika Fuchs, TravelWorldOnline
Photos: © Copyright Monika Fuchs, TravelWorldOnline
Chocolate Crinkle Cookies