American Chocolate Chip Cookies
For me, the American Chocolate Chip Cookies are the best Christmas cookies I know. Why? They bring back fond memories of my year of research that I spent in Canada. I had a research grant that allowed me to stay there. The money I received every month was enough to live on. But I couldn't make big jumps with it. Since I was in a hotel for part of the year Vancouver I didn't have a kitchen there. So you couldn't cook or bake yourself. So I looked for ways where I could buy food cheaply. So the Foodmart near Canada Place came in handy. There was a baker there who made fresh cookies every day. "Best Chocolate Chip Cookies" was big on his advertising signs. He didn't tell me his chocolate chip cookies recipe. But I've loved her ever since.
Every day my way to my work place led me past this cookie stand. No wonder this turned into a morning ritual. My adaptation to the American lifestyle, in a way. A bag of cookies and a coffee to go - the perfect breakfast - even for my wallet. Every day I tried new variations of his cookies. Because there were many of them. So I quickly realized how versatile these cookies are. Reason enough that I now started baking cookies myself. Here, too, I discovered that there are numerous recipes for it. We are introducing you to one that we particularly like. But first a little more about the cookies themselves.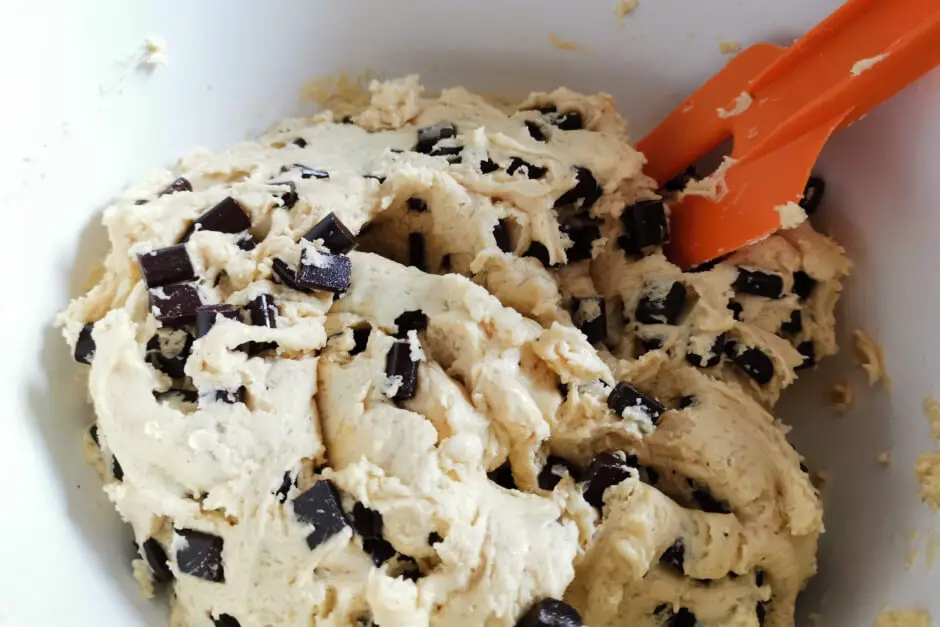 Who Invented Chocolate Chip Cookies?
The origin of chocolate cookies is known pretty well. It was invented by Ruth Graves Wakefield (born 1903 in Easton, Massachusetts). She worked as a cook and nutritionist and ran the Toll House Inn in Whitman, Plymouth County with her husband Kenneth, Massachusetts. This was once a rest house on the way from Boston to New Bedford. Passers-by used to pay the road toll there, change their horses and strengthen themselves in the restaurant. This was Ruth's realm after the Wakefields took over the Inn. Their kitchen soon attracted guests from all over the area, including Joseph Kennedy Sr., the father of the future president.
Although people keep saying that she "accidentally" invented cookies because chocolate fell into the batter, this is not true. Ruth thoughtfully invented the chocolate chip cookies. She said, "We had thin caramel cookies served with nuts and ice cream. Everyone seemed to love her. But I wanted to do something different. That's why I invented the Toll House Cookie. "It was under this name that their cookies became famous. Ruth enrolled cookbook, which became a bestseller with 39 editions. In one of the issues she publishes the Chocolate Chip Cookies recipe for the "Toll House Chocolate Crunch Cookie".
The cookie owes its triumphant advance through North America to the soldiers in World War II. They received care packages with delicacies from home and shared the cookies with their comrades from other regions of America. They, in turn, demanded chocolate chip cookies from their loved ones at home. This resulted in Ruth being inundated with letters asking for her prescription.
Nestlé, whose chocolate she used, heard about it. The company bought the recipe from her in exchange for a lifelong supply of chocolate. Nestlé started making special chocolate drops for the Chocolate Chip Cookies and printed the recipe on the packaging. This began the triumph of cookies through North America. This continues today in large parts of the world.
In these cookbooks you will find cookie recipes
Soft chocolate chip cookies with cream cheese
Ingredients
120 g butter
60 g cream cheese
150 g of brown sugar
100 g white sugar
1 egg
2 TL vanilla extract
300 g flour
2 teaspoon cornstarch
1 tsp soda
half a teaspoon of salt
400 g chocolate drops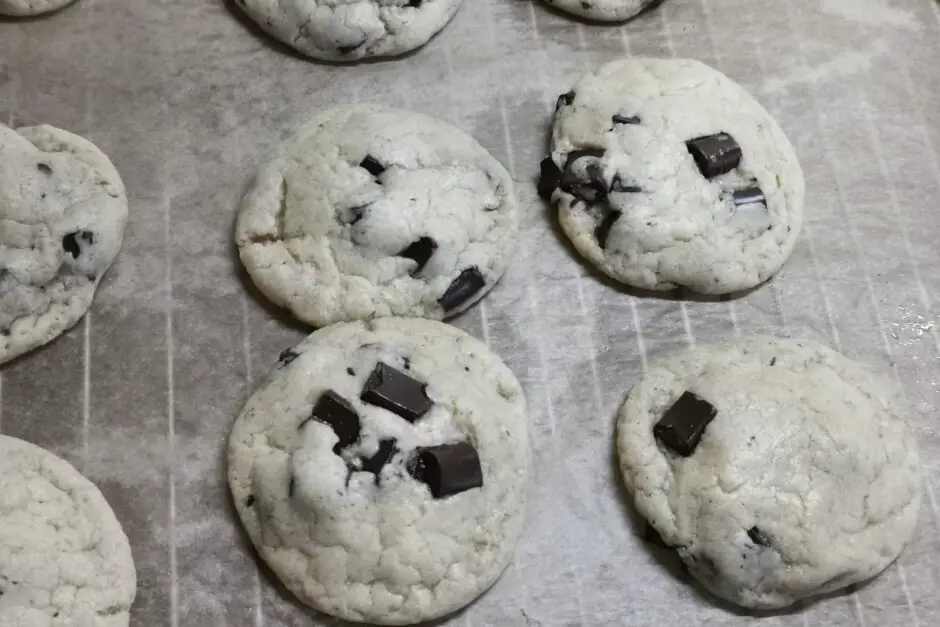 Preparation
Mix the butter with the cream cheese, brown and white sugar, the egg and the vanilla extract.
Add the flour, cornstarch, baking soda, and salt and stir well to form a smooth batter.
Then fold in the chocolate droplets.
Put the batter in the refrigerator for several hours. Then it can be processed better.
Use the spoon to portion the dough and form small balls out of it. You place these on a baking sheet with sufficient space between them, which you have lined with baking paper.
Bake the chocolate chip cookies at 175 ° C for about eight to nine minutes.
Then let the cookies cool down well before you pack them in an airtight jar.
We hope you like the Chocolate Chip Cookies as much as we do. Bon Appetit.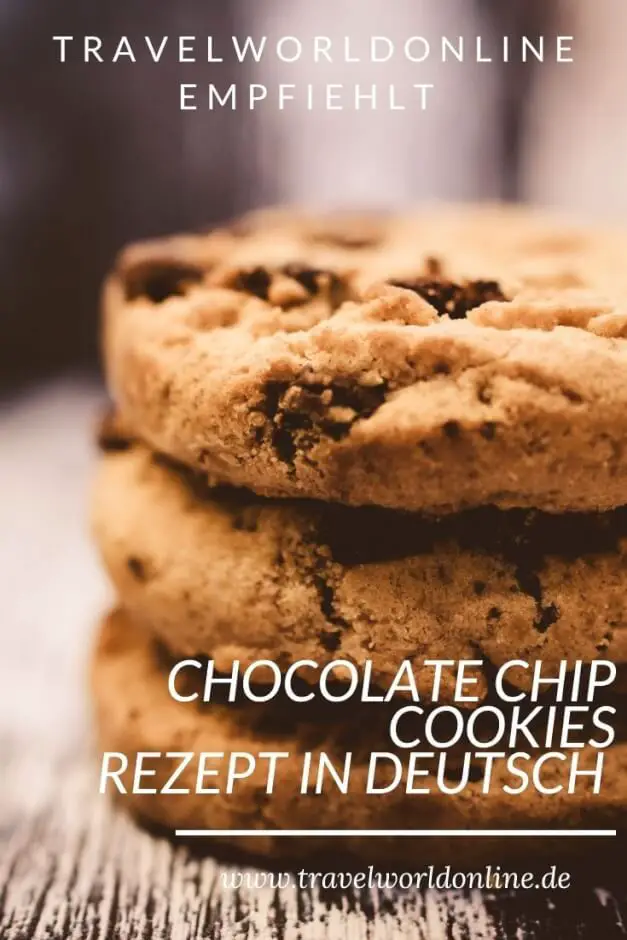 Do you already know:
Source Chocolate Chips Cookies: own research in Vancouver and Wikipedia
Text: © Copyright Monika Fuchs, TravelWorldOnline
Photos: © Copyright Monika Fuchs, TravelWorldOnline
Chocolate Chip Cookies - Best Cookies ever