Enjoy Provencal cuisine and lifestyle
Provençal cuisine offers many dishes that we also cook at home. We collect Provençal recipes for this. The ingredients from Provence are healthy, fresh and very tasty. Tomatoes, peppers, zucchini, eggplant and lots of garlic and olive oil belong to. Just like lamb, beef or fish straight from the farmer or fisherman. There are also regional ingredients such as guinea fowl. The icing on the cake is provided by the herbs from Provence. Preferably fresh from the garden. That's when they taste the best. For this reason we build kitchen herbs from the Provence in your own garden. This is how our Provencal dishes taste just like in the south of France. There you spice your dishes a little more sharply than in other regions of the country.
Do you prefer to enjoy on site?
These Provençal recipes taste best in a bistro Saint Tropez or a village café in the south France. We love exploring french cuisine to visit such cafes and restaurants. It is especially nice when they are run by a landlady who tells something about the region. Listening to your stories and tips with a bouillabaisse or a ratatouille - that's pure enjoyment. These two vegetable dishes, along with Aioli, are probably the best-known Provencal dishes. However, there is more to discover. We want to introduce you to dishes from Provence that are less well known.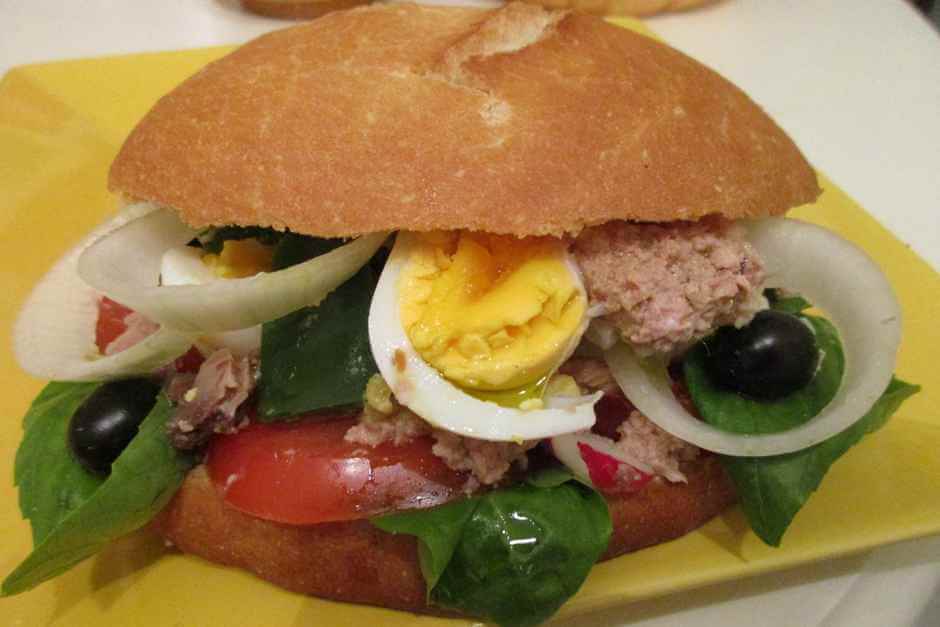 Pan Bagnat - Provencal cuisine inspired from Nice
Do you know Pan Pagnat? With this you can easily cook Provençal cuisine. It is actually a sandwich specialty from Nice. In the 19th century it was a poor people's meal. Field workers took old bread to the field. Plus leftovers. And tomatoes and olive oil. With this they dip the bread. So this softened over time and developed its taste. The "bathed bread" - as the Pan Bagnat translates - they filled with what else they had with them. Therefore, Pan Bagnat is also well suited for today picnic.
This bread is very popular in Provence. I did not get to know this dish from Provençal cuisine on one of our trips, but in a Provence crime novel by Sophie Bonnet. In her novel Provencal intrigue * Her investigator Pierre Durant is so happy about the Pan Bagnat that his girlfriend prepares for him that it made me curious. I went on the search. Et voilá! This sandwich is much more than that. It stimulates all taste cells that we have in our mouths. Tomatoes, herbs, olives, eggs, fish and more combine to create a real firework of flavors. I have to agree with Pierre Durant. This bread is worth the trip. And if it is a culinary excursion in your own kitchen with ingredients like in Provence. With this recipe you can prepare the bread yourself.
Ingredients
Ciabatta or other hard white bread
beefsteak tomatoes
radish
Broad beans
Paprika
onion
a hard egg
Tinned tuna or anchovies
olive oil
garlic
Black olives
Green salad
Fresh basil
Method
Cut the bread in half. Hollow out the upper half of the bread a little.
Cut the clove of garlic and rub the bottom half of the bread with it.
Halve one of the tomatoes and spread on the bread halves. Sprinkle some olive oil over it.
Cut the onion, radishes and the egg into slices. Halve the remaining tomatoes and cut the halves into slices.
First put a few tomato slices on the lower half of the bread. Then you put lettuce leaves, radishes, onion rings and egg slices on it.
This is followed by the beans and a few pieces of tuna or anchovy. Finally, add a few olives and basil leaves.
Before you put the top half of the bread on top, season the whole thing with salt and pepper and drizzle it with a few drops of olive oil.
Then you wrap the pan bagnat in paper or cling film. The bread is ready for a delicious picnic.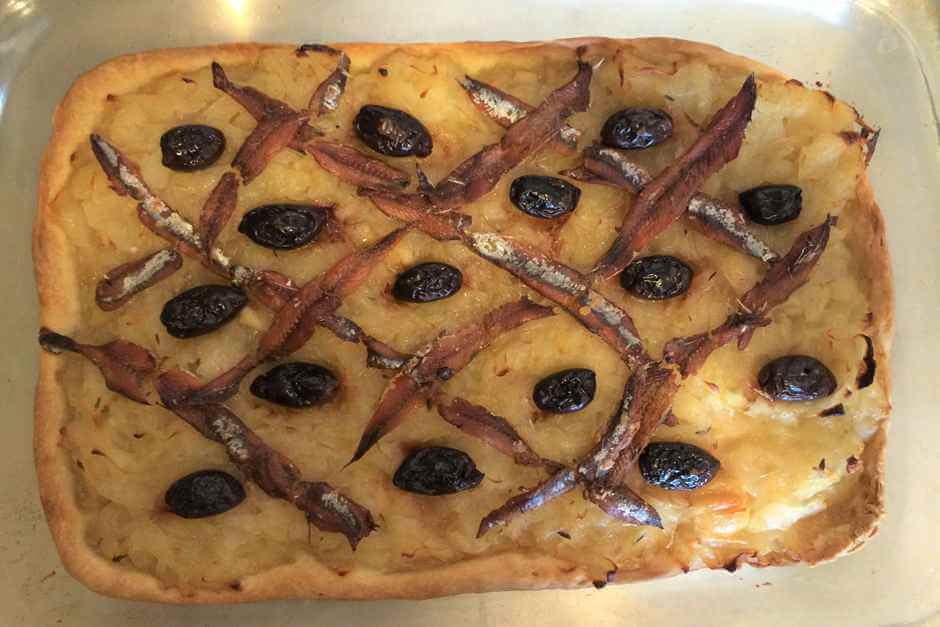 Pissaladière - Provencal cuisine from southern France
I also know the second recipe from Provençal cuisine from the crime film Provençal intrigue. Investigator Pierre Durant eats this in a restaurant in the port of Marseille while waiting for his next appointment. As someone who likes to enjoy, he also thinks about the Pissaladière. Like the Pan Bagnat, the Provencal onion pizza originally comes from Nice. Similar to bread, this dish is a recipe from ordinary people's kitchens. The onion cake is eaten as an aperitif or - like Pierre Durant - as a small snack.
Pissaladière is prepared with few ingredients. The southern French pizza variant with onions, anchovies and olives tastes delicious. A Provençal dish as we like it. It has to be tasty, easy to cook and, best of all, come from international cuisine. Pissaladière fulfills all three conditions. Therefore we are happy to prepare them at home.
Ingredients
400 grams of flour
a teaspoon of salt
130 milliliters of olive oil
200 milliliters of lukewarm water
a pound of onions
a clove of garlic
five branches of thyme
a pound of cocktail tomatoes
Anchovies in oil
125 grams of black olives without stones
Method
Knead the flour, salt, olive oil and water into a dough and then let it rest for an hour.
Halve the onions and cut them into fine slices. Peel and finely chop the garlic. Stew onions and garlic in olive oil until very soft. Then mix in the thyme leaves.
Wash the cocktail tomatoes and then halve them.
Then you roll out the dough and spread it on a baking sheet covered with olive oil. Put the onion-garlic mixture and the cocktail tomatoes on top.
Bake the pissaladière at 220 degrees on the middle shelf for thirty minutes in the oven. Spread the anchovy fillets and olives on top ten minutes before the end of the baking time.
There are people who prefer to make pissaladière without tomatoes. It is a matter of taste.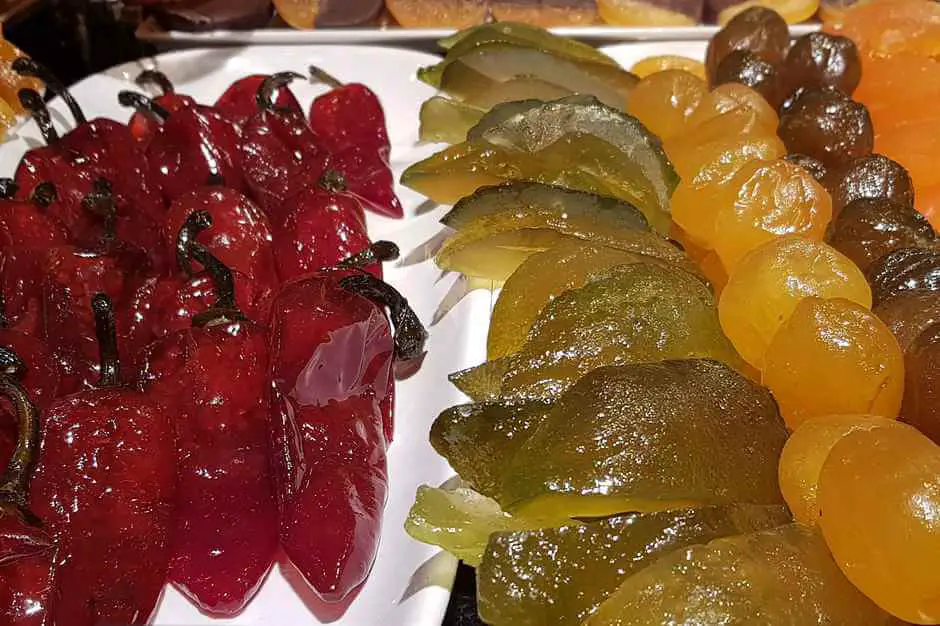 Candied fruits from the Provencal kitchen
At the market in Avignon we finally encountered another specialty from the Provencal kitchen. Candy fruits. I don't mean what you get in supermarkets at Christmas like lemon and orange peel. Compared to the variety of candied fruit and vegetables that we discovered in Provence, that's trash. There, lemons, oranges, apples, cherries, strawberries shone in competition in their showcases. Even Provençal candies like exotic fruits such as mango, star fruit, papaya, banana, pomegranate, persimmon and passion fruit. Rose petals, lavender flowers or violets are also candied there.
Would you like to cook Provençal?
Then we recommend these cookbooks:
Here you will find more recipes with ingredients from Provence:
The village of Apt in the Vaucluse department specializes in candying fruit. In Provence this is still done by hand. And you can taste it. Candied fruits from Provence taste different than industrially candied fruits. There are many recipes in Provencal cuisine for desserts that use candied fruit. The manufacturing process is simple, but time consuming. Therefore, candied fruits from Provence are not an inexpensive pleasure. Still, they are worth the price.
Are you looking for culinary highlights in France?
Barbara Weibel reports that Dijon's cuisine is not only worth the trip for the mustard.
Do you already know:
This post goes wonderfully with the block stick #DieWeltaufdemTeller by Wibke Ladwig from Sense and understanding. If you feel like it, you can also take part.
By the way: you already know Dako, a specialty from Crete?
Source for Provencal cuisine: own research
Text: © Copyright Monika Fuchs, TravelWorldOnline
Photos: © Copyright Monika Fuchs, TravelWorldOnline