Enjoy the vineyards in Rheinhessen
Advertisement - The vineyards in Rheinhessen are known for the Riesling, which is mainly produced on Rhine thrives in the region of Nackenheim, Nierstein and Oppenheim. Mild temperatures, a lot of sun and little rainfall ensure growth conditions in which this type of wine grows. The grape harvest in the Rhine Valley begins in September. The sunny days of the last few weeks have been good for the wines. First of all, the winemakers harvest early white wine varieties such as Huxelrebe, Bacchus or Müller-Thurgau. This is followed by the red wine varieties. The winemakers only start harvesting Riesling wines at the beginning of October.
Wineries in Rheinhessen
Numerous wineries in the region look back on centuries of viticulture. That Reichsgraf von Ingelheim winery is one of them. The dynasty of the Counts of Ingelheim goes back to the year 935. Anselm-Franz von Ingelheim was Prince-Bishop from 1679 Mainz. As such, he promoted viticulture in the vineyards in Rheinhessen. He didn't just do that in his own winery. He also supported the region's winegrowers. The town of Geisenheim owes its wine market to him. The fact that the wines from this winery still taste good today is proven, among other things, by the Chamber Prize coins from the Rhineland-Palatinate Chamber of Agriculture, which they won for their 2020 wines:
Gold for 2020er Rheinhessen, Sauvignon blanc - Kerner - Riesling
Silver for 2020 Niersteiner Pfaffenkappe, Sauvignon blanc
Bronze for 2020 Niersteiner Ölberg, Riesling Spätlese
The dry 2020 Niersteiner Hipping Riesling from the Reichsgraf von Ingelheim winery also received a golden chamber prize coin. Its fruity aromas are reminiscent of pears, mirabelle plums, citrus fruits and green apples. A fruity wine that we like to drink. Reason enough to order these wines for a wine tasting at home, right? Gather your own experience with Reichsgraf von Ingelheim and order a few bottles.
Today it is mainly young winemakers who make sure that their wines meet high quality standards. Ten percent of the vineyards in Rheinhessen are now cultivated according to ecological specifications. Young winemakers in Rheinhessen no longer sell their wines directly to consumers. They deliver their quality wines all over the world.
Hiking through the vineyards in Rheinhessen
The best way to enjoy the vineyards in Rheinhessen is on a hike through the hills above the Rhine. The Rote Hang near Nierstein is not only one of the best vineyards in the region. There is also an eight-kilometer circular route there. Along the way you will learn interesting facts about wine at twelve stations. You can use QR codes to download the information to your mobile phone. Alternatively, you can listen to information on viticulture via audio guides. There is hardly a better place where you can experience the vineyards in Rheinhessen. Rieslings that are popular all over the world grow on the Rote Hang.
Ostrich taverns in Rheinhessen
Good food goes well with good wine. In the ostrich taverns in Rheinhessen, "Weck, Worscht un Woi" (bread rolls, sausage and wine) are often on the menu. The specialty from Rheinhessen is also often found in wine bars. Hand cheese, fried potatoes and schnitzel on an oak table are no longer enough as an accompaniment to wine tasting, especially for young winemakers. With these, the enjoyment in the vineyards in Rheinhessen is no longer just meat sausage and potatoes. Instead, Maultaschen are served with Swiss chard, Riesling olives or plums wrapped in bacon. There is also a view of the vineyards.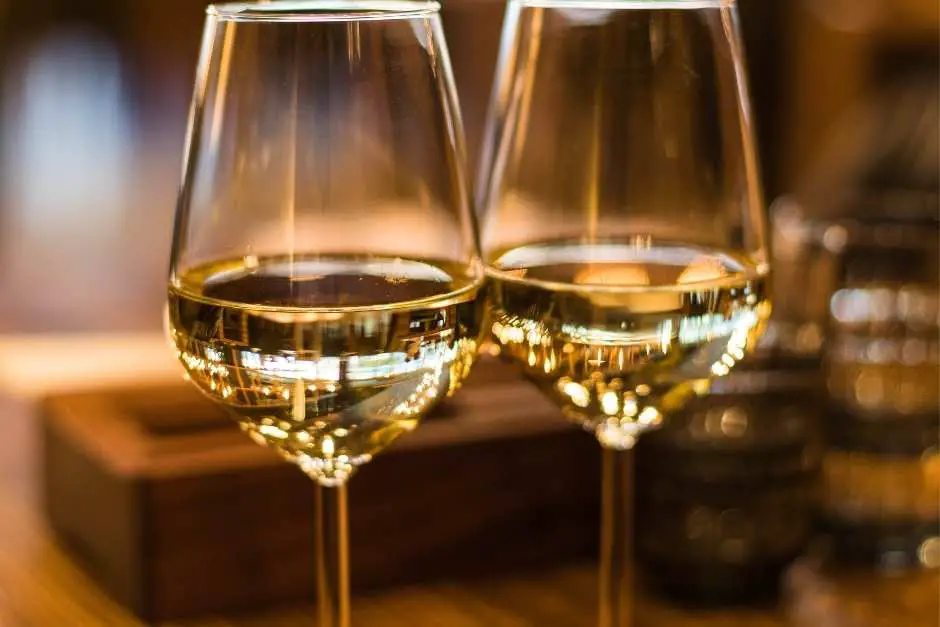 Wine events in Rheinhessen
Another way to enjoy the vineyards in Rheinhessen is offered by the Wine eventsthat take place in summer and autumn in this wine region. One of the biggest events is the Weinmarkt in Mainz, which we visited a few years ago. He showed us that people in the region can celebrate. People enjoy life here with wine, music and good company. So it is worth looking out for wine events when planning a visit to Rheinhessen.
The vineyards in Rheinhessen hold many surprises for connoisseurs that are worth discovering. Let yourself be invited to a visit to Germany's largest wine region.
Travel Arrangements
Arrival by plane, bus or train*. There are flights to Frankfurt . From there you can travel by train.
Rental car
Reserve your rental car here *.
Camper Rentals:
Compare motorhome prices here. Or do you prefer to travel with a Rooftent or Zelt?
Do you already know:
Source vineyards in Rheinhessen: own research
Text vineyards in Rheinhessen: (c) Copyright Monika Fuchs, TravelWorldOnline
Photos Vineyards in Rheinhessen : Canva
Enjoy the vineyards in Rheinhessen