Visiting the Irish amber fisherman from Binz
Amber is also called the "gold of the Baltic Sea". That was reason enough for us, us during our stay in Binz to deal with this stone in more detail. And so we set out, the Irish amber fisherman in Binz In Mecklenburg-Vorpommern to visit. Finbarr Corrigan came to the often early on Baltic Sea coast, since his brother lived on the island of Hiddensee. There he first became acquainted with the stones from which the Baltic Sea waves bring new finds ashore year after year.
Finbarr tried his hand at finding the stones during one of his visits and immediately found a taste for them. From then on he regularly spent his holidays on the Baltic coast until one day he decided not to return to Great Britain. He sold his restaurant and settled on Hiddensee. There he met his wife and moved with her back to her hometown of Binz, where he now runs an amber shop together with his family, which now has an adult daughter.
That Finbarr Corrigan is a creative man shows up before we see his shop and his workshop. On the steps in front of the house are the most amazing tricks, and for most plays at least a piece of amber a role. Quirky woods are combined with the glowing warm-gold stone, but metals or mirrors also provide attractive connections with the stones that Finbarr has usually collected himself.
Do you want a cup of tea?
As soon as we enter the shop, he comes towards us with outstretched hands and welcomes us to his workshop. "Do you want a cup of tea?" He asks us in the broad accent of the Irish island and doesn't wait for us to say yes. Instead, he sends his daughter to brew us a cup of tea. And then he kidnapped me to his realm: amber of all colors lay in wooden bowls, on plates and in bowls. To my astonishment, I have to recognize that this stone not only comes in warm gold, but can even be colored up to black. This is what makes these stones so appealing, because amber necklaces are never uniformly colored, but always in a wide variety of colors in which the hardened tree resin can appear. It is nothing else.
Amber fishermen from Binz - where do the stones come from?
When I ask Finbarr where the stones come from, he says, somewhat embarrassed: "My daughter knows these things better. It is a walking lexicon when it comes to amber. "And it can actually explain to me in great detail how amber was created:" Amber is the resin of trees. However, these were not the trees as we know them here on Rügen today. When amber was formed, completely different types of trees grew here. Their resin was more fluid than that of today's trees. And so it happened again and again that insects were surrounded by tree resin and thus trapped in the resin.
This is the reason why there are so many fossils in amber - mostly flies or beetles that did not escape the tree sap quickly enough. The resin dried and sank in the sand. The Baltic coast is just one region where you can find it. In Germany you can find it in the region around Bitterfeld. But it also occurs in other regions of the world, in Africa, the Malay Archipelago, New Zealand or Colombia, for example, where it is known under the name of "copal". "She laughs:" Today, amber is up to 310 million old Insects."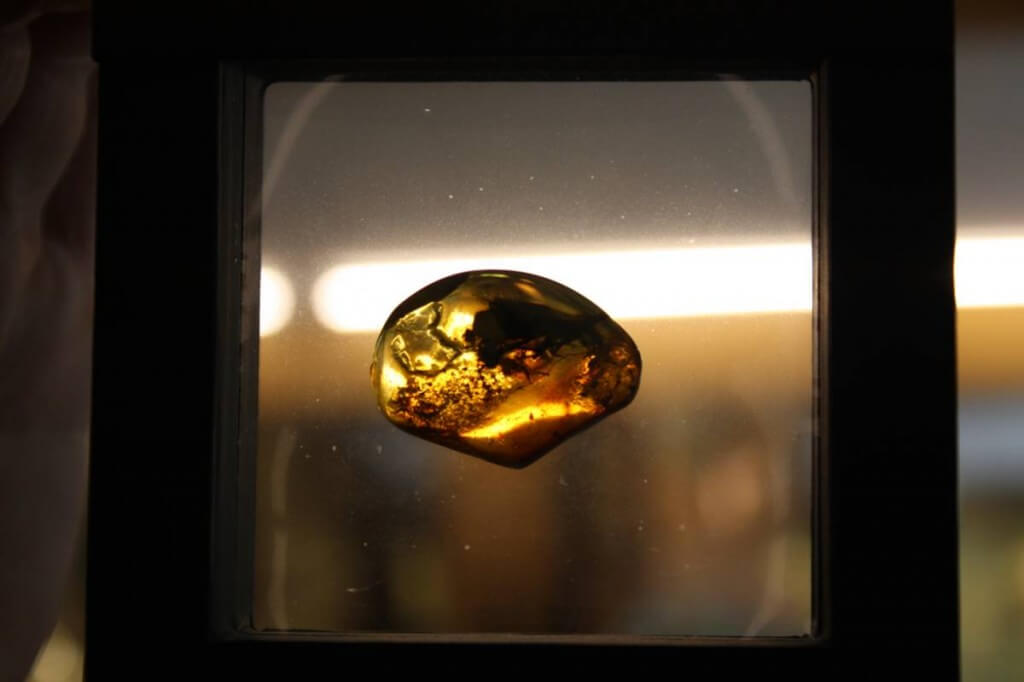 Amber contains fossil animals
With such numbers awesome holds my breath. And Finbarr is looking for several examples from his treasures, in which fossil animals are excellently preserved. Unbelievable that through the yellow hardened resin I look into the eyes of an animal that lived on this island hundreds of millions of years ago. These are temporal dimensions that I can not even imagine, and I wonder what has happened since this tiny creature was held in eternity by a liquid drop of resin.
He shows me some finds that holiday guests have brought over. "I drill a hole in the stone so that they can wear it as a piece of jewelry." And he shows me how he does it: with a thin drill, a small hole is made in the ancient stone, which he expands with a wider drill. Then the drilling point is ground smooth - and the piece of jewelry is finished. But he also makes whole chains out of amber or combines them with different materials. I particularly like how natural these works of art look.
That must be in the suitcase for the Binz vacation on Rügen
Tips from the amber fisherman in Binz on where to find amber
There is one thing that interests me: "How and where is the best way to find amber?" He laughs and says: "It's easiest after an autumn or winter storm." My eyes widen and I ask: "You go when it is cold in winter out into the Baltic Sea to collect the stones? "And he replies:" Yes. The storms bring with them waves that churn the bottom of the sea, exposing pieces of amber. The wave force drives them into the shore regions, and I only need to collect them from there. "
What sounds so simple here is certainly not easy. Standing in ice water at temperatures below freezing point just to collect the stones - that takes a portion of enthusiasm. He shows me the biggest pieces he has found so far. There aren't many, but two of them are almost the size of a palm. "And what do you do with these two?" I want to know. "I'll keep them for myself. They can't be sold," he laughs, looking almost lovingly at his treasures. Obviously, a close relationship with the finds is essential if an amber fisherman is to muster the energy to venture out into the Baltic Sea in search of wind and weather.
With these impressions we say goodbye to Finbarr Corrigan and his family and think about when he will go out into the sea in search of his stones. In autumn, when the storms sweep across the country, his amber stones and his treasure hunt are sure to come back to my mind. The Irish amber fisherman from Binz left a lasting impression!

If the video is not visible in your browser, click here.
The amber fisherman of Binz
Inh. Finbarr Corrigan
Paulstr. 1
18609 Ostseebad Binz
Tel: 038393-436444
Fax: 038393-436444
Do you like to travel by motorhome?
---
Travel Arrangements:
Parking at the airport
Here you can reserve your parking space at the airport.
Arrival by plane, train or bus
Book yours here Arrival by plane, bus or train*. Lufthansa or Germanwings fly to Rostock. From there we continue with the rental car. It is possible to travel by train to Rügen train station.
Car Rentals:
Cheap car hire - book quickly and easily!
Camper Rentals:
Compare motorhome prices here. Or would you rather travel with us Rooftent or Tent?
Hotels in Binz:
Hotels in Binz * You can book through our partner booking.com at this link. The Travel Charme Kurhaus Binz * you can find under this link.
---
Do you already know:
Slow Travel Tips you find here. Discover places where you Creativity and design you can experience.
Source: On-site research. We thank the Kurverwaltung Binz for the invitation to our stay in the city and the amber fisherman of Binz. Our opinion remains our own.
Text: © Copyright Monika Fuchs, TravelWorldOnline
Photos: © Copyright Monika Fuchs, TravelWorldOnline
Video: © Copyright Petar Fuchs, TravelWorldOnline
Amber fisherman from Binz