A New Hampshire White Mountains Bed and Breakfast

From which bed and breakfast do you explore the White Mountains USA? Do you know that? After an eventful hiking day in the mountains, you long for a pleasant accommodation, where you can sit together comfortably. Review the events of the day with a hot cup of tea or a good glass of wine. Forging plans for upcoming hikes or just finishing a nice day. Maybe you read a few more lines in a good book or talk to your partner about the impressions you gained during the day. The accommodation has to be right for an impressive experience. The Adair Inn in Bethlehem, New Hampshire, on the northern edge of the White Mountains is perfect for it. You will not regret booking your hotel in the White Mountains USA here.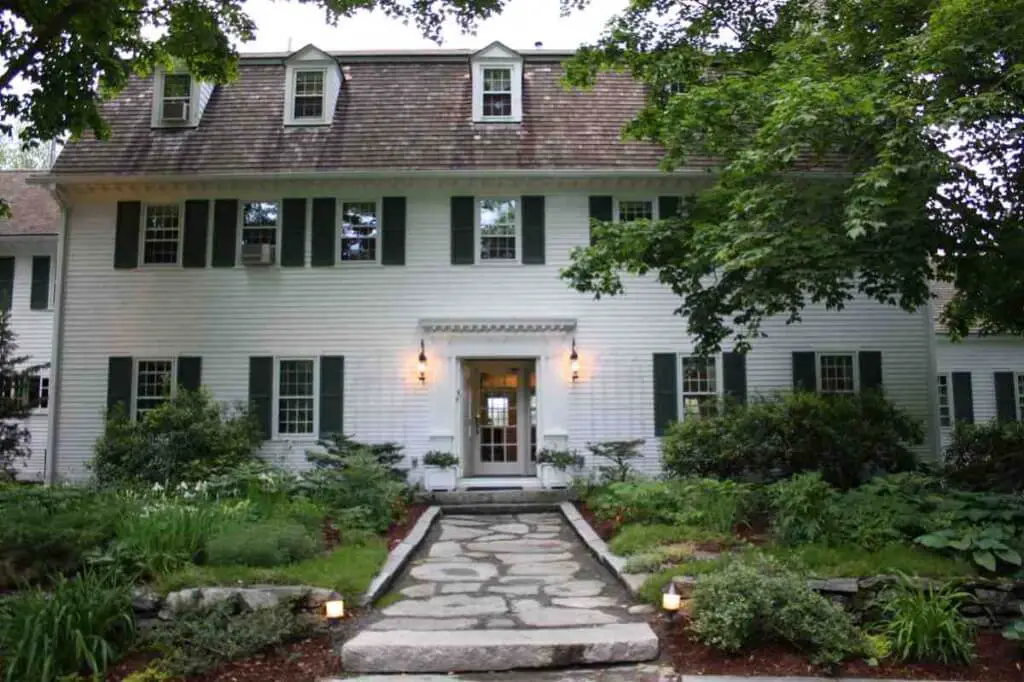 New Hampshire White Mountains Bed and Breakfast with History
We discover this charming Country Inn nestled in a park designed by Frederic Law Olmstedt - the creator of New York's Central Park and Mont Royal Gardens in Montreal - on our journey through New Hampshire. It is just half an hour west of Bretton Woods and the Cog Railway, the cogwheel railway that climbs the highest mountain in the White Mountains, Mount Washington. And it's not far to Franconia Notch, a mountain valley in the western part of the White Mountains. This is an ideal hiking area, where there is much to discover.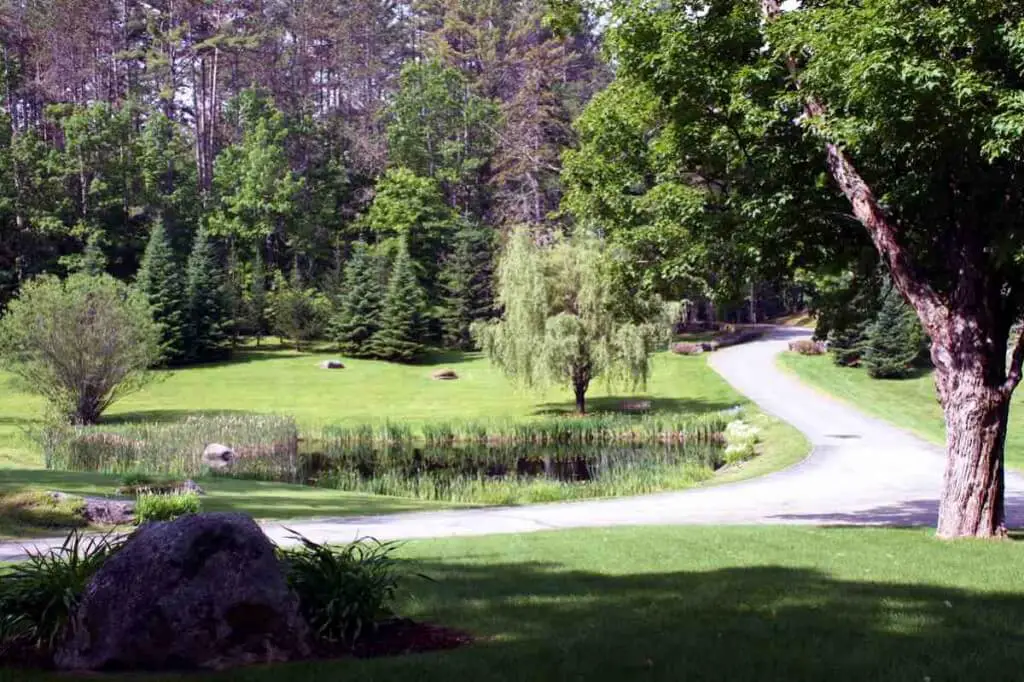 At first we think our navigation device is wrong, because it shows us the address on the highway - but a house is not in sight. Then we discover a gravel road, which is indicated by a sign on the road and follow it through the spacious park with ancient trees, past a large pond and an orchard, which finally ends in front of a white painted house. We are greeted by Kimberly and Barry Hunter, who proudly show us their inn. They are renting nine guest rooms, all of which are differently decorated.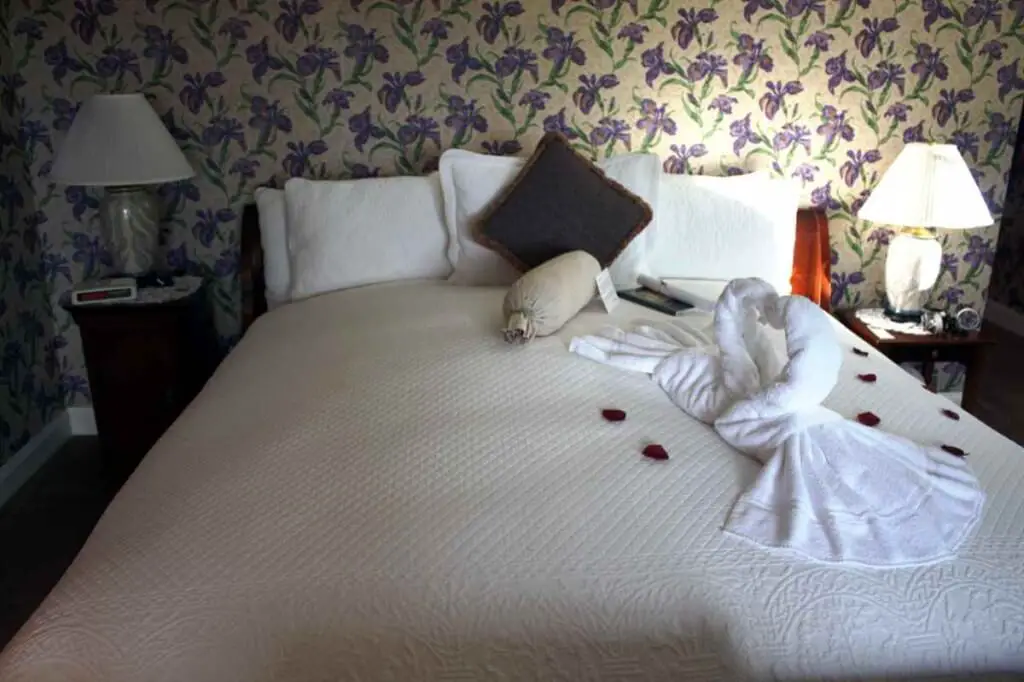 Comfortable stay in this New Hampshire White Mountains Bed and Breakfast
All rooms have cozy beds with mattresses, that are so thick that I have difficulty climbing into them in the evening. That night, I sleep like on clouds. Gorgeous! But it is difficult to go to bed, because the rooms are furnished with so much taste and love that you would like to try everything and enjoy. The comfortable wing chairs in front of the wood stove. The sofa on the balcony to the view of the White Mountains. The desk that lures you to work or the reading corner with its bookcases, which awakens the bookworm in me. This is an accommodation that I could not wish for better.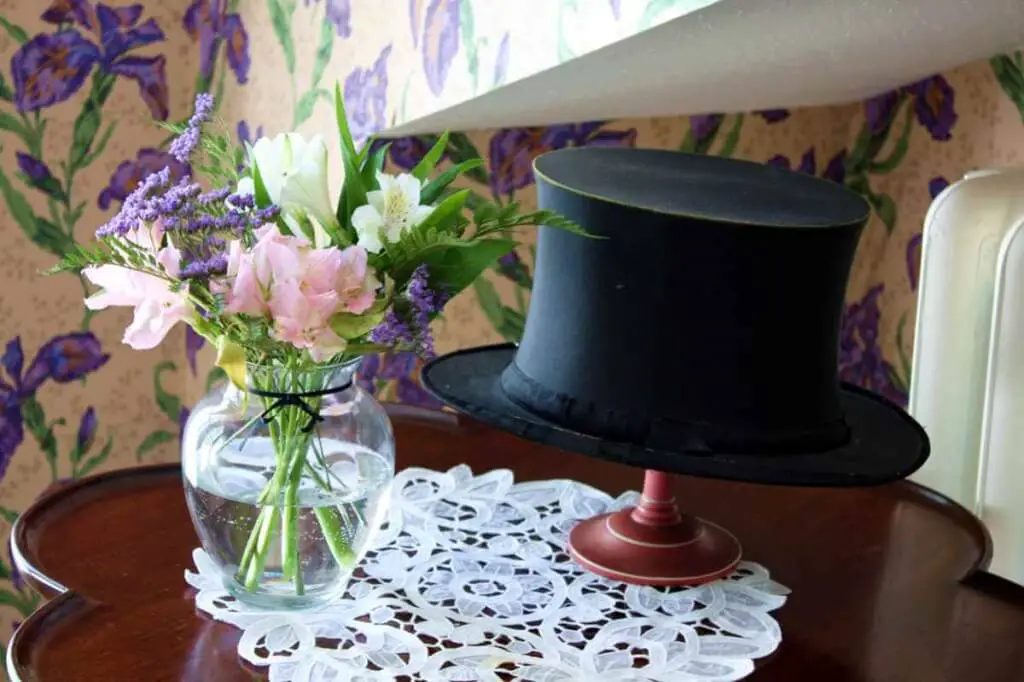 Vintage style at the Adair Inn
It's not just the cozy rooms that take us straight to the Adair Inn. As we walk through the inn, we notice how much attention is paid to little things and with how much attention to detail Kimberly and Barry operate their Inn. The entire inn is decorated with possessions of the first owner. Dorothy Adair Hogan received the house as a wedding present from her father, who gave it to her for her marriage to John W. Guider. It was built in 1927, and contains many memorabilia from the family property of the Guiders. Dorothy lived in this house until 1991, and a year later it was transformed into a Country Inn. Kimberly and Barry Hunter have been managing the Inn for several years, investing a lot of time and love in the house, which can be seen and felt everywhere.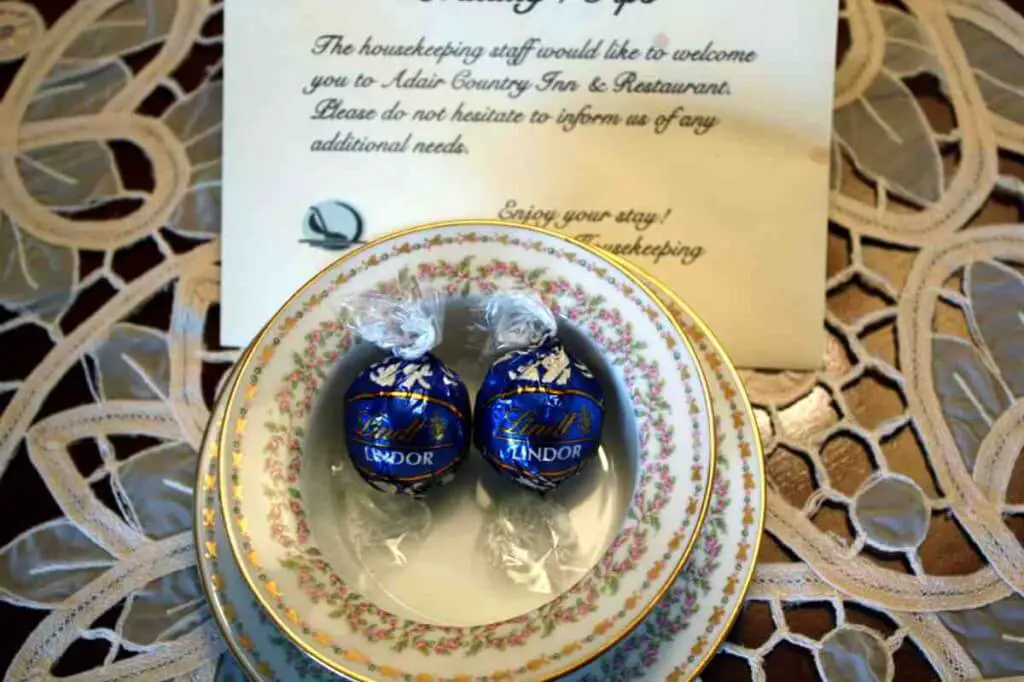 Lifestyle of the twenties and thirties
I can not get enough of the many stylish men's and women's hats from the Twenties and Thirties, which are distributed throughout the house as a decoration together with elegant lamps, country sampler embroidery, books worth reading, tasteful vases and glass bowls in which genuine Floral arrangements and a mountain of sweets tempt the guest to make use of them in passing. Apropos, self serve: Kimberly shows us a fridge in the basement on our tour of the Inn, which is full of drinks of all kinds, where the guests can serve themselves for free. If you have brought any leftovers from your lunch picnic, you can keep them in the adjoining guest fridge. This New Hampshire White Mountains Bed and Breakfast caters to all guests' needs and is organized in such a way that you can not help but feel comfortable here.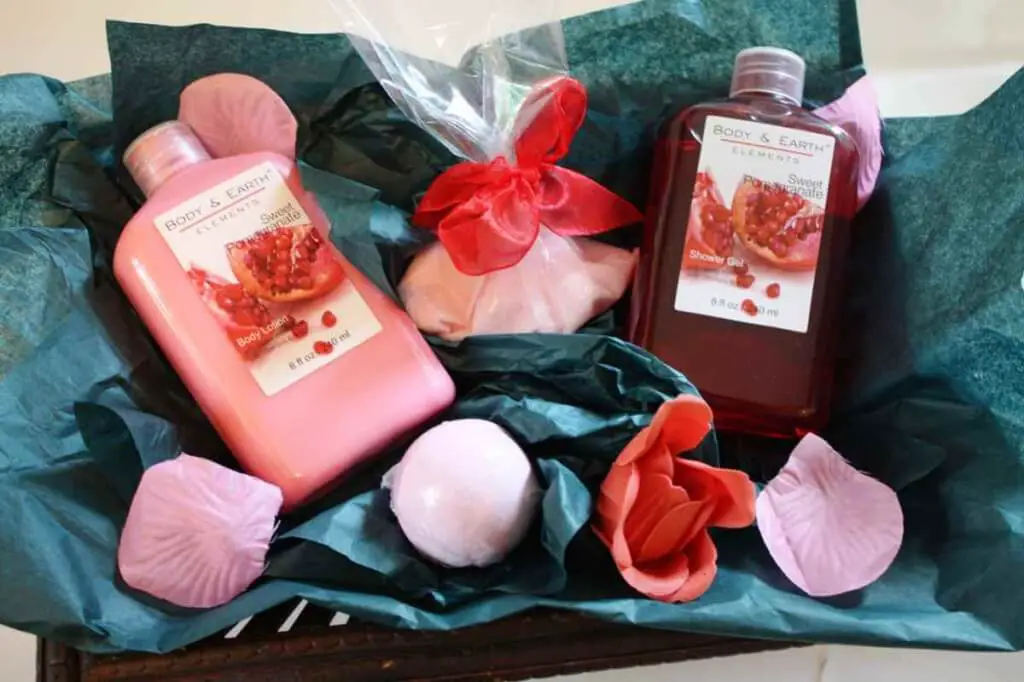 Baths for Wellness Lovers
Something special are the bathrooms of the guest rooms. Again you notice the attention to detail everywhere, with the needs of the guests in mind. We stay in the deluxe suite of the Inn and get the biggest bathroom of the house: with a separate room for toilet and shower and a bathtub with jacuzzi, in which four people would find room. The bath salt is invitingly prepared in a small bowl and decorated with a paper flower. Bath foam, shampoo and lotion are so big that we would have to spend weeks here to consume them. Fluffy, thick, white towels and bathrobes require to be used. Our bathroom is a private wellness area where you can spend hours. In the other rooms of the Inn, the bathrooms are not quite as big, but with just as much attention to the well-being of the guests.
Breakfast at this New Hampshire White Mountains Bed and Breakfast
Another highlight of the Adair Inn is the breakfast that Kimberly personally prepares for us the next morning. This is very different from what you usually get served in mainstream hotels. Barry invites us to serve ourselves with coffee. Then he brings the culinary delights that his wife prepares in the kitchen: a small bowl of fruit salad with fresh fruit, steaming fresh popovers, which we are served here for the first time in an inn. It is difficult to match them to the individual guests' needs. If you take them out of the oven and do not eat them immediately, they collapse.
At the Adair Inn in the White Mountains USA, breakfast is therefore available for all guests at XNUMX:XNUMX in the morning. We eat them hot and give something butter on, which melts immediately and finds its way through the airy openings of the pastry - delicious! We are very happy to accept the fixed breakfast times. At the end we both get a big piece of warm apple pie with fresh blueberries and two pork sausages. And before you ask us: yes, it tastes good! Even excellent!

We recommend this wonderful inn to everyone who wants to combine their trip through the White Mountains with the experience of real American hospitality. We felt so comfortable at the Adair Inn that it was difficult to say goodbye after just one night. It's worth spending several nights here. Are you looking for more Bed and Breakfasts in New England, then take a look at Greetings from New England with Love.
---
Adair Country Inn & Restaurant
80 Guider Lane
Bethlehem, New Hampshire 03574
USA
Further information, current availability query and convenient online booking*
---
More tips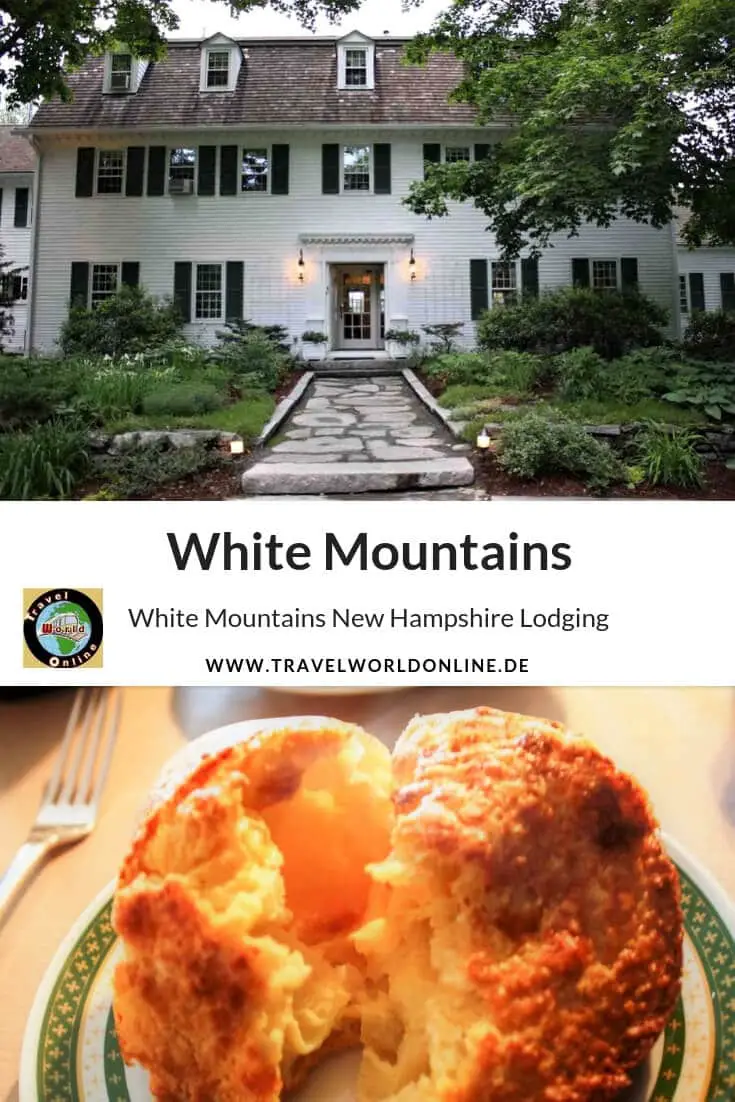 Do you already know:
Source: New Hampshire White Mountains Bed and Breakfast: own research on site. The trip took place at the invitation of Discover New England. The opinions in this article remain our own.
Text: © Copyright Monika Fuchs, TravelWorldOnline
Photo: © Copyright by Monika Fuchs, TravelWorldOnline
Video: © Copyright by Petar Fuchs, TravelWorldOnline
A New Hampshire White Mountains Bed and Breakfast