What is typical Scottish food and drink?
You can find typical Scottish food and drink in pubs as well as in restaurants or hotels in Scotland. It's not just that shortbread and whiskey. Although of course this too Trips to Savor belong. We notice one thing very quickly during our stay in Scotland. Scottish food is hearty and filling. So perfect for Outdoor adventurer In scotland. However, it is not easy to find out what to order. Anyone reading a menu in Scotland for the first time needs one Übersetzer. Because who knows immediately what Haggis, Neeps and Tatties are? We were in a restaurant on our first visit Inverness at least before a riddle.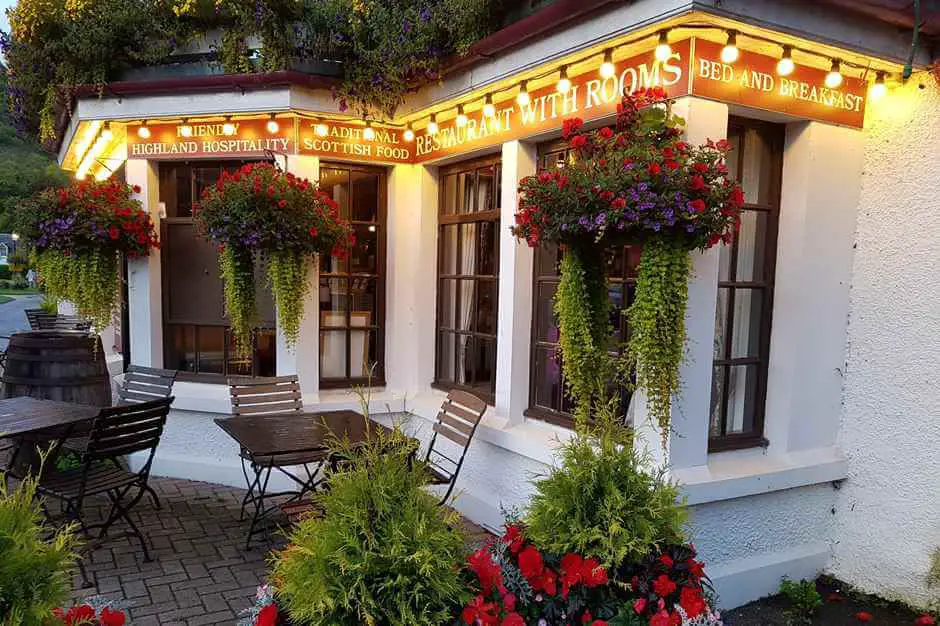 Typical Scotland: Haggis, Neeps & Tatties
Thanks to Google and a good internet connection, we quickly find out that Haggis is a typical Scottish specialty. The ingredients initially take some getting used to. Haggis consists of sheep entrails like heart, liver, lungs and stomach, which are minced in the meat grinder. They then mix that with fat, flour and onions. Some like to add beef and oatmeal. Haggis is always well seasoned with pepper. This mixture is filled into a sheep's stomach and cooked in the oven. My initial skepticism quickly disappears, when I realize, that it tastes quite good. For my taste it is a bit spicy, though. But that obviously is typical. In Scotland, "Neeps" is a puree made from turnips, and "Tatties" are potatoes, that are also served as coarse puree.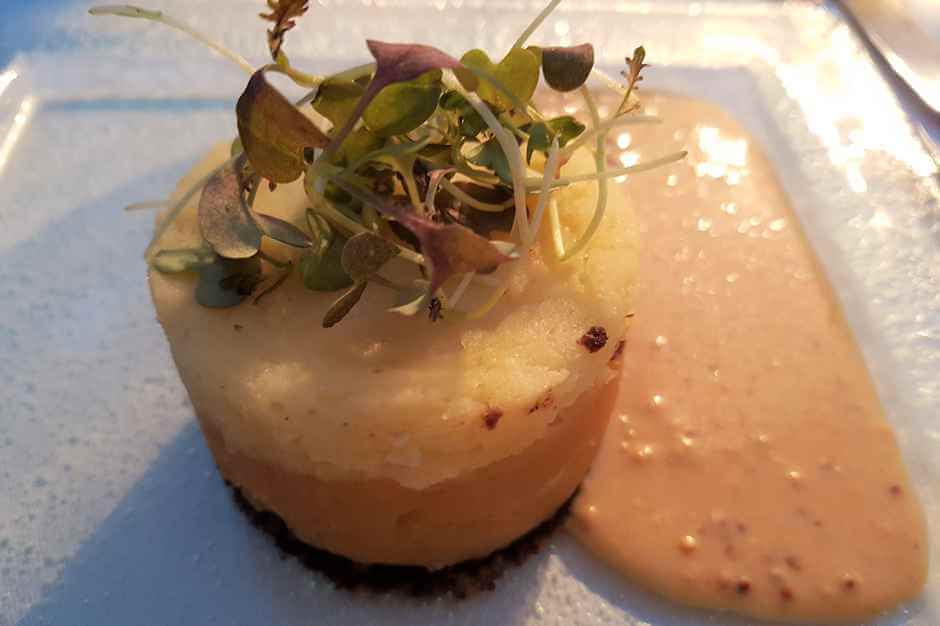 Haggis, Neeps & Tatties was also the favorite dish of Robert Burns, Scotland's most famous poet. He even wrote a poem about it. You can find this (and a German translation of it) here.
It's Scottish food, that's perfect for an evening out after a hike at one of the lochs. We taste it for the first time at a dinner. It is served as the first course of our dinner in the Kingsmills Hotel in Inverness *. In hotels you can sometimes get haggis for breakfast, too. However, since we are only briefly in Inverness and at Loch Ness, we want to taste other breakfast versions. After all, we want to get to know as much typical Scottish food as possible during our time in the country.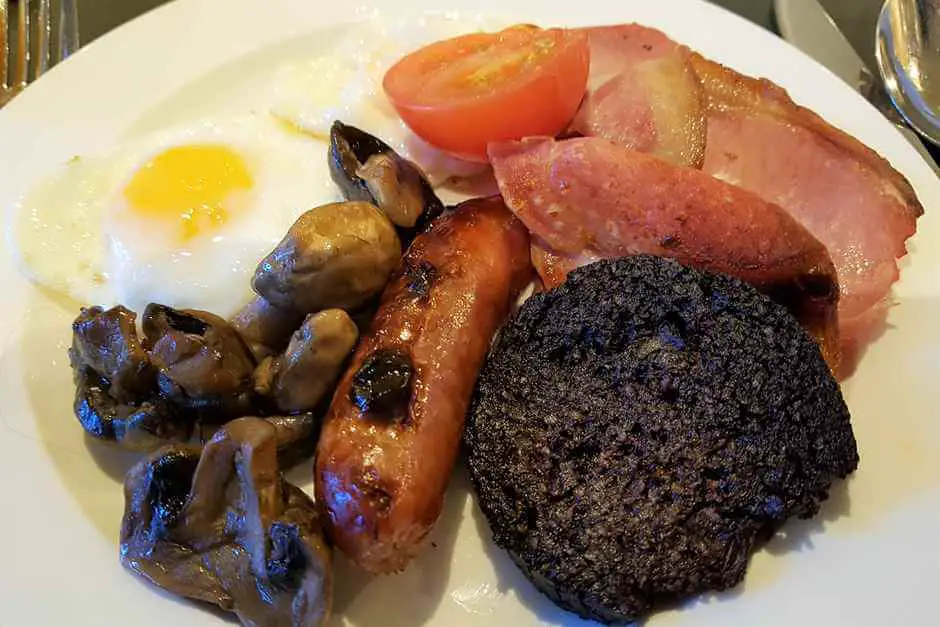 Breakfast in Scotland - typical Scottish food
Our first breakfast in Inverness reminds me a lot of Ireland and how they start the day there. It is served in a coffee shop in the hotel. The ambience is not really cozy, rather functional. The selection for a continental (cold) breakfast consists of cold cuts and cheese, fruit, cereals, dried fruits and nuts, yogurt, bread, pastries, porridge, milk and juices. However, we are interested in a cooked Scottish breakfast. We can choose the ingredients for this ourselves. There are pork sausages, black pudding, bacon, mushrooms, tomatoes, eggs (fried or as scrambled eggs) and baked beans. Except for the beans, you can find everything in the photo above.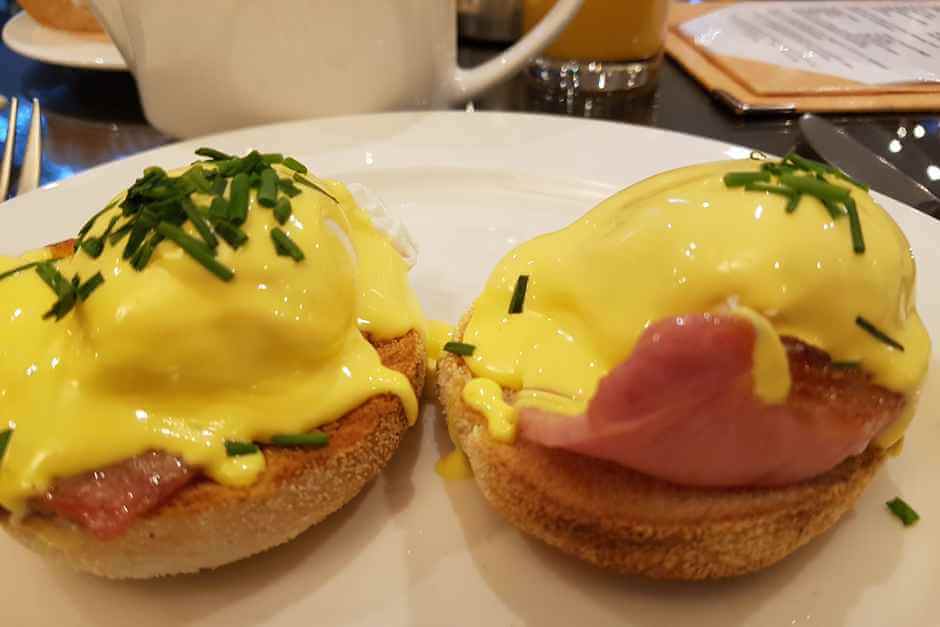 In addition, there are other side dishes or warm breakfast variations. These include vegetarian sausages, poached eggs, potato scones, omelets, Pancakes, Haggis, boiled eggs, smoked herring (Scottish Kippers), smoked salmon with scrambled eggs, poached Scottish smoked fish (Scottish Smoked Haddock) and poached eggs. We order Eggs Benedict on smoked salmon on the second day. I usually can't resist that. Again, this was a good choice and typical Scottish food. We often find salmon on the menus in Scotland.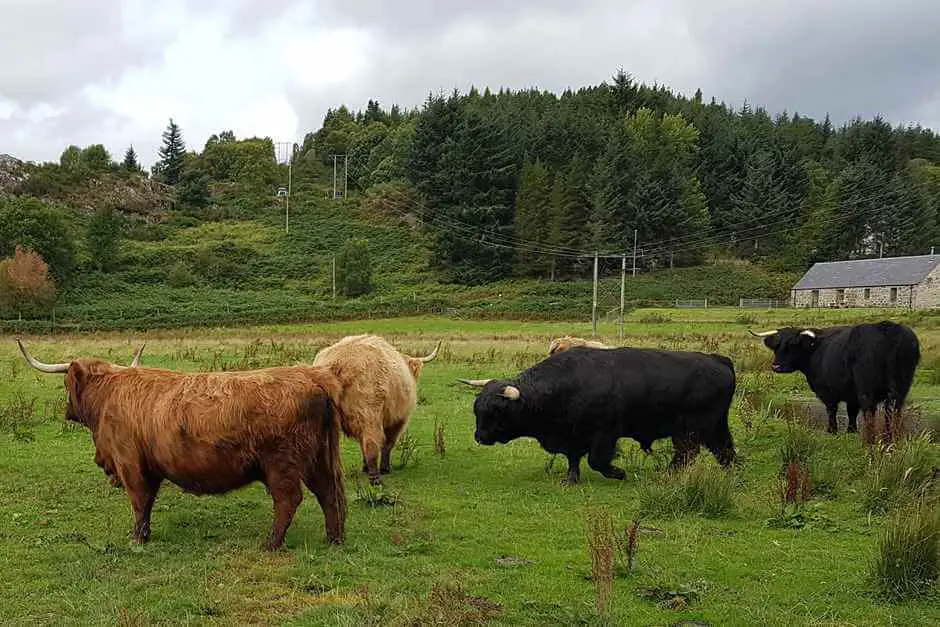 Scottish lunch
For lunch, you can go to restaurants, pubs or coffee shops on country roads. As we spend the first day of our stay in Inverness with a tour of the area, we stop at one of the coffee shops along the route. Scottish highland cattle graze in the pasture. A doe greets us curiously from its paddock, and geese chatter excitedly, when they see us coming.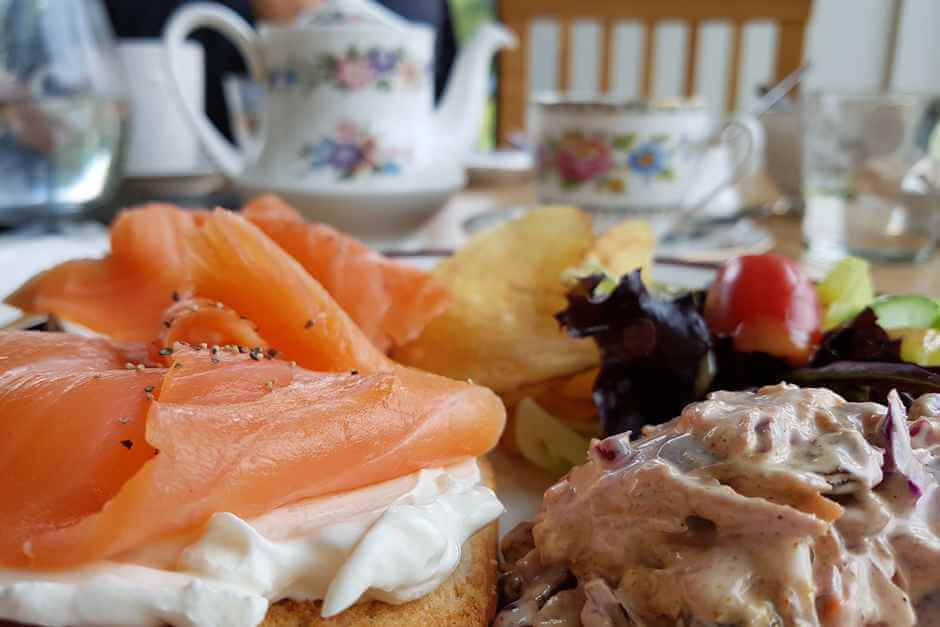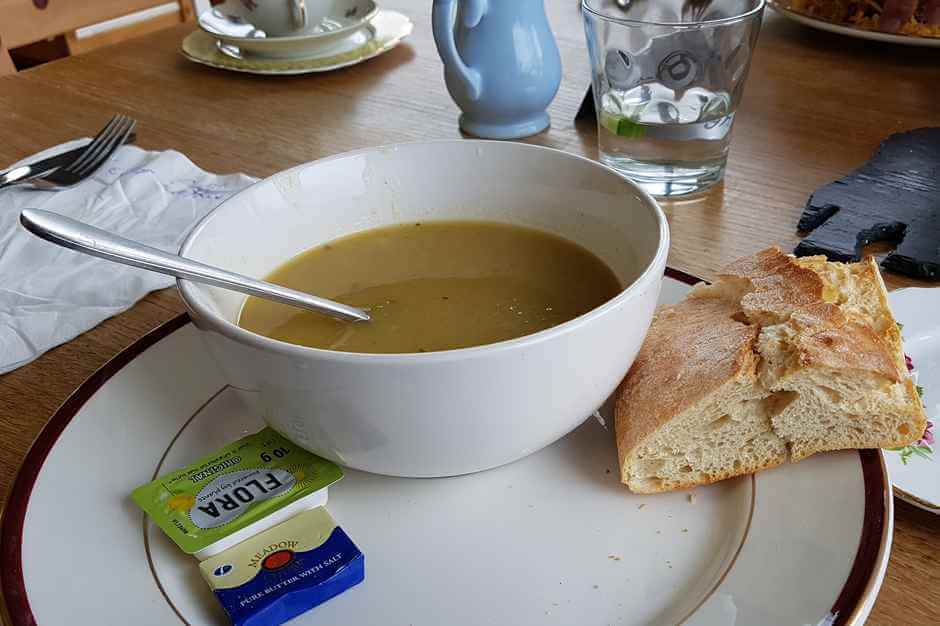 The coffee shop is small but well visited. There is still space at one of the wooden tables for us. From our seats we have a good view of the cattle pasture and the countryside. We choose our dishes from a slate board, that advertises the daily specials. I opt for a salmon roll with meat salad, mixed salad and chips. There is also tea. This is as popular in Scotland, as it is in England. Petar has a potato soup with bread.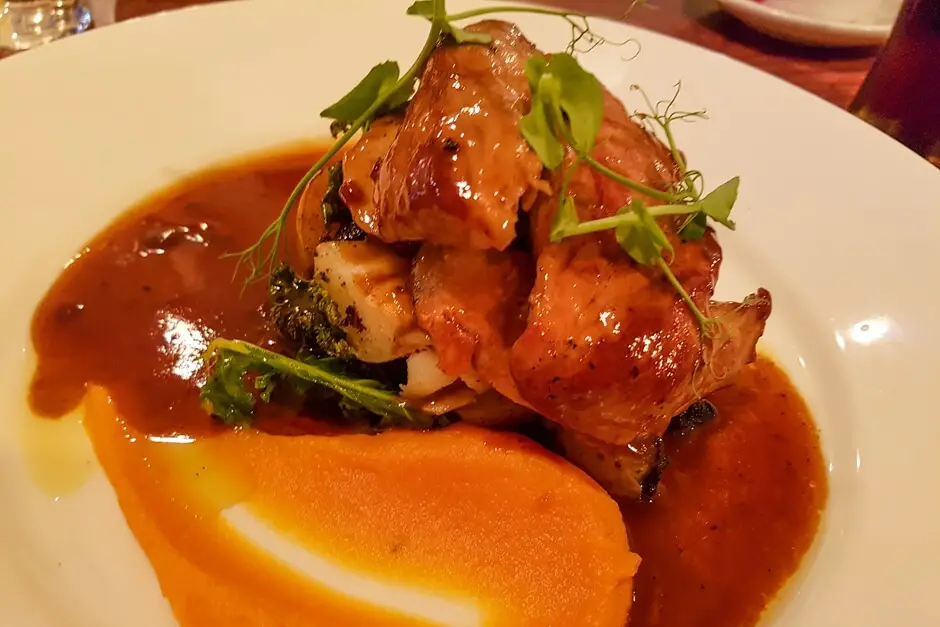 On the second day of our stay, we visit the Number 27 restaurant (27 Castle St, Inverness IV2 3DU) below Inverness Castle. Number 27 is a mixture of pub and restaurant. It describes itself as "Bar and Kitchen". On the walls it advertises the current desserts of the day. However, we choose our lunch from the extensive menu. It is cozy here. Apparently the ladies group, who comes shortly after us and obviously enjoys their lunch together, agrees. This time we opt for pork belly on pumpkin puree with red wine sauce. Even our lunch shows, how hearty - and good - Scottish food and drink is. Neither our time nor the capacity of our stomach are big enough for a dessert. That's why we save the desserts for our dinners.
What do you eat for dinner in Scotland?
When it comes to Scottish dinners, the first thing that might come to mind is haggis. This traditional dish is made from sheep's heart, liver and lungs, mixed with rolled oats and spices. The whole thing is then cooked in a sheep's stomach. Haggis may not be for everyone, but it's definitely worth trying.
If you want to try something less adventurous, then you should try Cullen Skink. This is a delicious soup made from smoked fish, potatoes and onions. Often served with fresh bread, it's a great choice for a cold night.
Another option for a Scottish dinner is the famous fish and chips. Fried fish is served with french fries. While it may not be traditionally Scottish, it's definitely a popular dish in Scotland.
There are also plenty of other tasty options for a Scottish dinner, from steak to vegetarian dishes. Whatever you choose, don't forget to try a Scottish beer or whiskey with it. That makes the food even better!
For dinner there is typical Scottish food in Inverness and at Loch Ness
We have dinner twice during our short trip to Inverness. Once at the Conservatory Restaurant at the Kingsmills Hotel in town, and once at the Fiddler's Pub in Drumnadrochit on Loch Ness. We got Scottish food at both locations. Scottish gourmet food with haggis, neeps and tatties (see photo above) as a starter was available at the hotel. We liked, that traditional Scottish food was part of a gourmet dinner. In the pub we got pub food as is common in Scotland. That is also an experience, that we like to remember.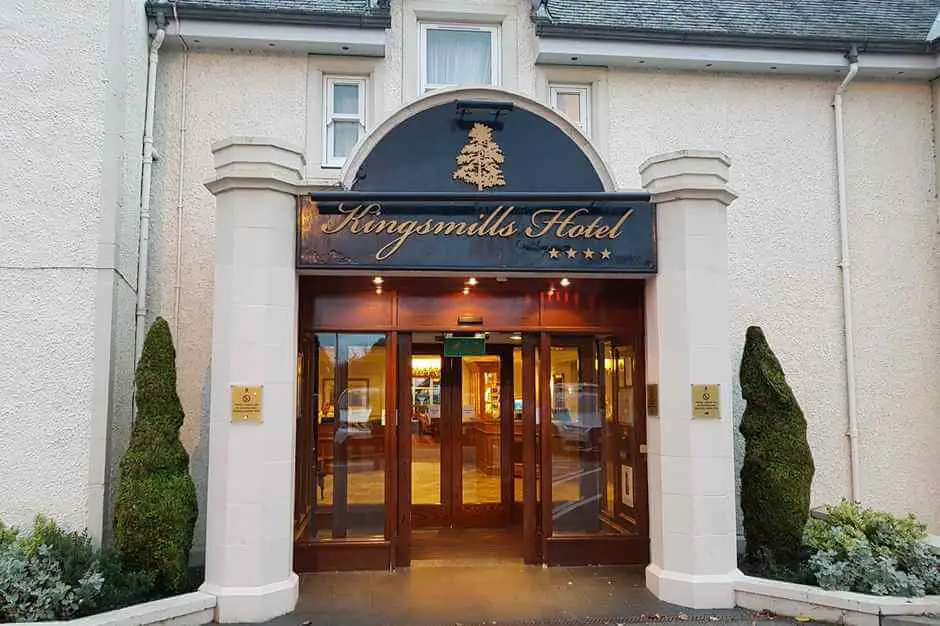 Gourmet food at the Conservatory Restaurant at the Kingsmills Inn in Inverness
We are served a gourmet dinner at the Conservatory Restaurant at the Kingsmills Inn. The Scottish starter is followed by a featherblade of Scottish beef with châteaux potatoes, seasonal vegetables and red wine jus. With the "Featherblade" I had to google again and found this explanation at LEO: It is the piece "above the (shoulder) blade and is probably called "feather blade" because a thick layer of connective tissue runs through the middle, from which the fiber in branches off in both directions as if from a quill." In any case, it tasted excellent.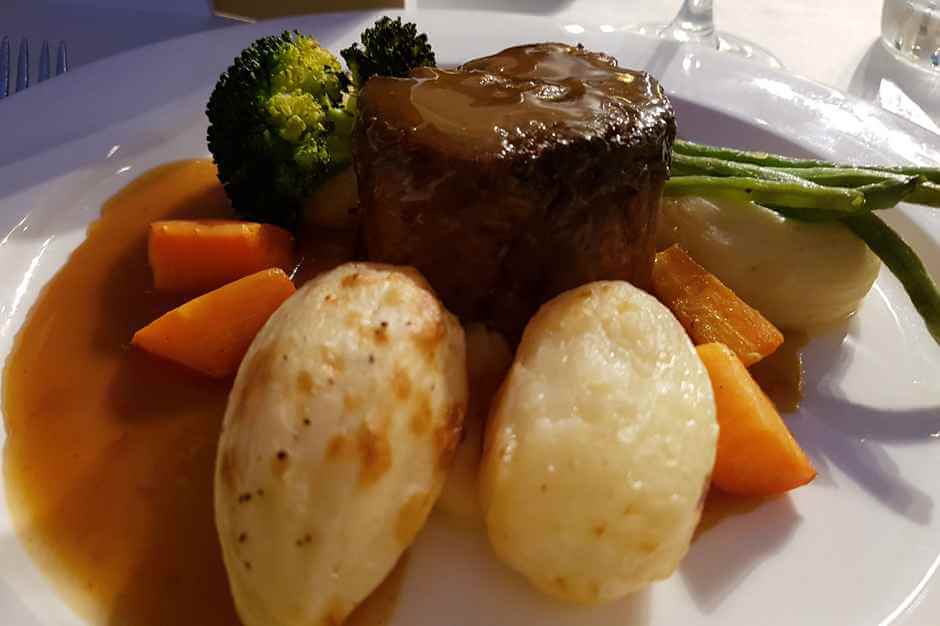 Raspberry slices as dessert rounded off our gourmet dinner perfectly. They were the perfect and light ending to our first dinner in Scotland.
To round it off, we enjoyed a coffee and a glass of Highland Single Malt Scotch Whiskey from the Tomatin Distillery, which we visited the next day. I am usually not a fan of Scottish whiskey, because it is often too smoky for me. I usually prefer triple distilled Irish whiskey. All the more surprising was Tomatin's Legacy whiskey. I am now convinced of Scottish food and drink in this respect too. You just have to look for what you like best.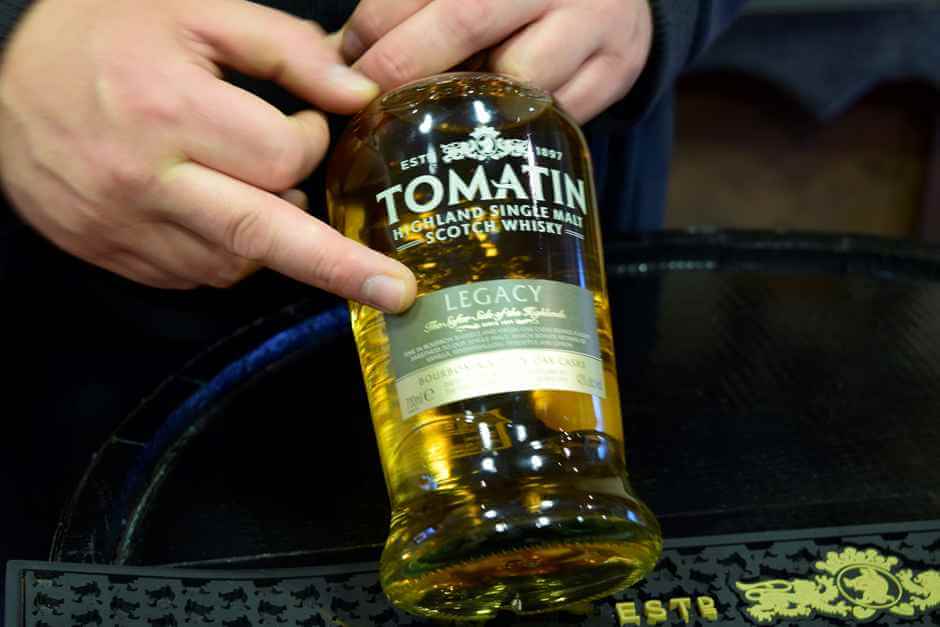 What I particularly liked about this gourmet meal was that only Scottish products were used. This gave us the opportunity to gain an insight into the traditional cuisine of Scotland.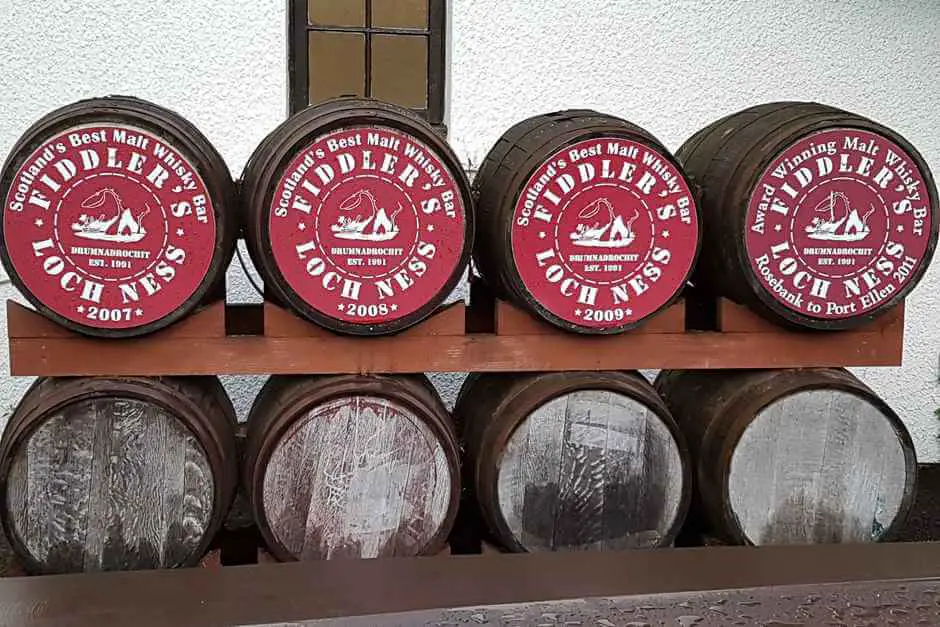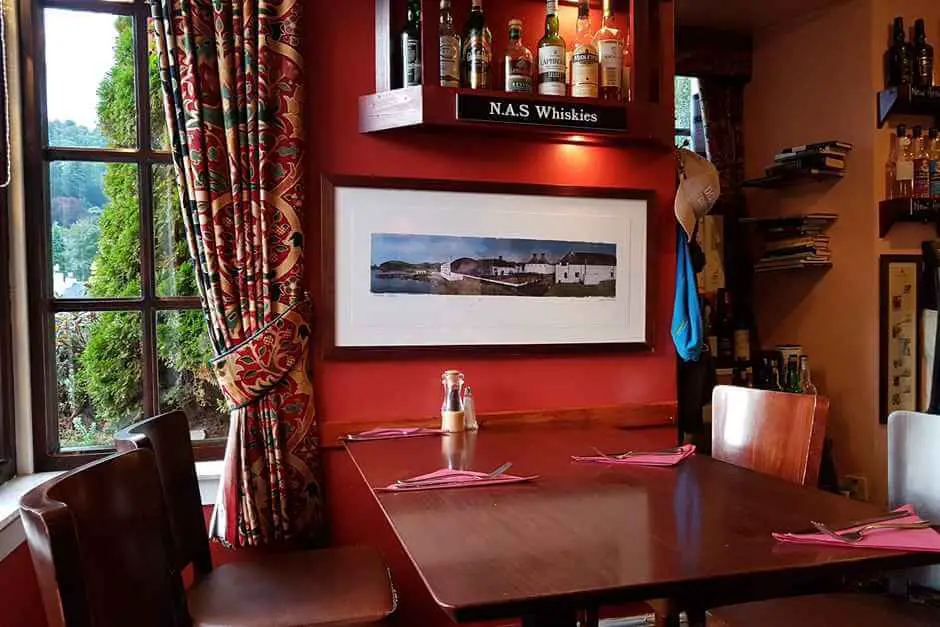 Dinner at the Fiddlers Pub in Drumnadrochit
As we stayed at a B&B in Drumnadrochit on our second evening Loch Ness stayed overnight, we ate at Fiddler's Pub in the center of town (The Village Green, Drumnadrochit). It's one of those pubs that the locals like to go to too. Pubs like this are almost something like the living room of the village community. Everyone meets there for a beer, a chat with friends or a meal with the family. It was the same here. It was tight in Fiddler's Pub. And loud! But it was fun to watch people spend their evening. We followed suit by enjoying our dinner with them.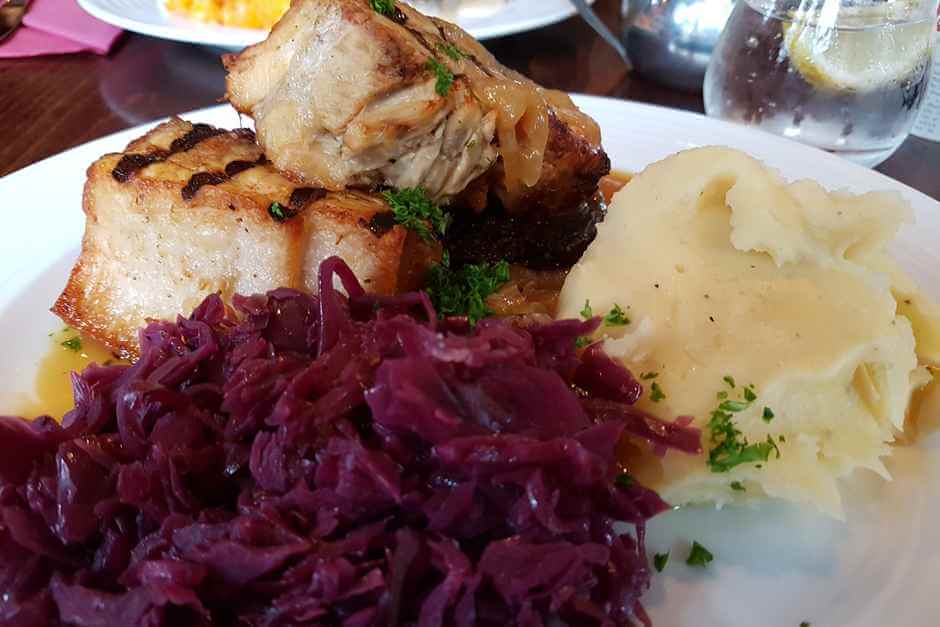 The Auswahl is great
This time we eat à la carte. There is a large selection, but we want to try Scottish food here too. That's why I choose the Loch Ness Cider & Onion Pork Belly. It's slow-cooked pork belly with black pudding, Loch Ness cider and onion, mashed potatoes and red cabbage. Petar takes the Highlander Chicken, that grilled is. There are also Haggis from Cockwalls from Dingwall, mashed tatties and mashed beet puree (neeps). There is also Dijon mustard sauce.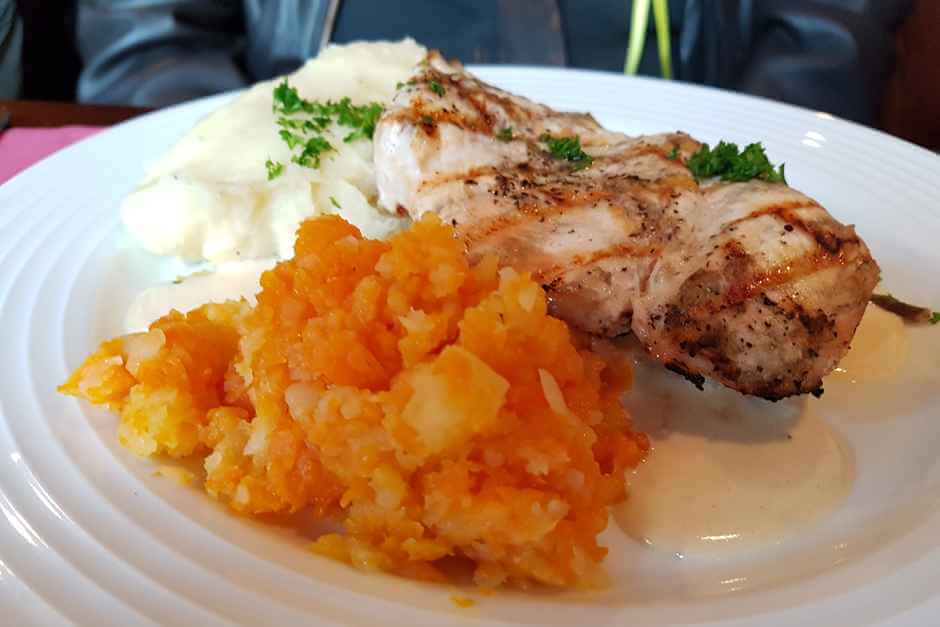 How about dessert?
Although the food is hearty, tastes good and makes us full, we want to test a dessert as well. After all, we don't have the opportunity to try Scottish food every day. This time, however, we limit ourselves to one dessert for the two of us. To eat more is simply not possible. Since Petar is a big fan of Pavlova, we choose the Forest Fruit Pavlova as a dessert. It is a chewy meringue with forest fruit compote. It comes with whipped cream, strawberries and cream ice cream.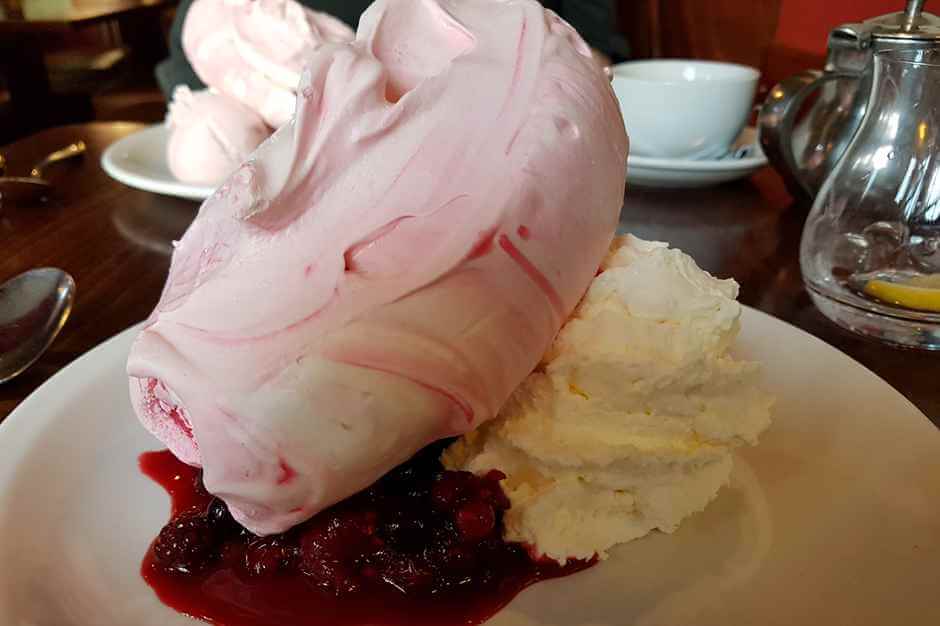 To finish our dinner off, we treat ourselves to a satisfying glass of whiskey from the Tomatin Distillery range of products.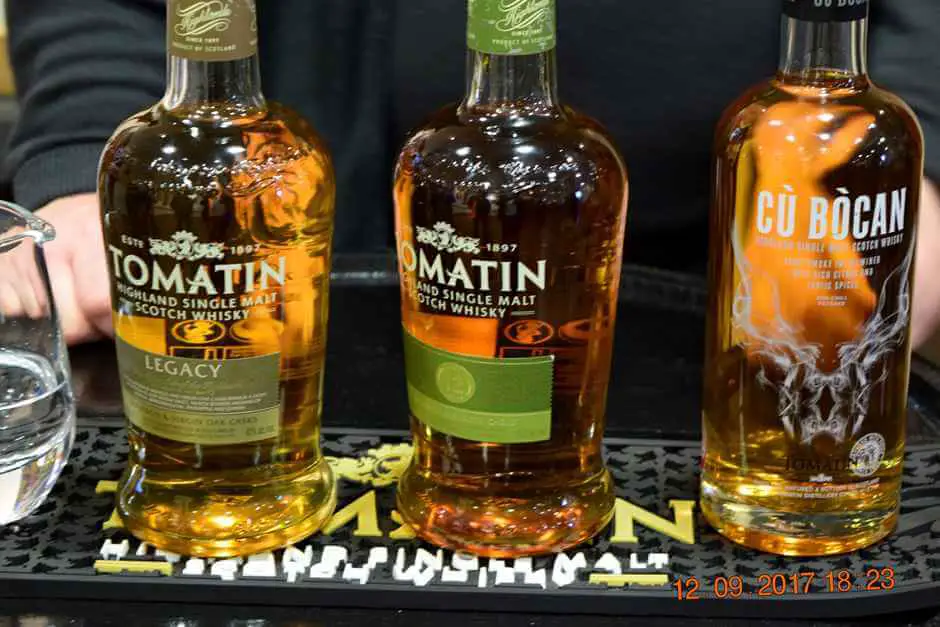 During our two and a half days in Inverness and at Loch Ness, we certainly did not get to know all the specialties that offer Scottish food and drink. What is missing from our list are, for example, the many fish and seafood dishes that Scotland offers. In the short time we could not try them. But these are good for a longer trip through the country. With our examples, however, we hope to introduce you to some dishes that you should definitely try on a trip to Scotland. Perhaps our explanations will also help you to find your way around Scottish menus.
Travel Arrangements:
Parking at the airport
Here you can reserve your parking space at the airport.
Check in:
Arrival by plane, bus or train*. Inverness offers an international airport.
Trips:
There are numerous Excursions and tours in and around Inverness.
Accommodations:
Hotels in and around Inverness * You can book here. We have the first two nights in the Kingsmills Hotel in Inverness * spent the night. The third night we stayed at Glenkirk B&B in Drumnadrochit. Under Bed and Breakfast Inverness Scotland * You can book bed and breakfast in and around Inverness.
Scotland Travel Guide:
Travel Know-How Guide Scotland - with Orkney, Hebrides and Shetland
Lonely Planet Travel Guide Scotland: with downloads of all maps (Lonely Planet Travel Guide E-Book)
Scotland Travel Guide Michael Müller Verlag: Travel individually with lots of practical tips (MM-Reisen)
DuMont Travel Guide Guide to Scotland: with extra travel map
Stefan Loose Travel Guide Scotland: with downloads of all maps (Stefan Loose Travel Handbooks E-Book)
Travel Know-How Guide Scotland - with Orkney, Hebrides and Shetland
Lonely Planet Travel Guide Scotland: with downloads of all maps (Lonely Planet Travel Guide E-Book)
Scotland Travel Guide Michael Müller Verlag: Travel individually with lots of practical tips (MM-Reisen)
DuMont Travel Guide Guide to Scotland: with extra travel map
Stefan Loose Travel Guide Scotland: with downloads of all maps (Stefan Loose Travel Handbooks E-Book)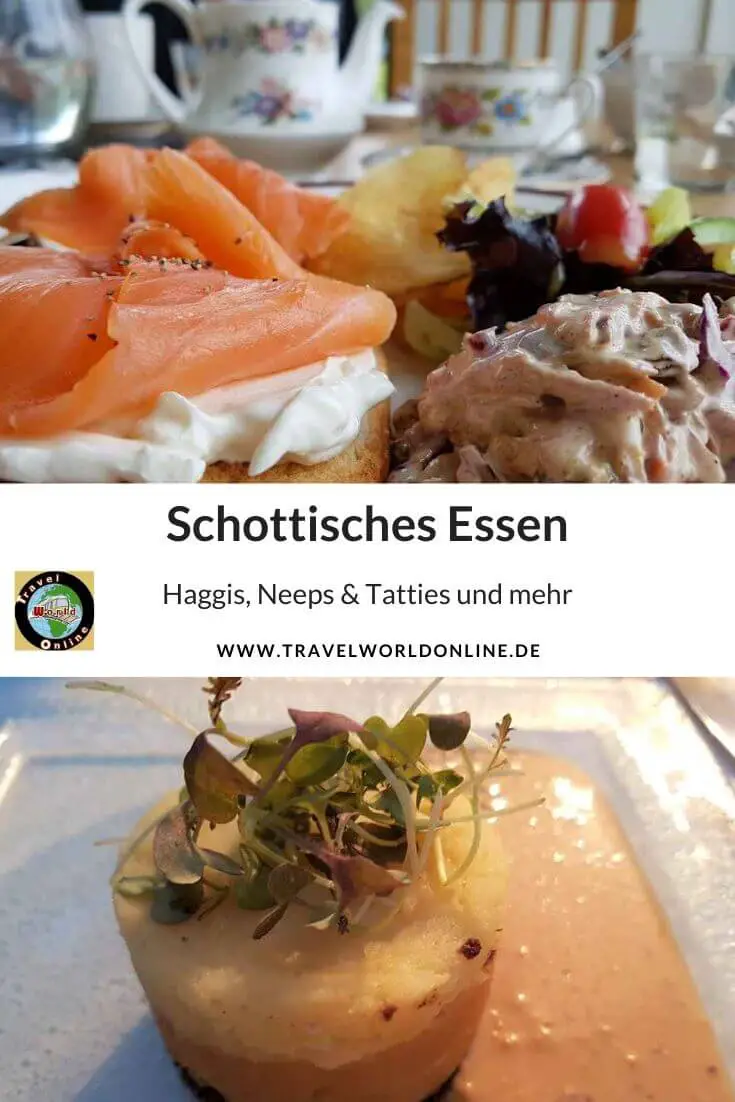 Do you also know:
Source Scottish food and drink: own research on site. In any case, our opinion remains our own.
Text: © Copyright Monika Fuchs and TravelWorldOnline
Photos: © Copyright Monika Fuchs and TravelWorldOnline
Enjoy typical Scottish food and drink
Last update on 8.09.2023/XNUMX/XNUMX / Affiliate links / Images from the Amazon Product Advertising API