One reason why I particularly remember our trip to the Lipno Dam was bohemian food. I spent my childhood on the border of the Bohemian Forest. The dishes that my mother conjured up in our kitchen included many dishes from Bohemian cuisine. I was all the more looking forward to rediscovering Bohemian specialties in South Bohemia. However, a completely different kitchen awaited me there. The restaurants we visited around Lipno Lake served good food though. However, bohemian dishes were hardly to be found on the menus. Once there was Liwanzen for dessert. a yeast dough pastry that is spread with Powidl (plum jam) or sprinkled with a mixture of poppy seeds, cinnamon and sugar. That's it.
However, I was already forewarned. In his South Bohemia Travel Guide* writes Michael Bussmann that this can be attributed to the socialist era. 90% of women in the Czech Republic have been employed since that time. There wasn't much time left for cooking. Bohemian food fell into oblivion. At the same time, the socialist government regulated down to the last detail what was to be prepared in restaurant kitchens. Traditional Bohemian recipes were not among them. It is therefore no wonder that we were able to eat well in the restaurants at the Lipno Dam. However, the dishes were all from international cuisines. Instead, we almost always looked in vain for dishes from Bohemian cuisine. So, not surprisingly, the best dish I remembered from our trip to South Bohemia was an American cheeseburger. Still a pity! Because the Bohemian cuisine is rich in delicious dishes.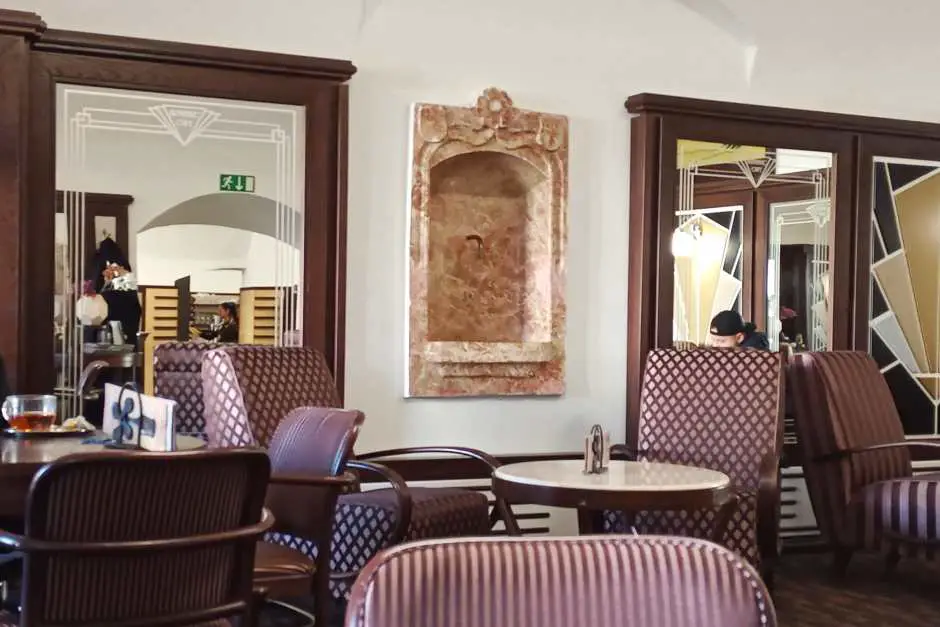 Bohemian food: regional specialties from Krumau, Budweis and Lipno
South Bohemia, a region full of picturesque landscapes, historic towns and culinary delights, has a lot to offer. In this article we will take you on a culinary journey through Bohemian food from the region around České Budějovice, Cesky Krumlov and Lipno nad Vltavou. Not only the famous beer plays an important role in southern Bohemia, but also the hearty home cooking, which is made from regional ingredients. Both fish from the Vltava River and beef from the cattle that graze on the lush mountain pastures in the Bohemian Forest are used as ingredients. The traditional South Bohemian cuisine knows how to use it in a creative way.
Wild berries, mushrooms and herbs are also typical components of Bohemian food. They give soups and sauces a varied taste and provide a special touch. The chefs in the region are always careful to bring out the natural flavors of these ingredients.
Sweet pastries also have a long tradition in South Bohemia. Yeast cakes in particular are very popular. Various fillings such as quark, poppy seeds, plum jam or nuts refine these delicacies and ensure an irresistible taste experience. Such sweet treats are often served with coffee or tea in the afternoon. They are a staple of bohemian food.
Overall, South Bohemian cuisine offers an impressive variety of hearty dishes that make the most of local ingredients. From hearty meat and fish dishes to sweet pastries, there is something for every taste. Let yourself be seduced by the bohemian food on your journey of discovery through South Bohemia and experience the variety of flavors of this beautiful region! Here we show you which Bohemian food comes from this region.
Bohemian food from České Budějovice: a city full of taste and tradition
Budweis, right? Ceske Budejovice, is known not only for its world-renowned beer, but also for its traditional Bohemian food. Let's start with a selection of the most famous specialties: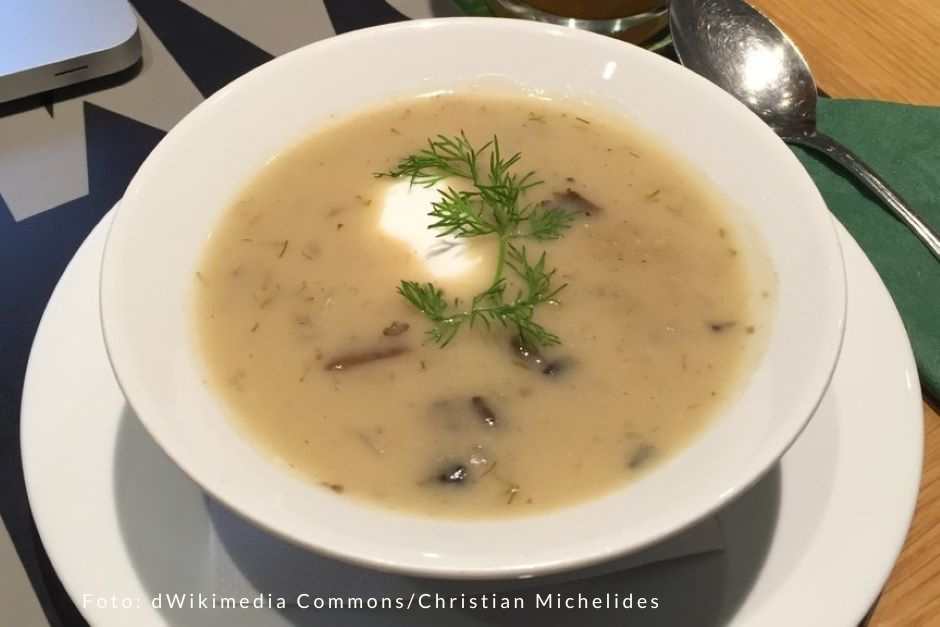 Kulajda – A creamy soup with mushrooms and dill
Kulajda is a typical soup of South Bohemian cuisine, popular especially in České Budějovice. This creamy soup is made with fresh wild mushrooms, potatoes, sour cream and lots of dill. A poached egg is added as a special ingredient. The combination of flavors is simply irresistible!
Budweiser Bierfleisch – meat dish in beer sauce
Budweiser beer meat is a local specialty made from pork or beef and simmered in a flavorful beer sauce. The world-famous Budweiser beer is used, which gives the sauce a special depth and an unmistakable taste. Traditional Bohemian dumplings are served with it, which are perfect for soaking up the delicious sauce. A prescription for it can be found at Servus.com.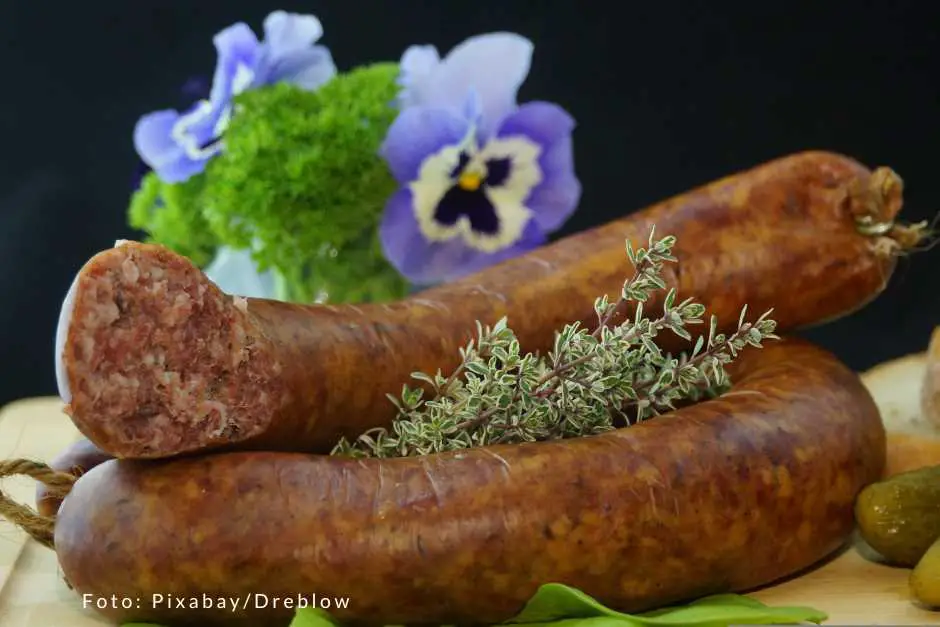 Budweiser Klobása – A hearty sausage specialty
Budweiser Klobása is a smoked sausage made from a mixture of pork and beef. Seasoned with garlic, pepper and marjoram, this sausage is a popular snack that is often eaten cold or slightly warm. You can often find them in beer gardens or at folk festivals and they are a must for every sausage lover.
Bohemian food from Krumau: Culinary diversity in the historic city
Cesky Krumlov or Krumlov, the city on the Vltava River, attracts visitors not only for its architecture and history, but also for its regional dishes. This is bohemian food you should try: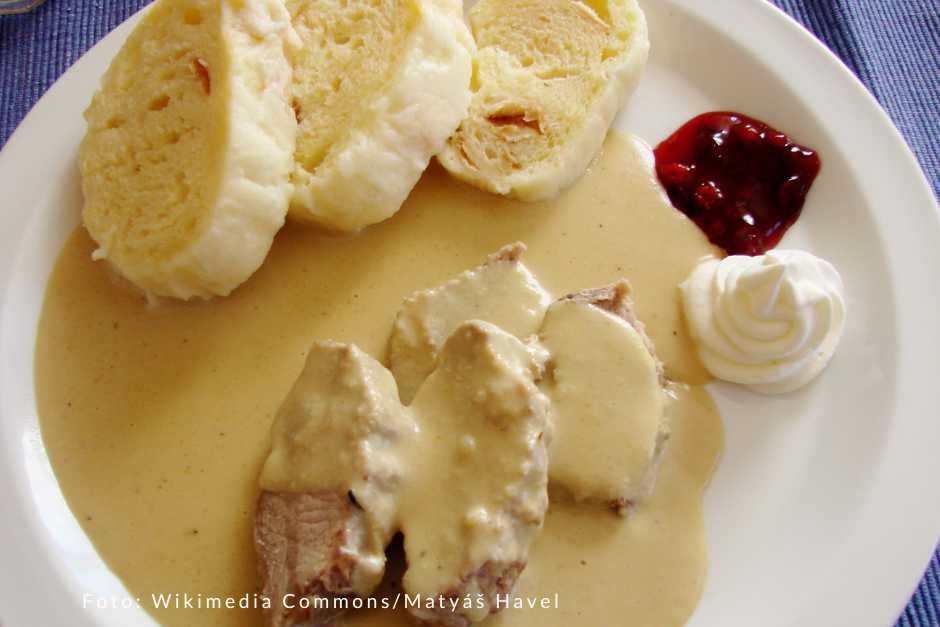 Svickova na smetane - Beef in a creamy sauce
Svickova na smetane is a traditional bohemian meal made from beef. It's slow-cooked in a creamy sauce made from root vegetables, cream and spices. The sauce gets its characteristic sweet and sour note from pickled vegetables and lemon juice. As with many Bohemian dishes, Bohemian dumplings are also served here, which complement the sauce perfectly.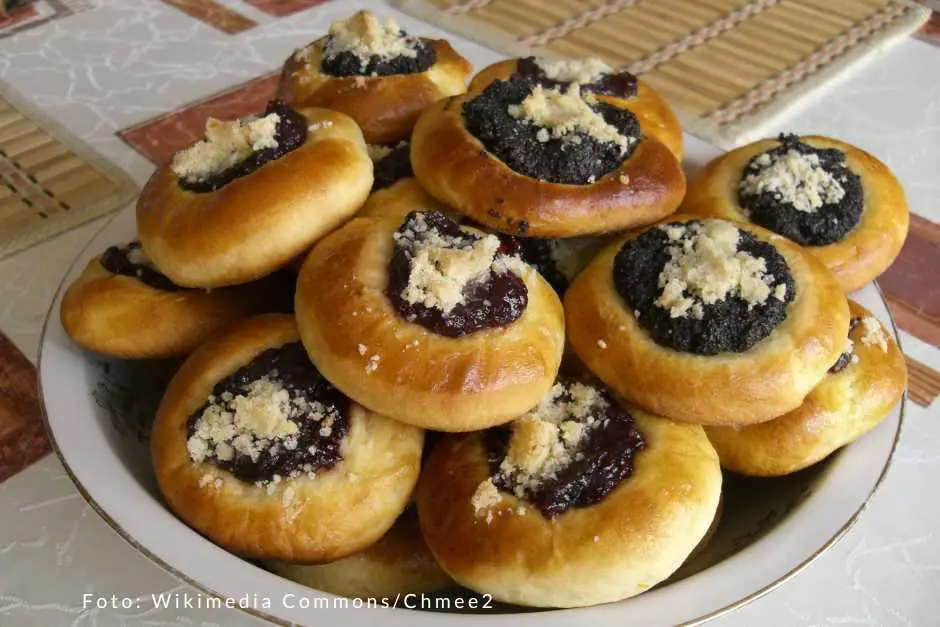 Krumlovske Kolace – Baked delicacies from Cesky Krumlov
Krumlovske Kolace are sweet pastries that originated in Cesky Krumlov. I've loved them since I was a kid. They consist of a yeast dough filled with various fillings such as quark, poppy seeds, plum jam or nuts. The Kolace are not only visually appealing, but also a real treat in terms of taste. They're great for dessert or with afternoon coffee. A prescription for it can be found at ElaVegan.
Lipno nad Vltavou: Bohemian food from the banks of the Vltava
The Lipno Dam is a popular recreation area in southern Bohemia, which not only impresses with its natural beauty and numerous leisure activities, but also with its regional specialties.
Lipno fish dishes – freshness from the Vltava reservoir
The fish dishes in Lipno nad Vltavou are known for their freshness, as many of the fish used come directly from the Vltava reservoir. Popular fish species are carp, pike and zander. The fish are prepared in different ways, such as fried, grilled or cooked in a hearty sauce. Potatoes or dumplings and fresh vegetables are often served with this.
Knedliky – Stuffed dumplings as a main course
In Lipno nad Vltavou you can taste a special kind of filled dumplings called Lipno Knedliky. They consist of a dough filled with various ingredients such as meat, vegetables or cheese. The dumplings are steamed or fried. Then they are served with a sauce or side dish. Depending on the filling, they are suitable both as a main course and as a side dish.
And finally ...
South Bohemian cuisine has a lot to offer: from hearty meat and fish dishes to sweet delicacies. The regional specialties from Budweis, Cesky Krumlov and Lipno nad Vltavou reflect the diversity and tradition of this region. And who knows: maybe the region will soon no longer have to refer to historical cookbooks when presenting Bohemian food. (The tourism authority is doing this in a current brochure.) Young chefs from the Czech Republic are rediscovering the traditional dishes of their homeland. Definitely worth looking out for in the restaurants.
You can find Bohemian food to cook yourself in these cookbooks:
Bohemian cuisine: over 200 recipes!
Bohemian Cuisine: A Culinary Journey
Bohemian cuisine: the most beautiful specialties from Bohemia (specialties from the region)
Real Upper Palatinate-Bohemian cuisine: the main thing is that it tastes good!
Bohemian cuisine: over 200 recipes!
Bohemian Cuisine: A Culinary Journey
Bohemian cuisine: the most beautiful specialties from Bohemia (specialties from the region)
Real Upper Palatinate-Bohemian cuisine: the main thing is that it tastes good!
Bohemian Food Questions and Answers:
Are there any vegetarian or vegan dishes I should try in South Bohemia?
Sure, there are also vegetarian and vegan options in South Bohemia. For example, the "Hermelín", a pickled camembert, is a delicious vegetarian snack. It is now even part of the cultural heritage of the Czech Republic. Although vegan dishes are less common, many restaurants now offer plant-based alternatives.
How do the prices of food and drink in South Bohemia compare to other regions in Czech Republic?
Basically, the prices for food and drink in South Bohemia are moderate and often cheaper than in larger cities like Prague. Regional dishes and drinks are mostly affordable and offer good value for money.
Are there also regional non-alcoholic drinks in South Bohemia that I should try?
Yes, in South Bohemia there are also local soft drinks. Kofola, a Czech herbal soda similar to cola, is very popular and refreshing. In addition, fresh fruit juices and lemonades made from regional fruits are often offered.
What food habits or traditions should I be aware of in South Bohemia?
In South Bohemia it is customary for the main course to be eaten at lunchtime, while dinner is often lighter. Tipping is encouraged in restaurants, and it is customary to round up the bill to an appropriate amount.
Where can I find authentic bohemian food - in touristy restaurants or off the beaten path?
You can often find authentic South Bohemian cuisine in traditional inns or so-called "hospodas", which are off the main tourist trail. Locals are usually a good source of information for recommendations to discover the best regional dishes.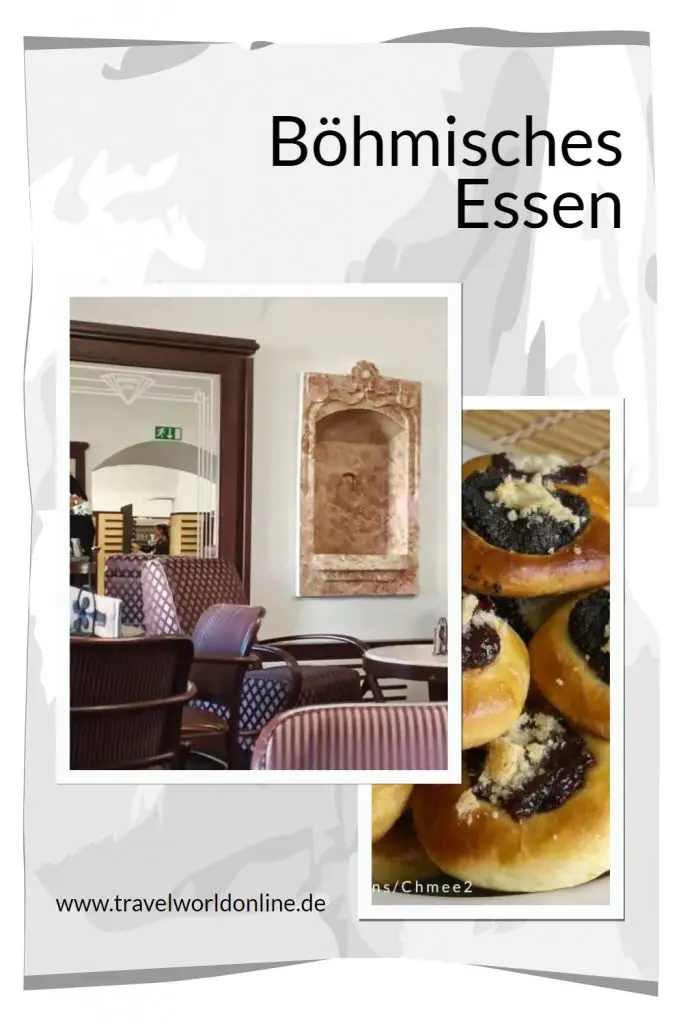 Do you also know:
Slow Travel Destinations you can also find here.
Sources Lipno Reservoir Sights : Research on site. Thank you for inviting us to Landal Marina Lipno. However, our opinion remains our own.
Text Lipno See: © Copyright Monika Fuchs and TravelWorldOnline
Photos: © Copyright by Monika Fuchs as well as TravelWorldOnline, Pixabay and Wikimedia Commons (Photographers: see caption)
Bohemian food from South Bohemia
Last update on 7.09.2023/XNUMX/XNUMX / Affiliate links / Images from the Amazon Product Advertising API