We are on the occasion of the 150th anniversary of the death of the linguist and poet Friedrich Rückert (1788-1866) in the city on the Main. We want to learn more about this remarkable franc. The in Schweinfurt born poet was a cosmopolitan linguistic genius. In the course of his life he learned 44 languages ​​with 25 scripts, including Afghan, Coptic and the Telugu of southern India. He only mastered the high-level languages. However, he could not have ordered a coffee in a restaurant in Cairo. In his writings he nevertheless built a bridge between the Orient and the Occident, although he never traveled to these worlds himself. Instead, his life began in Franken and ended there. Friedrich Rückert, linguistic genius & world poet, could well serve as a role model for dealing with the problems of our time when cultures clash.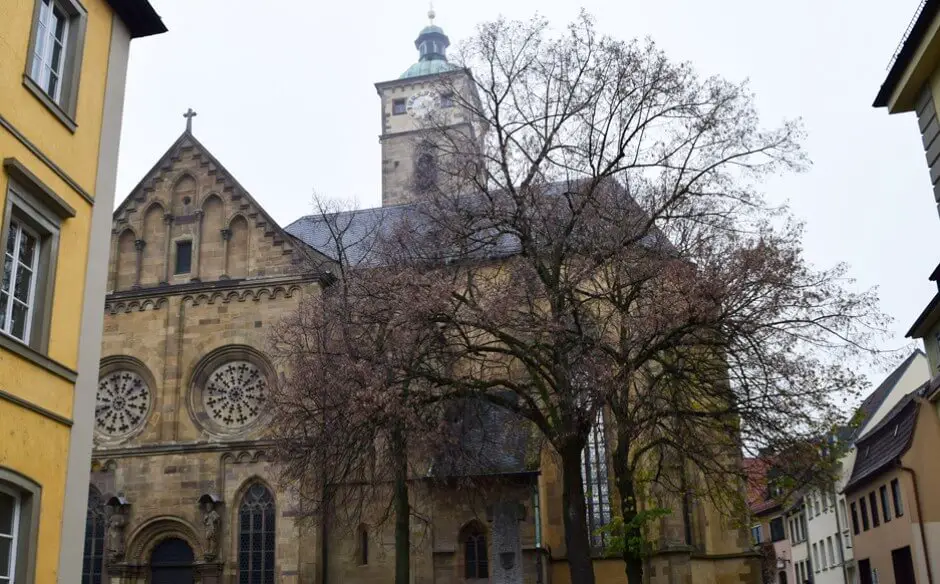 In the footsteps of Friedrich Rückert through Schweinfurt
We took a look at the city of Schweinfurt in the footsteps of the poet. This man's birthplace is in the town's market square. On the facade, however, only a plaque with the inscription "Friedrich Rückert was born here" indicates its meaning. His statue is also on the town's market square. Lost in thought, he studies a book lying on his knees. There is not much more left of Friedrich Rückert in his hometown. We walk past the church where he was baptized. Behind it we see the Latin school, which lost the right to teach in the confusion of its time. Nevertheless, he finished his school education there. Then he started his language studies.
Rückert's work in the Archives of the Rückert Society
One of the best connoisseurs of the language poet leads us on the traces of the poet through the city to the archive of the Rückert Society. The historian Dr. Rudolf Kreutner is the keeper of the Schweinfurt holdings of Rückertiania and introduces us to the language genius in all its facets. "Rückert wrote down everything that concerned him in the form of a poem." He also shows us a packet of handwritten pieces of paper.
"Rückert always had small pieces of paper in his pocket, on which he kept the thoughts that were going through his head in poem form." In total, he is said to have written more than 20.000 poems in his life. It will be interesting if we take a closer look at these poems and texts. Friedrich Rückert apparently thought in the languages ​​he mastered, because the text we are looking at is written in different languages. Sometimes he even changes from one language to the next in one sentence.
In any case, the Rückert Society owns most of the holdings of Friedrich Rückert's manuscripts. Dr. Kreutner proudly shows them to us and explains what the book prints contain. The poet's creative wealth was almost inexhaustible. The two-meter-tall man wrote more than 300 love songs for his wife Luise alone. He dealt with the loss of his children by writing death songs. There are also more than 300 of them.
Friedrich Rückert is still shaping Schweinfurt today
If you want to explore Schweinfurt in the footsteps of Friedrich Rückert yourself, you can do so on a themed city tour. The chronicler Leonhard Enderlein leads through the city in historical garb for an hour and a half, giving insights into the life and work of the famous man. Today a street is named after him. In the "Small Coffee Roaster" you can also order a Rückert espresso from Elke Hofmann. On the coffee menu it is described as "a selection of pure arabica with a nice crema".
When we want to try it, there is none in stock. That's why we choose the Luisen espresso instead. This bears the name of Rückert's wife. We want to know what espresso has to do with Friedrich Rückert. However, our expectations that we will now hear a lecture about how much the poet himself loved drinking coffee have been disappointed. "We named this roast mixture after one of the outstanding men in our city, just like the street in front of our café is called Rückert-Straße." The explanation can be so banal. However, we still liked the Luisen espresso.
World poetry is world reconciliation
It was 150 years ago that Friedrich Rückert died. He is buried in Coburg. His conviction that "world poetry alone is world reconciliation" is the subject of the literary exhibition "The World Poet", which went on a journey through Franconia in 2016. Your guiding principle could hardly be more current. Finding one's own cultural identity in order to engage with foreign cultures so that integration succeeds.
Do you like to travel by motorhome?
---
Travel Arrangements:
The little coffee roasting
Rückertstrasse 13
97421 Schweinfurt
Tel 09721 / 5333414
www.kaffeeroesterei-schweinfurt.de/
Further information:
Franken Tourism
Mailbox 44 04 53
90209 Nürnberg
Telephone 0911 / 94151-0
Fax 0911 / 94151-10
info@frankentourismus.de
www.frankentourismus.de
Parking at the airport
Here you can reserve your parking space at the airport.
Arrival
Book yours here Arrival by plane, bus or train*. The nearest airport is Nuremberg or Frankfurt. You can rent a car there. It is also possible to arrive by train:  Timetable and booking*
Overnight accommodation:
We have in B&B Hotel Schweinfurt* from which the town square can be reached in a few minutes on foot. Or would you prefer to stay overnight  roof tent on the car?
Find more Hotels in Schweinfurt * you can find under this link.
---
If you want to get a taste of the poems of Friedrich Rückert, then click here: Ritornelle, poem by Friedrich Rückert with illustrations by Margarete Gilge
Do you already know:
Find more Tips for slow travelers can be found here.
Source: own research on site. We would like to thank Schweinfurt Tourismus for their invitation to this trip. Our opinion remains our own.
Text: © Copyright Monika Fuchs, TravelWorldOnline
Photos: © Copyright Monika Fuchs, TravelWorldOnline
Video: © Copyright Petar Fuchs, TravelWorldOnline
Friedrich Rückert, linguistic genius & world poet