Bake Wasp Nests in Mühlviertel
The Mühlviertler wasp nests are one of the specialties of the region in Upper Austria. You can prepare them differently. We first got to know her in the monastery kitchen at Stift Schlägl. The chef served it to us there for lunch. They were prepared as a Mühlviertler potato casserole with apples. Cooking with potatoes is easy with this recipe. On a trip through the Mühlviertler Alm to Freistadt, we found out that you can bake Mühlviertler wasp nests. They are served with coffee and taste delicious. You can also find the recipe for Muehlviertler wasp nests here.
Cooking with potatoes in Austria
You can easily cook with potatoes with this recipe. This Mühlviertler potato casserole is one of the specialties that we offer from ours Trips to Savor by Upper Austria brought along. The Mühlviertel wasp nests combine potatoes with apples. A type of processing of the tuber that is rarely seen. The potato flour dish is ours when we visit the monastery refectory in Pen Schlägl was served in Aigen in the Mühlviertel. Austria is famous for its pastries. However, I know few people who process potatoes. The influence of Bohemia and Bavaria on the cuisine in the Mühlviertel also plays a role here, because potatoes can be found in all kinds of dishes in both neighboring countries.
It is also one of the reasons why I love this dish. Growing up in Bavaria in a region, where potatoes are cooked in a variety of ways, potato specialties have been one of my favorite dishes, since I was a child. It makes me all the more happy, when I can add a new recipe to my collection of potato dishes. Especially if it is one, that is as easy to prepare as the Wasp Nests. This Mühlviertel Potato Casserole is one of the dishes, that we discovered on our travels, that we cook regularly at home.
Mühlviertel cuisine offers many regional recipes. Top chef and sommelier Georg Friedl has collected them and presents them in this German cookbook according to the season. This has resulted in a treasure chest made from recipes from the Mühlviertel. Depending on the season's ingredients, you can also cook these at home. Get the tasty Mühlviertel cuisine on your plate at home.
You can find more must-have cookbooks here.
Simply cook with potatoes - Mühlviertel Wasp Nests
Ingredients for Mühlviertler Wasp Nests (4 Portions)
Dough for Cooking with Potatoes
500 g floury cooking potatoes
150 g flour
1 tbsp soft butter
1egg
Filling
750 g apples
60 g melted butter
30 g raisins
50 g of brown sugar
Icing
250 ml of milk
salt
cinnamon
butter
Flour
How to cook with potatoes - Prepare Mühlviertel Wasp Nests with potatoes
Cooking with potatoes is easy. Boil the potatoes and peel them. Then press them through the potato ricer. Knead the potatoes, flour, butter, egg and some salt into a smooth dough.
Grease a casserole dish with butter. Preheat the oven to 170°C. peel the apples Remove the core house. Finally, cut the apples into thin slices.
Then roll out the dough on a floured work surface to a thickness of about 5 mm. Brush it with butter. Scatter apples and raisins on top. Sprinkle them with a mixture of cinnamon and sugar. This makes the Mühlviertel potato casserole taste particularly good.
Roll the dough up like a strudel. Divide the rolling pin into 5 cm thick slices. Place them upright in the baking dish. Then brush the dough pieces with melted butter and bake them for about 60 minutes on the middle rack in the oven.
Pour milk on top 10 minutes before the end of the baking time. You can serve the Mühlviertel wasp nests both warm and cold. You can sprinkle cinnamon and sugar on top if you like. A compote tastes best with it (e.g. rhubarb or plums). Bon appetit and enjoy the Mühlviertel potato casserole. Cooking with potatoes is healthy.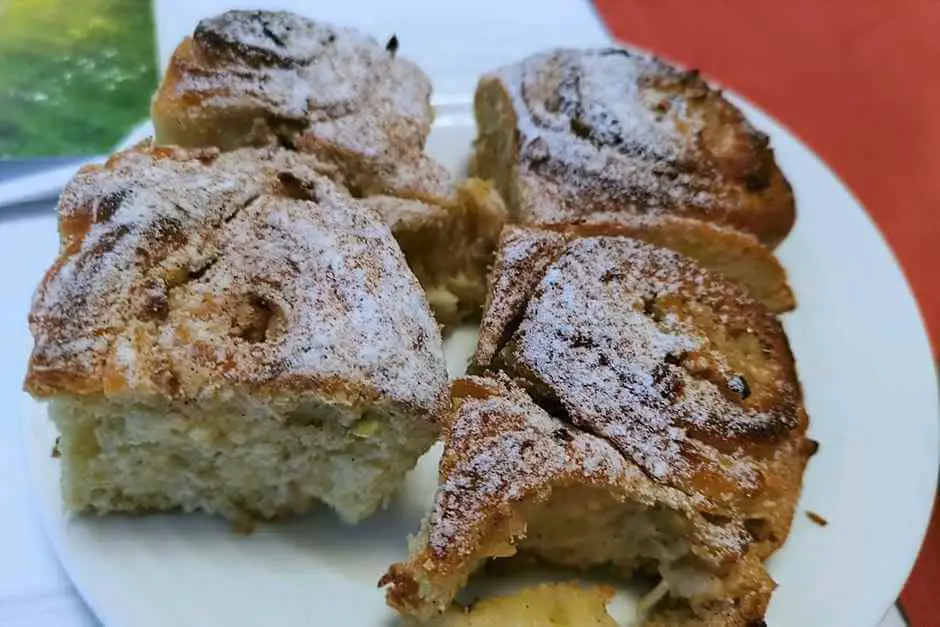 Bake Wasp Nests in Mühlviertel
Ingredients for the dough:
500 grams of flour
250 grams of lukewarm milk
60 grams of granulated sugar
10 grams of vanilla sugar
5 grams of salt
two egg yolks
Peel half an untreated lemon
70 grams of melted but not hot butter
half a cube of fresh yeast (one packet of dry yeast)
Mix all ingredients except the flour in a mixer until smooth, finally fold in the flour and knead everything into a smooth dough. Cover with a tea towel and leave to rest for about 30 minutes at room temperature. In the meantime prepare the filling.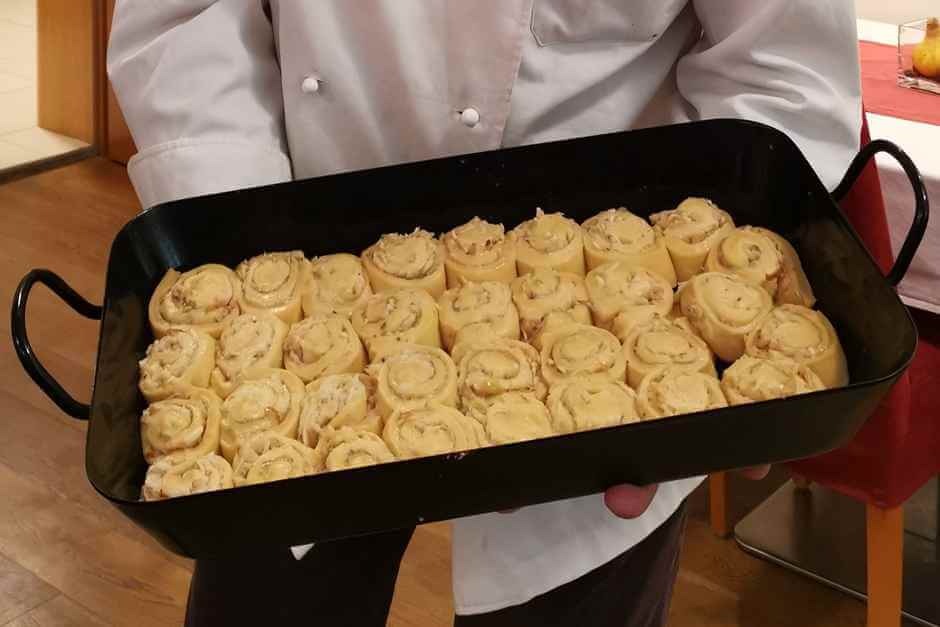 For the Filling:
about 80 grams of melted butter
80 grams of granulated sugar
80 grams of grated hazelnuts
2-3 tart apples coarsely grated (with skin)
Some ground cinnamon
Some vanilla sugar
Roll out the dough into a rectangle - the size of a baking sheet.
Coat with butter, sprinkle with sugar and nuts and finally sprinkle with apples. Sprinkle with cinnamon and vanilla sugar and press a little into the dough. Roll up from the two long sides towards the middle. Then divide in the middle to make two rolls.
Grease a square frying pan with butter. Cut the rolls into 2,5 cm long pieces and place them side by side in the pan like snails.
Let stand for about half an hour (until the volume has roughly doubled). Brush with a little liquid butter and bake in the preheated oven at 170 ° C until golden yellow (approx. 20 - 25 min.)
Remove from the pan and then sprinkle with sugar.
Source: Thomas Friesenecker and Garni Hotel Hubertus in Freistadt
More simple recipes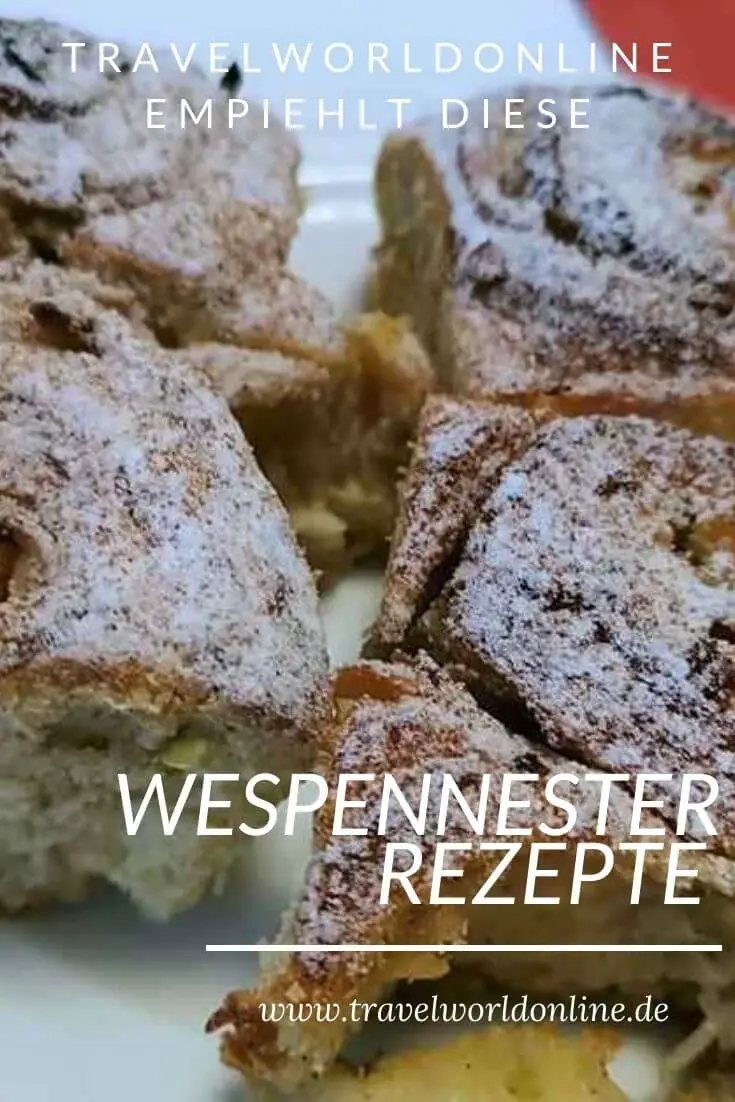 You can find more recipes from different regions of the world in Volker Mampft's culinary trip around the world. With this recipe, we are also participating in his campaign, in which he collects recipes for comfort food from all over the world.
Do you also know:
Source Simply cooking with potatoes - Mühlviertel potato casserole wasp nests: research on site. In any case, our opinion remains our own.
Text Muehlviertler wasp nests: © Monika Fuchs and TWO
Photos: © Copyright Monika Fuchs and TWO
Mühlviertel Wasp Nests - Austrian Specialties