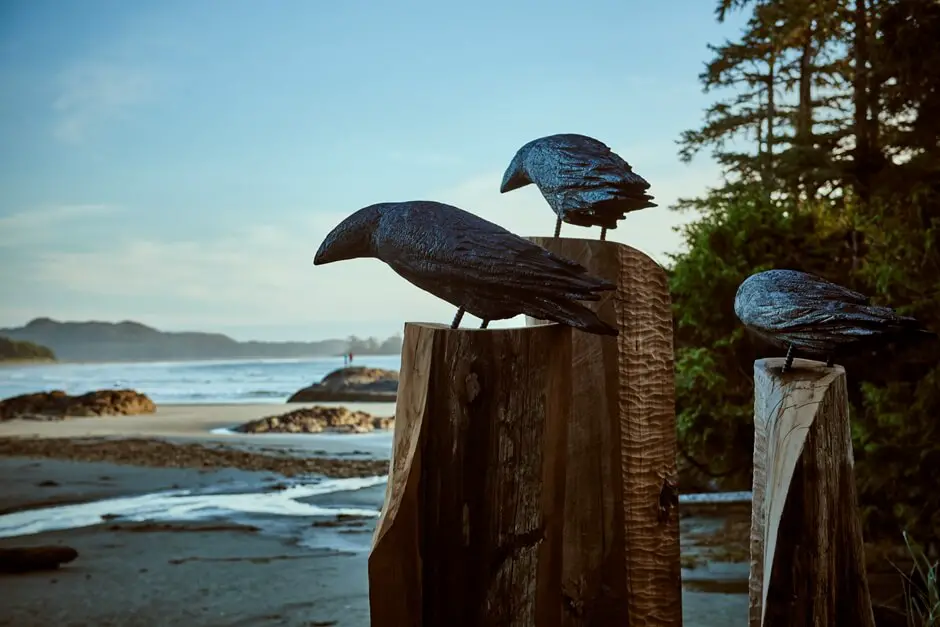 Native Arts and Crafts
Indians arts and crafts in Tofino? But yes. The Wickaninnish Inn, one of the top hotels in Canada, employs sculptors and Indian carvers. They produce almost all works of art that are exhibited in the hotel. What these artists create can be seen. As soon as you enter the lobby of the Wickaninnish Inn, you feel like you are in an art gallery. A cedarwood moon hangs on the wall above the fireplace. In the window niche in front there are several works of art made of soapstone. A work that represents several seals. It seems so lifelike carved out of the stone that you think they really play with each other. In addition, seals writhe through abstract waves, and not far from there a soapstone bear is fishing a salmon out of the water.
The outdoor areas, rooms and lounges of the hotel also testify to the skills of the local artists' community of Tofino, On the facade facing the sea of ​​the house emblazoned a huge sun of cedar and shells. A carving decorates the entrance to the Pointe Restaurant, and the rooms are filled with new surprises from local and Native American Tofino artists. Charles McDiarmid, owner and manager of the Wickaninnish Inn, tells us that almost all artworks in and around the Wickaninnish Inn are made by carvers and sculptors from Tofino and surrounding areas.
Prehistory of the Wickaninnish Inn
Good - art in the hotel is nothing new. But that this is made by artists in the in-house workshop, is something that has not yet come to me on my travels. Charles tells me that this is a tradition that goes back to his father:
"He worked as a doctor in Tofino when there was no road from the east Vancouver Islands led to the Pacific coast. His main means of transport was a small seaplane. With that he flew down the coast to his patients. Most of them lived in equally remote locations on the west coast of the island.
My father recognized the tourist potential of the landscapes around Tofino early on. So he started to buy large plots of land on the coast when it was still available at a bargain price. His plan was to build a motel here once the eagerly awaited road from the east was completed. "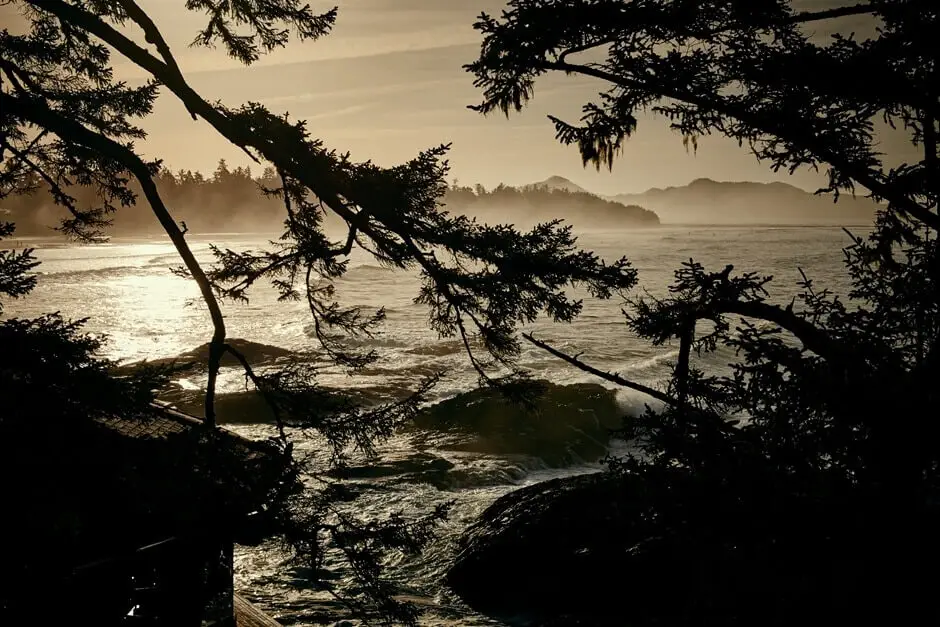 Hippies at the Pacific Rim
The "tourists" who came were hippies. They camped in the wild in the woods and on the beaches around Tofino. They first traveled by transport ships, which supplied the place. Or they came via the Holzfällerstrasse, which was only open to the public if there were no timber trucks driving on it. It was only built in 1959 and remained unpaved until 1972 - an adventure for everyone who came by road.
That has to be in the suitcase
What you for Beach vacation need. Use our checklist so that you don't forget anything.
You can hike for hours on the beaches of Vancouver Island. Comfortable shoes should therefore be in the suitcase
Check with our Hiking checklistwhether you have packed everything for your hike.
Among them was Henry Nola, who had camped in the woods on the estate of the McDiarmids. Here he lived in harmony with nature. Henry, whose real name was Enrique Sebastiani Nola, was the son of a Spaniard and a Swede born in Barcelona, ​​Spain. In this city he spent most of his childhood together with his three younger sisters. But he always traveled to his maternal grandparents in Sweden. His grandfather made furniture and decorated it with carvings. After the Spanish Civil War, he returned to Spain with his mother and sisters. There he made an apprenticeship as a blacksmith and learned the making of wrought iron, as well as the toolmaking.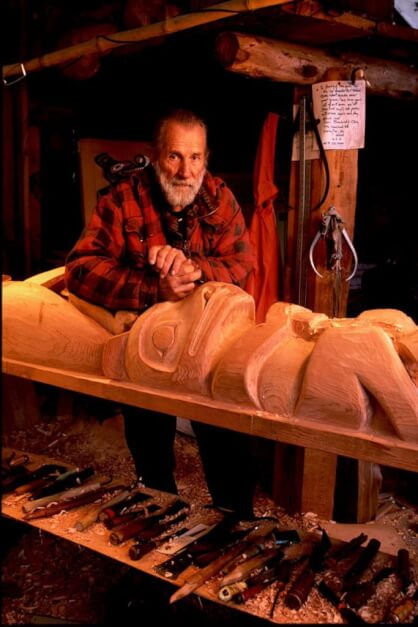 Henry Nola - factotum and artist for Indians arts and crafts in Tofino
After spending several years in northern Ontario, he finally came to 1965 on the west coast of Vancouver Island. There he settled down at the beginning of the seventies on Chesterman Beach.
Next door, the McDiarmids set up their home and hired Henry to help them build their home. Henry himself built a makeshift hut nearby, where he eventually lived for thirty years.
Charles McDiarmid reports how "Henry agreed to take care of my father's property. In his hut in the forest, he created works of art with tools that he made himself. No feat for someone who had learned this from scratch. "The artists at the Wickaninnish Inn still work with the awls and chisels created by Henry Nolla.
So Henry Nola became a close friend of the McDiarmids and the originally planned weeks were thirty years spent at Chesterman Beach.
Henry was both a factotum and an artist. He never completely abandoned his hippie past. Charles tells how once some of his hotel guests went for a walk on the beach. Then suddenly Henry - as God created him - jumped in front of them in the waves, followed by equally undressed bathing mermaids. His hotel guests came back from their trip excitedly, and one of them said to Charles: "I really like it here." (I really like it here.)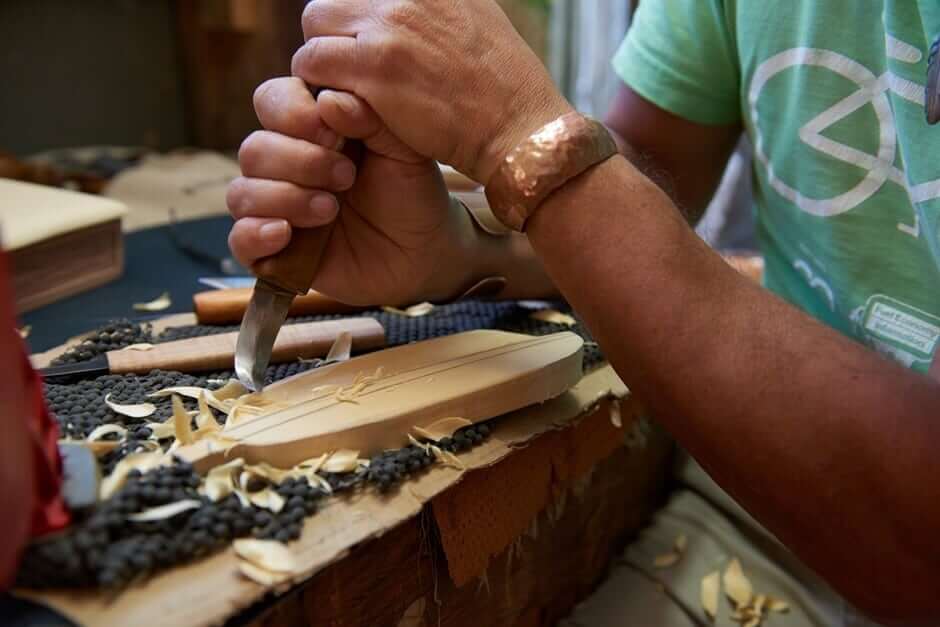 Indians Arts and Crafts in Tofino - Local artists compete with Henry's legacy
After Henry Nola died in 2004, Charles McDiarmid opened his workshop for carvers and sculptors from Tofino. Among them are native Indians from the village and artists from other regions. To this day, they create works of art. Indians arts and crafts in Tofino continue to play a role in the Wickaninnish Inn. These adorn the walls and rooms of the hotel. We meet one of them. She is in the process of carving a cedar wood bowl. She tells us how she learned to carve as a young girl with Henry Nola. "He was a strict teacher. First he let us do it. But after a while he came to us and began to correct our work. Often he simply took his tools and worked on our works with a few carving movements. This suddenly gave the piece a completely different look. "
Even today, his successors use Henry's tools. His life story is clearly visible on a poster about the jobs of the new artists. The hotel guests are still strolling through the woods to look over their shoulders at work. They like to chatter about what's going on under hard-working hands.
Wickanninish Inn
500 Osprey Lane
Tofino V0R 2Z0
Website of the hotel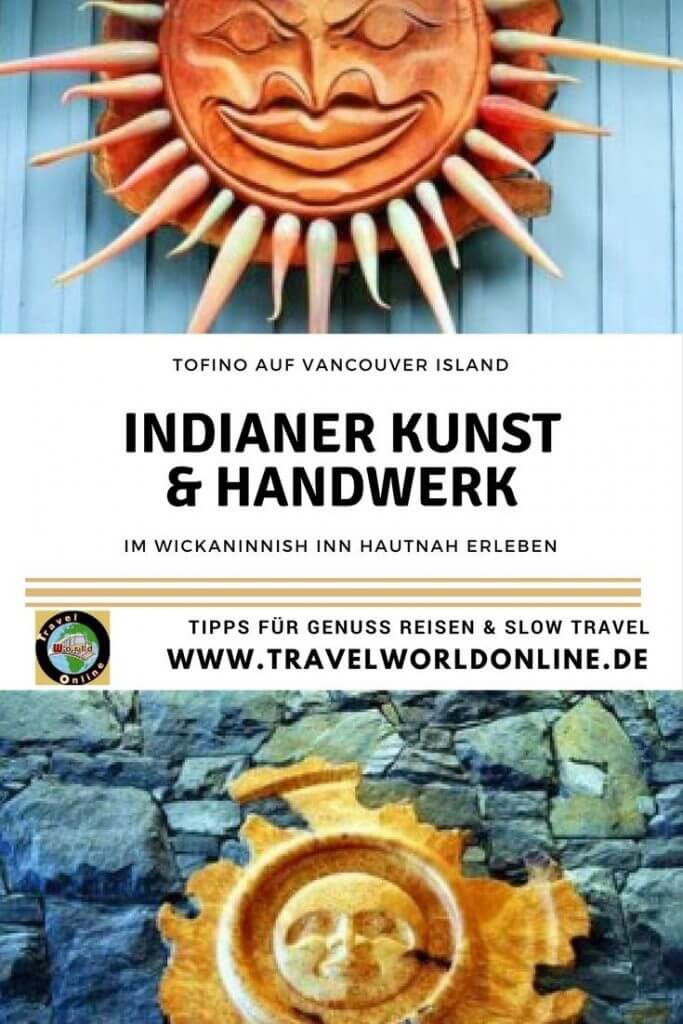 ---
Travel Arrangements:
Getting there
Lufthansa, Air Canada and other airlines fly to Vancouver or Victoria. From there it is best to travel by car or motorhome.
Cars:
Cheap car hire - book quickly and easily!
---
Source for Indian arts and crafts in Tofino: own research on site, with the kind support of the Wickaninnish Inn and Tourism British Columbia. Further Vacation destinations for a beach vacation here.
Text: © Copyright Monika Fuchs, TravelWorldOnline
Photos © Copyright Wickaninnish Inn
Video © Copyright Petar Fuchs, TravelWorldOnline