Learn about Ontario's history in Upper Canada Village Ontario. Imagine: a village through which a brook babbles in its bed to a pond. It is lined with bushes. In between them, meadow flowers peek out. The water of the brook is diverted into canals. These lead to craft businesses from which the hustle and bustle can be heard.
Book hotels near Upper Canada Village
Machine noise indicates that people are busy working and producing behind the stone walls of the building. Flour, yarn, fabrics and clothes are created. In the sawmill, boards are cut from tree trunks. They are used to make houses, barns and fences in the village.
In the Upper Canada Village in Ontario, Canada, the good old days are revived
At the craft shops in Upper Canada Village in Ontario Millers, woodworkers, weavers and tailors work every summer with original machines from the 19th century. They give village life an atmosphere of nostalgia that makes the "good old days" seem very real. In between, women in dresses with hoop skirts stroll along the gravel roads. On the way they come across a horse-drawn carriage with visitors or an ox cart on the way home from the field.
On the river, a boat transports guests from one end of the village to the other. Just as was the custom two centuries ago. At the time when loyalists loyal to England began to settle in Upper Canada at the beginning of the 19th century.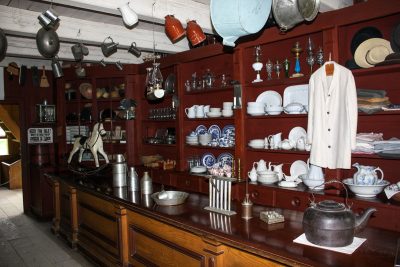 Americans fled the US revolution to Ontario
Many of them had fled to Canada in the turmoil of the American Revolution. The neighbors of the new United States of America were still under the control of England. There they could continue to live under the crown of the royal family. They were people who already had pioneering experience. They knew how to build a life with the local conditions.
In doing so, they made use of the innovations of the time. They built craft businesses with hydropower. These produced everything that was necessary for life on site. This made them self-sufficient in practically all areas of life. What they did not produce, traders delivered via the Sankt Lorenz Strom. Most of what they needed, however, they made on site.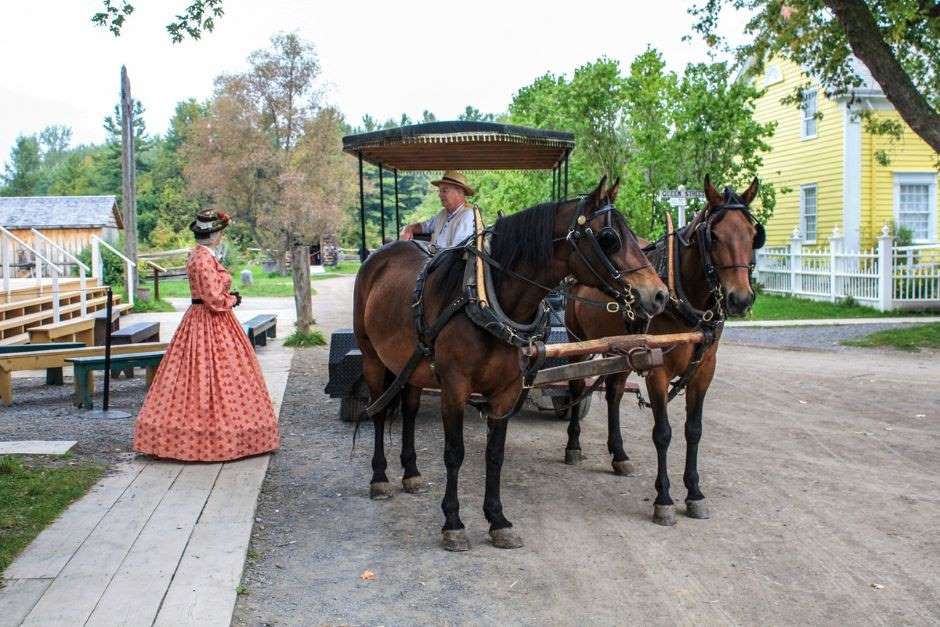 Nostalgia lives on a walk through Upper Canada Village
We too are gripped by the magic of the good old days on our walk through this museum village. In the tavern we meet the host who is greeting his guests. At that time women and men were entertained in separate guest rooms. They still exist today. Life in the village goes smoothly. In front of the tavern, a villager is having a chat with the coachman who is waiting for customers.
On the other side of the village street, a pair of oxen trot in front of a cart on their way home. A farmer is explaining to his boy how to treat plants in the home garden. Something is missing in this village. The hectic pace of everyday life that is typical of life today. So make sure you have time when visiting the Upper Canada Village. Enough time to be able to enjoy this life and tranquility for a few hours.
If you really want to get to know the village, you should plan for three to four hours. If you want, you can stay in some of the houses in Upper Canada Village. However, you have to book early. Waiting periods of up to one year are not rare.
Do you like to travel by motorhome?
Nearby is the Upper Canada Campground, 13390, Upper Canada Rd, Morrisburg, ON K0C 1X0, Canada. There are other campsites in the area.
Do you want to rent a motorhome? Then you will find information and here booking options.
Check our packing list for campers to see whether you have packed everything for your motorhome tour.
Upper Canada Village address
13740 County Road 2
Morrisburg. ON K0C 1X0
Opening hours:
May 21 – September 18, 2022
9:30 p.m. - 17.00:XNUMX p.m.
Upper Canada Village Questions and Answers
Where is Upper Canada Village?
The Upper Canada Village open-air museum is located near Morrisburg on the St. Lawrence River. It is located between Toronto and Montreal.
How far is Upper Canada Village from Ottawa?
It takes about ninety minutes to drive from Ottawa to Upper Canada Village. The route is 90 kilometers on the Trans-Canada Highway.
How far is Montreal from Upper Canada Village?
It's almost 150 km from Montreal to Upper Canada Village. You need about 1 hour 40 minutes for this.
How far is it from Kingston to Upper Canada Village?
The distance by road is almost 150 kilometers.
---
Travel Arrangements:
Parking at the airport
Here you can reserve your parking space at the airport.
Arrival:
Arrival by plane, bus or train*. Air Canada, Lufthansa, Condor and Icelandair fly to Toronto.
Hotels:
Hotels in Morrisburg * You can book through our partner booking.com.
Car Rentals:
You can book rental cars well and cheaply here.
---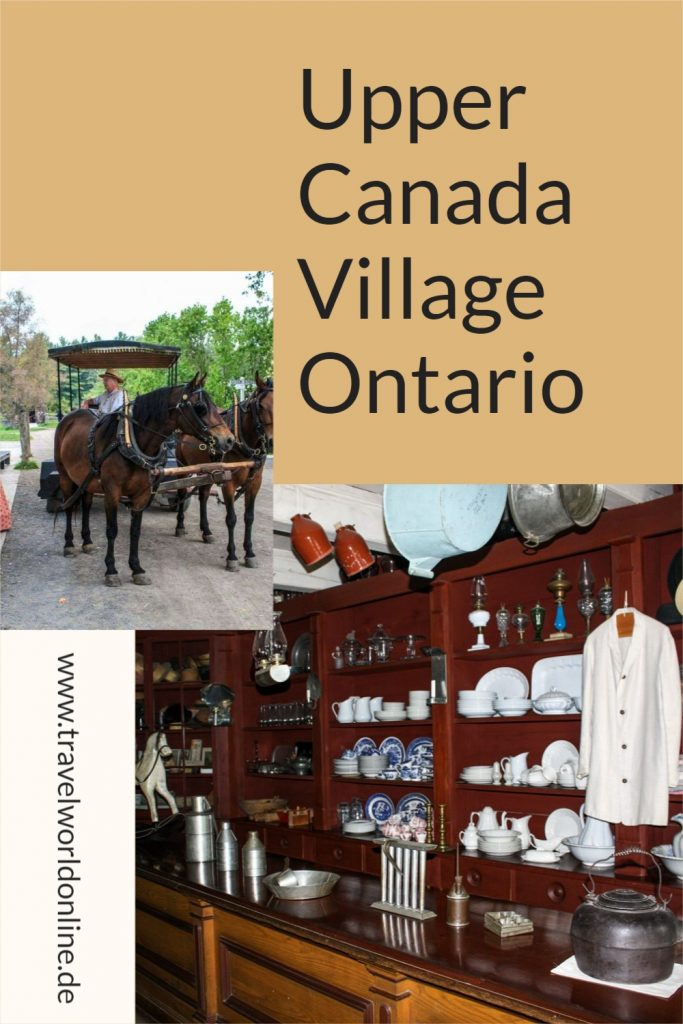 Do you already know:
Source: On-site research with the support of Tourism Ontario
Text: © Monika Fuchs, TravelWorldOnline
Video © Copyright Petar Fuchs, TravelWorldOnline
Upper Canada Village Ontario, Canada