Autumn decoration for outside
Since we moved to the country a few years ago, we have been arranging new autumn decorations for outside every year. When the days get cooler, we start thinking about how to decorate this year. When we lived in a rented apartment in the city, we couldn't implement these ideas as we imagined. We did have a garden. But it was so far away that we couldn't have enjoyed the decoration. The autumn temperatures are often too cool for longer stays. We have only been able to implement our autumn decoration ideas for outdoors since we started living in the country. Our terrace is where we implement it. Autumnal decorations for outside are now part of our annual routine every year. That's how it does us Country Life Fun.
Of our Indian Summer Travels through New England and Canada but also that Autumn travel by the Wachau or the Waldviertel over the years we have brought many inspirations for autumn decorations for outdoors with us. We are now using these for new autumn decoration ideas for outside.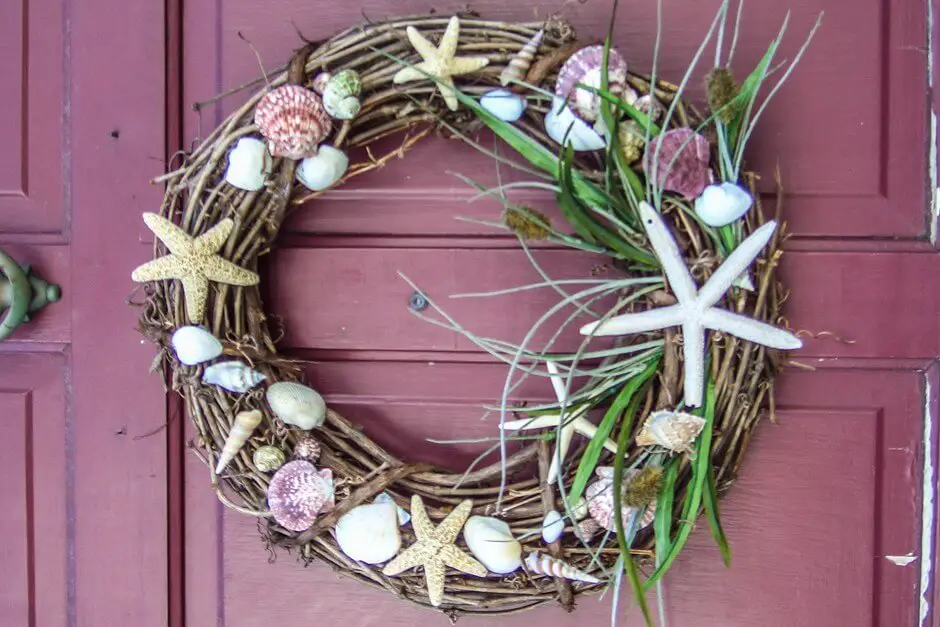 Our autumn decoration for outside has to be natural
To do this, you can use materials that you have collected over the course of the year. We liked this door wreath in Plymouth, for example, in which shells, starfish and grass are attached to a wooden wreath. Wood autumn decoration for outside is sustainable and looks attractive. You can easily do this yourself by attaching similar materials to a wooden wreath with wire. Such a Wreath* can be bought on Amazon.
Autumn decoration for the front door
There's even a wreath made from unpeeled willow wood very similar to the one in the photo above:

You can use it for your autumn decoration for outside Order here*. If you don't Mussels or flotsam * you can also order it from Amazon.

This Mussel Potpourri * you get here.
Autumn decoration ideas for outside from your own garden
Since we have a garden in which we grow herbs, these are part of our autumn decoration for outside. There are usually practical reasons for this. Because our herbs sprout so abundantly over the summer that we cannot all use them fresh. Instead, we dry oregano, lavender, and mint. We tie them in tufts. We hang the tufts of herbs outside in places where they can dry. We arrange these with pumpkins and chrysanthemums to form an ensemble.
Or we plant them in pots, in which they provide herbs for the kitchen in winter. This is an autumn decoration for outside that we make with our own products from the garden. For example, they look very decorative in a plant shelf like this one:
This Plant shelf * you can order here.
On our travels we discovered even more ideas for autumn decorations for outside.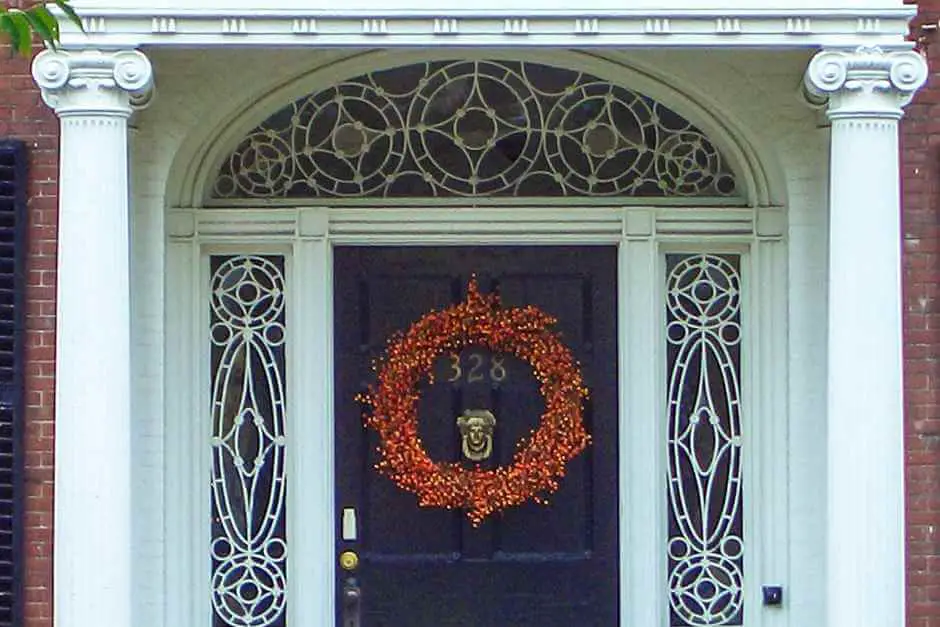 Autumn decoration for the front door - door wreaths
You can get a door wreath similar to the one in the photo above from Amazon. We spotted the wreath of red leaves on a front door in Salem, Massachusetts. There it was particularly decorative on the black front door with Art Nouveau windows.

You can Order here*. This is not made from red leaves, but from red berries. This has the advantage that it has a longer shelf life.
In addition to the products from the garden, I like to buy door wreaths that sweeten my farewell to summer. Since we don't have a box tree ourselves, I always like to buy door wreaths made of this material. Boxwood lasts a long time and is a natural material. This goes well with our decorations, which we put together ourselves. I like this door wreath, for example. In combination with the ears of wheat, it is perfect for our decoration with herbs, pumpkins and chrysanthemums.
You can Order here*, Further Boxwood door wreaths * can be found here.
Arrange autumn decorations for outside with boxes
Decorating autumnal with wine boxes is easy. It is very effective if you decoratively arrange pumpkins, chrysanthemums or ears of wheat in wine boxes. We just get wooden boxes from our farm shop. But often they don't exist. Then you can too order for little money from Amazon *:
There are wine boxes that are natural. Others are treated to make them more durable. Some have even been deleted. I also like those on which there are still prints that indicate their original purpose. You can find one on Amazon good choice*.
Such wooden or fruit boxes look particularly decorative when they are attached to wooden huts or wooden fences. If there are herbs, autumn flowers or hanging plants in it, every wooden wall will be pretty. With this, a wine box can be decorated for autumn without much effort and without great expense.
Autumn decoration with figures
Many people decorate their house entrance or terrace with figures in autumn. I like these hedgehogs. They don't mind rainy weather either. The perfect autumn decoration for outside. They just keep rusting naturally:
You can Order hedgehogs online here *
Decorate autumn with light
When it's dark outside earlier, you are happy when you are greeted with light at the front door. This works particularly well in lanterns. These two lanterns show that these do not necessarily have to be operated with electricity. Simply put candles in it and in the evening candlelight welcomes your visitors.
Conclusion: autumnal decoration for outside is fun
There are many ways in which you can make an autumn decoration attractive for outside. This is one of the reasons we enjoy autumn trips so much. The creativity of some gardeners, farmers and plant lovers knows no bounds. Often it is farm shops and farm cafes that are particularly lovingly designed. It is worthwhile to look out for inspiration for your own garden or house entrance when you go on excursions in the country or when you go hiking. So you can also design an autumn decoration for outside.
Do you already know:
Source: own research
Text: © Copyright Monika Fuchs, TravelWorldOnline
Photos: © Copyright Monika Fuchs, TravelWorldOnline, Canva and product photos from Amazon
Autumn decoration for outside