Pâté soup recipe
Eating healthy while enjoying Travel is not that easy. That is why we regularly offer this porridge soup recipe. This recipe differs somewhat from the traditional preparation Baden-Württemberg from. We'll be on ours Trips to Savor always spoiled for food. Healthy eating is not always in the foreground. It is not always healthy to taste so many regional specialties. Or go from one café to the next to try the cakes there.
I only think of ours Enjoyment trip through North Rhine-Westphalia. Sauerbraten with potato dumplings and red cabbage, Öchen slaughter plate, the sausage specialties from Hanswurst in Aachen, mustard specialties in Monschau including mustard pralines, mustard roast and even desserts with mustard, cherry cake with hazelnut dough, Aachener Printen and the white nougat from Dresse. Everything tastes delicious and of course has to be tasted so that we can tell you whether a visit or tasting these delicacies is worthwhile. Except that doing all of this in two days isn't exactly the healthiest thing you can do. Eat healthy culinary trips is difficult. That's why this Flädlesuppe recipe tastes even better afterwards.
Eat healthy with this recipe
Therefore, when we are at home, we always try to eat food that is healthy and optimized for the metabolism. Some suppliers do without carbohydrates, which can be used quickly, and table sugar in their products. This means that energy is available for longer. There are no spikes in blood sugar development. You are not exhausted and tired after eating, but fit for new activities. Since we are rather limited in our time when it comes to cooking, we also like to use ready-made products, especially if they are optimized for the metabolism and contribute to a healthy diet. Eating healthy is important to us, as long as it doesn't involve too much effort. With this recipe for Flädlesuppe it works well.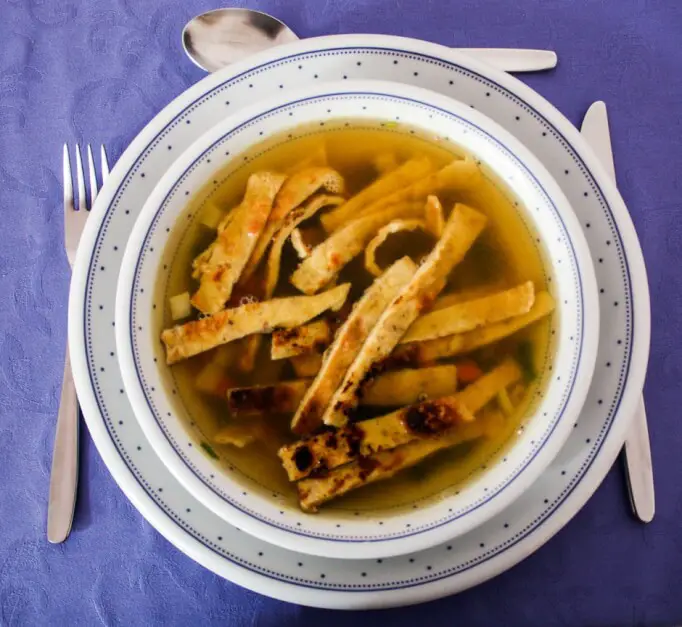 An example of a dish that we have cooked is this Flädlesuppe recipe with a kick. This is definitely quick and easy to cook.
Eat healthy with this pancake soup with curry-sesame pancakes
Ingredients Clear vegetable broth
Seasoning mix »Indian curry
3 EL flour, Type 405
Frying & deep-frying oil
100 ml of milk, 1,5% fat
1 egg
1 TL sesame, roasted
Salt
2 carrots
200 g leek
2 EL chives, finely chopped
preparation of the soup
Mix the flour with the milk until no more lumps form. Stir in the egg. Roast and add sesame and season with curry and salt.
Bake two pancakes in 1 tablespoon of oil and cut into strips.
Boil 1 liter of water with clear vegetable stock in a saucepan. Cut the carrots and leeks into small pieces, add and cook until they are bite-proof.
Pour the soup into plates and spread the curry-sesame fritters on top. Then sprinkle with chives.
The Flädlesuppe is definitely ready quickly. Preparation takes 20-30 minutes. It's a food that's light. The ingredients are also healthy, so in this way we compensate for the indulgence "sins" we commit during our travels. Eating healthy does not mean giving up pleasure. Rather, it means eating as diverse as possible. An important Travel tip for connoisseurs.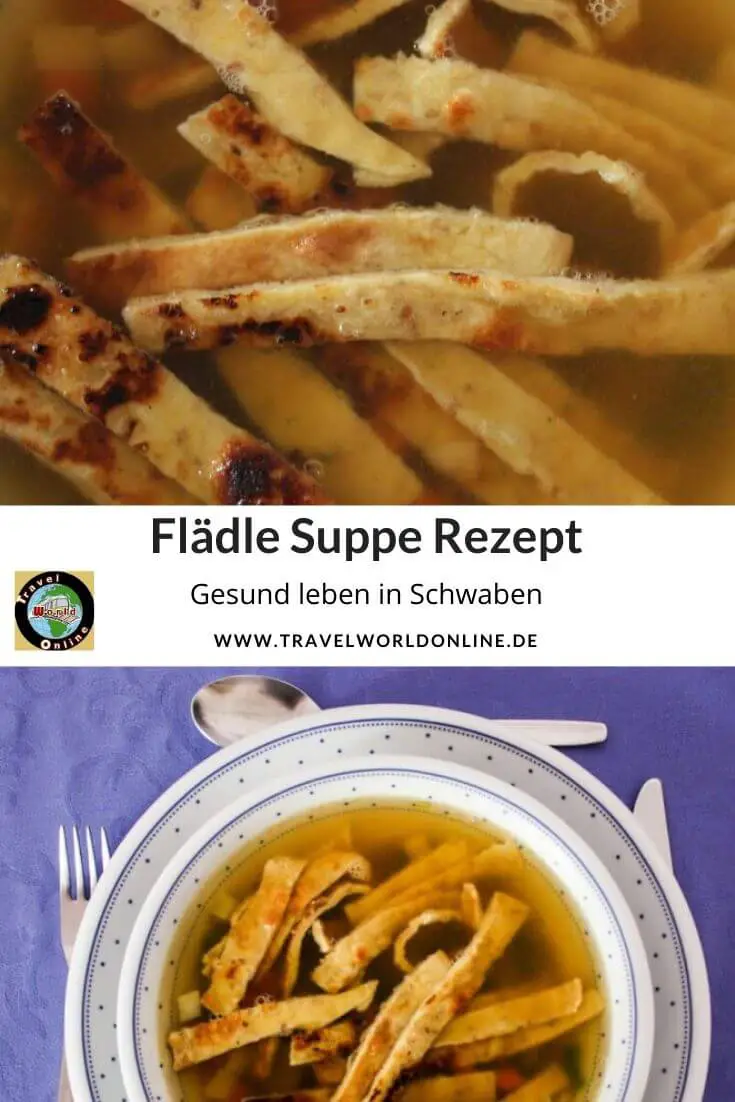 Do you also know:
Source for Flädlesuppe recipe: own research. However, the modifications are our own.
Text: Copyright Monika Fuchs and TravelWorldOnline
Photos: Copyright Monika Fuchs and TravelWorldOnline
Flädle soup recipe with a kick