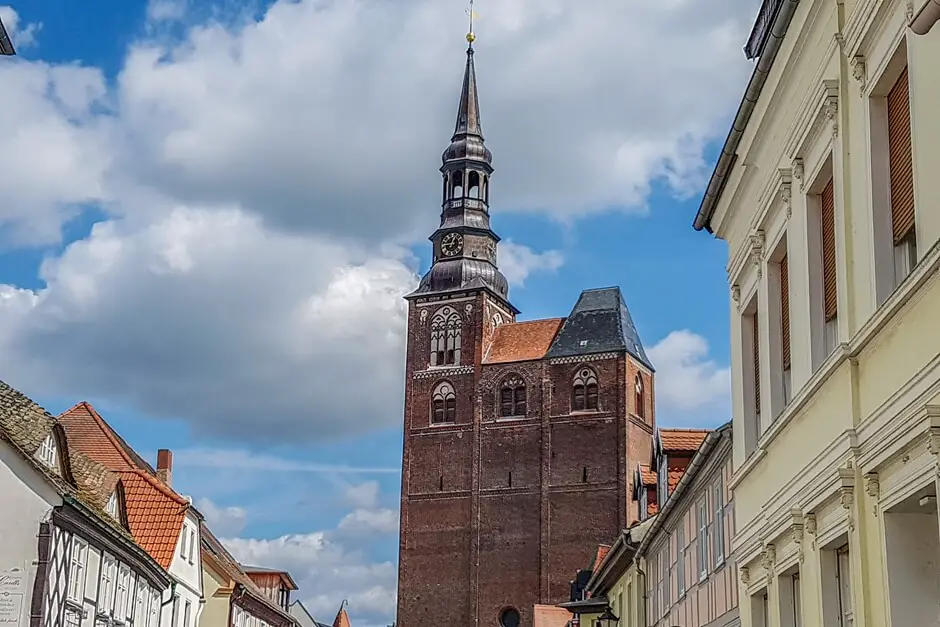 Tangermünde sights
Where in Tangermünde? This question arises when visiting this city in the Altmark. We are invited by the Leader Action Group Uchte-Tanger-Elbe to support the region in Sachsen-Anhalt to get to know better at the Elbe. Tangermünde turns out to be a lovely town. Tangermünde's sights include a castle hotel, a historic hotel with regional cuisine and brick Gothic, which extends from the town hall to the city gates. There is definitely a lot to discover. Therefore we answer the question here:
Book selected hotels in Tangermuende
Where in Tangermünde?
We start our visit to Tangermünde for lunch. This brings us straight to a restaurant where we taste one of the specialties of the region.
Kuhschwanzbier in the Exempel Gaststuben
One already had me on the cow's tail beer Facebook friend made aware. When I see the menu in front of the restaurant, I find the choice of food easy. On a slate announces Kuhschwanz beer meat. I definitely want to try that. Best with a sip of beer.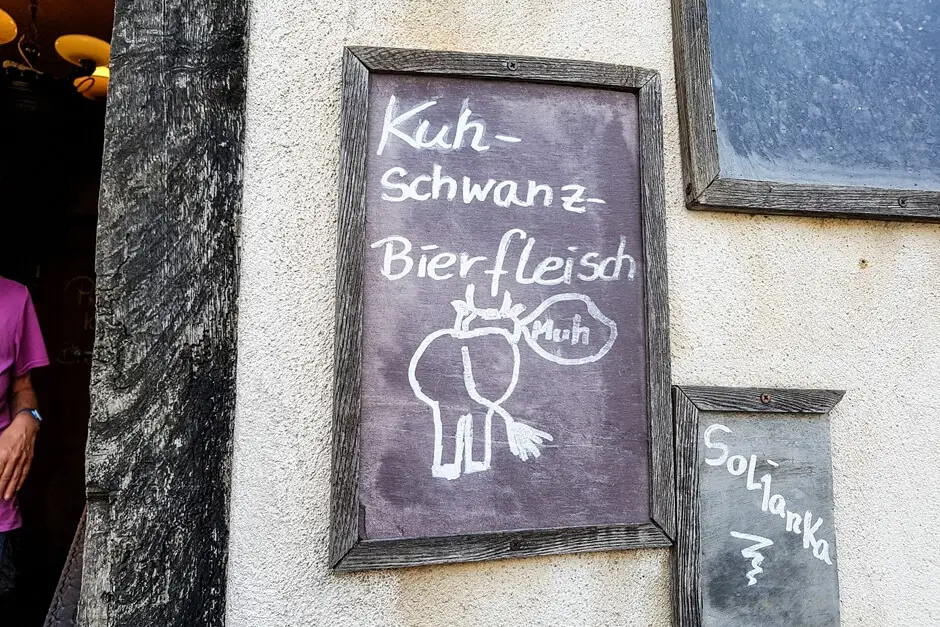 The Exempel Gaststuben are still worth a visit for another reason. Here, the former school has been converted into a cozy guesthouse. Every room has a different motto. Here you can eat in Grandma's living room, in the laundry room or even at the school desk. This has apparently already gotten around. Because with us, guests keep looking in grandma's living room, who just want to take a look at the restaurant rooms. Understandable! We do it to them.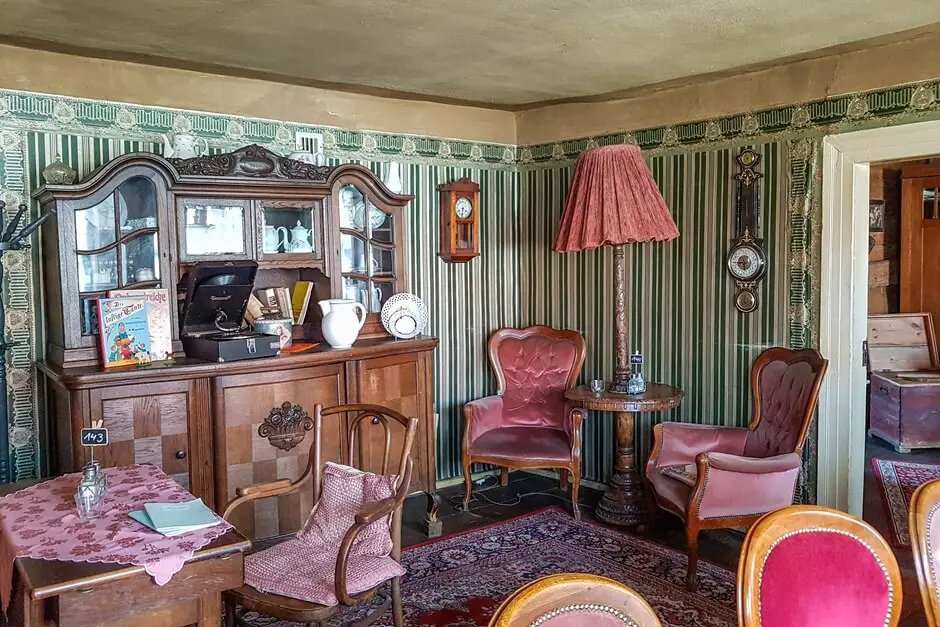 Cozy dining room
The host's menu is also an experience. You should have time for this. A look inside is surprised. You will look in vain for starters, main courses and desserts. Instead, we first learn a lot about the history of the city and the restaurant. In between, the specialties of the region are hidden. But they are also exciting! Or can you imagine something under Soljanka or Tangerwiese? Pig's ears and peas are served as an imperial meal. Hansesack, gold gulden and copper gulden also sound interesting. Or do you know what horse droppings from the fodder molle are? So it goes on for pages. If you want, you can buy this menu card as a souvenir. I think it's a nice idea.
We both try cowtail beer: I am light, Petar is dark. We also like them as non-beer drinkers. But I'm not that convinced of cow tail beer meat. That's too hearty for me. I should have chosen gold guilders. "A golden apricot on chicken breast" is what the menu announces. "Topped with herb sour cream and gratinated with cheese."
Exempel Gaststuben
Church street 40
39590 Tangermünde
After our lunch we go to the town hall square. Here is one of the most beautiful brick buildings on our trip through the Altmark: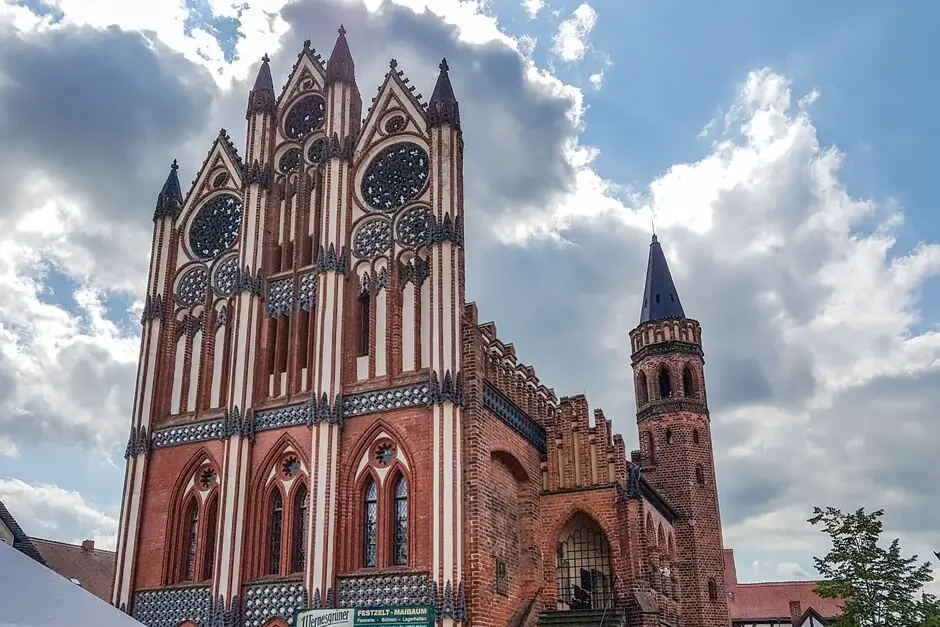 The town hall of Tangermünde
to the card
With its white and red facade, the town hall is a sight that takes my breath away. It is also one of the most beautiful buildings of the late Middle Ages in northern Germany. We go up the stairs. The court arbor and the council chamber are located there. This is now used as a wedding room. The Judicial Arbor looks back on events that are hard to beat in terms of drama. In it the city leaders sat in judgment over Grete Minde. Grete came from a middle class family from Tangermünde. Her mother was Spanish. Her father died early. Grete was a thorn in the side of her brother and his wife. They didn't care about her.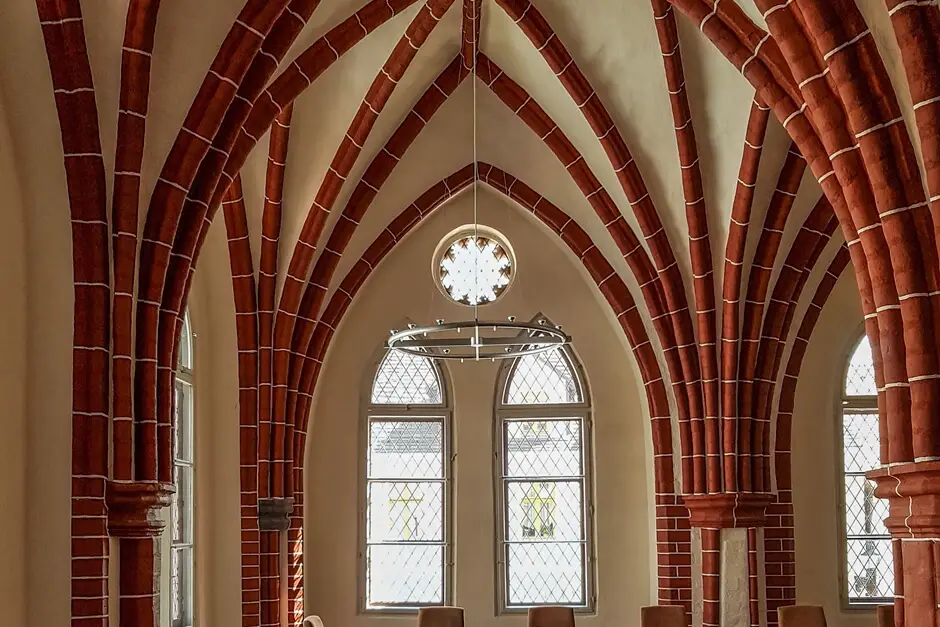 Therefore, she joined a neighbor. With this she finally moved through the country for three years. She had a child from him and was apparently happy. However, her companion died early. He advised her to return to her hometown after his death. However, the brother and sister-in-law refused to accept her. They did not want to pay her share of her inheritance either. The trial started, which took place in the arbor. Contrary to her legal claim, the judges also denied her inheritance.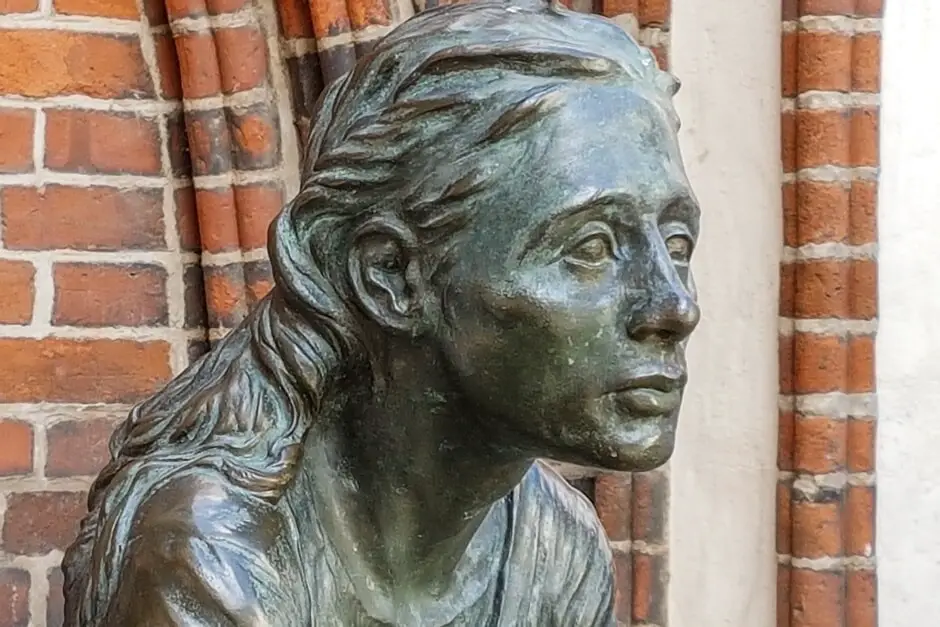 When a fire finally destroyed almost all of Tangermünde in 1617, Grete was quickly accused of being an arsonist. Theodor Fontane made her story famous in his novella. In the meantime, however, the real Grete Minde has been rehabilitated. She was a victim of resentment and corrupt justice. She sentenced her to death at the stake. Your statue stands in front of the entrance to the city museum and commemorates the episode in the city's history.
From the town hall we follow the Kirchstraße to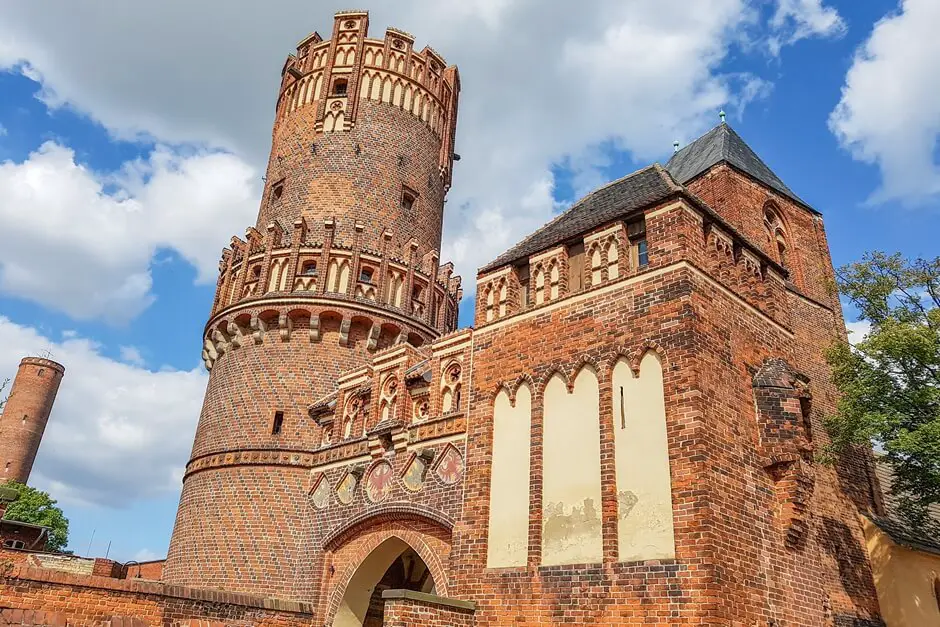 Neustädter Tor
However, this is not completely preserved. Originally there was an outer and an inner gate and a bridge over the moat. Remains of the outer gate and the walls are still preserved. Likewise, the rectangular tower of the original gate system. The round tower and the Torreste are from the 15. Century.
Passing by the St Nicholas, a quaint inn, which we only see from the outside, the way leads us back towards the city center. Before we leave Tangermünde, however, we make a detour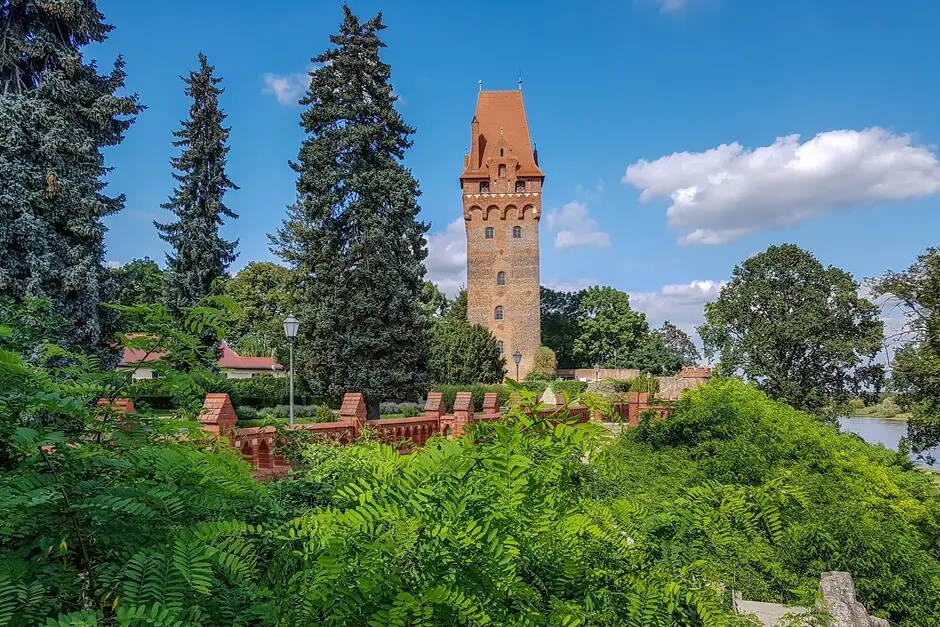 Castle and park Tangermünde
These are located at the other end of the old town on a hill at the confluence of the Tangiers into the Elbe. From the castle park we have a view of the Elbe and the castle hotel Tangermünde. With their scattered tree groves, these are reminiscent of vast park landscapes. At the mouth of the Tangiers, the Störtebecker finally anchored permanently. There is now a restaurant in this ship. The Schlosshotel Tangermünde also rises above. This is housed in a castle from the 14th century. A celebratory event shows that you can still celebrate very princely here today.
That must be in the for the visit to Tangermünde Case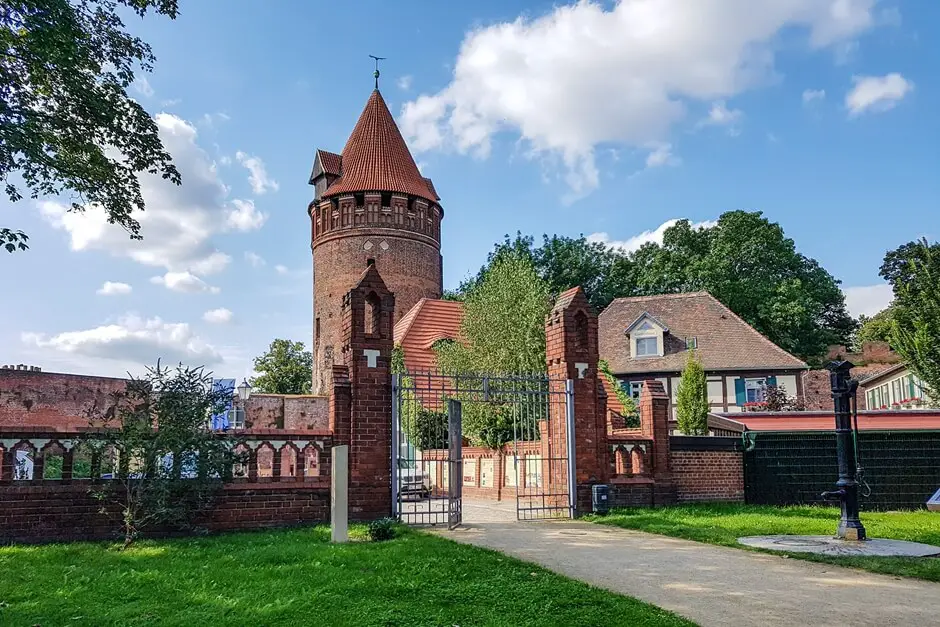 In Petar's video you can also join us on our journey through the Altmark. Check it out! It is definitely worth it:
Tips in the area
---
Travel Arrangements:
Getting there
The airport is Berlin. From there it goes by train to the Altmark. Alternatively, you can also travel by car or bike.
Car Rentals:
Cheap car hire - book quickly and easily!
Find your hotel in Tangermünde here:
Accommodation in Tangermuende * You can also book through our partner booking.com.
Our accommodations in the Altmark:
Gutshof Ottersburg *  Click here for a map
Ottersburg Manor 1
Holiday sheepfold
39517 Ottersburg
Pension Kunsthof Dahrenstedt * Click here for a map
Dahrenstedter Dorfstr. 6
39576 Dahrenstedt
Bismarck's estate Welle (there is also a holiday apartment in which we did not live) Click here for a map
Weller Dorfstrasse 21 - 25
39576 Stendal OT wave
Manor house Birkholz Click here for a map
Holiday home
Birkholzer Schulstrasse 5
39517 Tangerhütte
---
Do you already know:
Find more Slow Travel Tips here.
Source: On-site research. We would also like to thank the Leader Action Group Uchte-Tanger-Elbe for supporting this trip to the city of Tangermünde. However, our opinion remains our own.
Text: © Copyright Monika Fuchs, TravelWorldOnline
Photos © Copyright Monika Fuchs, TravelWorldOnline