An American Breakfast is varied

What does an American breakfast look like? A typical American breakfast is generous. We have experienced that on our Trips to Savor . Anyone planning to visit the United States should be aware that Americans eat differently than we Europeans. This starts with breakfast. You should know what makes a USA breakfast different. In North America, breakfast is the main meal of the day alongside dinner. At lunchtime you only eat a little something like a sandwich or salad. Breakfast has to be more generous to provide you with energy throughout the day. There is also what is commonly referred to as a "continental breakfast". This consists of dishes such as toast, jam, butter, fruit, muesli or cake. A typical American breakfast, however, is prepared in the pan. These include a breakfast omelette, eggs with bacon, ham or pork sausage and fried potatoes, pancakes and toast with butter and jam. Eggs Benedict and waffles are also very tasty. You can also drink coffee, juice and, more rarely, tea.
What you need for a typical breakfast in America
You should know these terms if you want to have an American breakfast
A typical American breakfast includes foods made from eggs. When it comes to egg dishes, you should know a few terms. If you want fried eggs, order your eggs "sunny side up". If the cook is to fry the eggs on both sides, ask them to be "overeasy". If you like the yolk a little firmer in the fried egg, you can order the eggs "over medium". Scrambled eggs are "scrambled eggs". A typical American breakfast also includes potatoes. These are available as fried potatoes or "hash browns". These are grated potatoes that roughly correspond to our hash browns.
You need this for an American breakfast
What is there to eat for breakfast in USA?
You are well equipped with these ingredients if you want to prepare a typical American breakfast at home.
eggs
Bacon or ham
milk
flour
Sugar and vanilla sugar
smoked salmon
potatoes
Toast
hollandaise sauce
tomatoes
Cheese (grated)
Mushrooms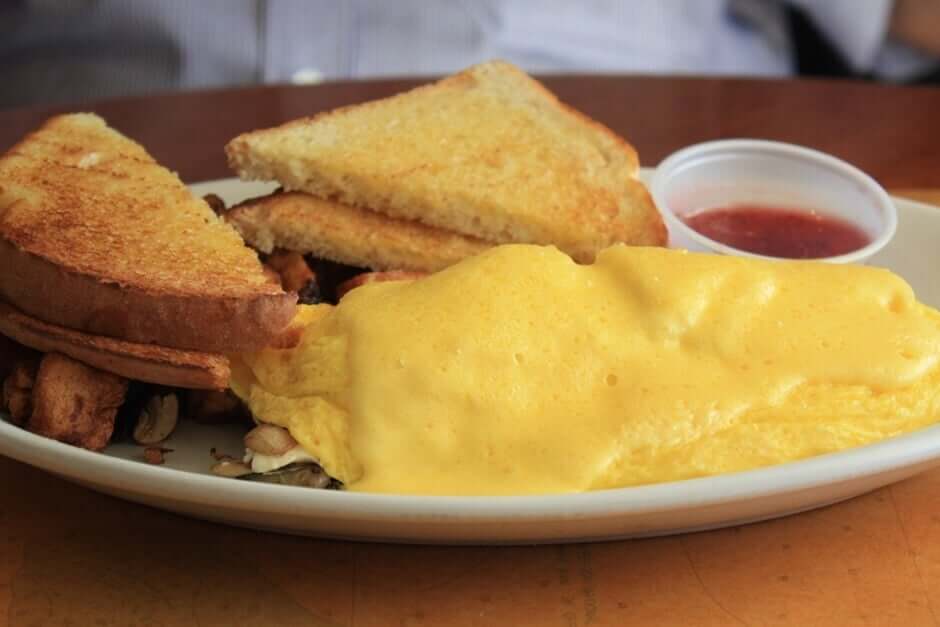 Typical breakfast in USA
The American breakfast does not necessarily have to be served traditionally as in the first picture example. At the Sun Towers Hotel in Fort Lauderdale, the same ingredients were served as a "Breakfast Bowl". It can also happen that sweet is served next to savory. There are even dishes that combine both. Pigs in a blanket are sausages that are wrapped in pancakes.
American breakfast omelet
There are many ways to prepare eggs. So it is common to serve this as a breakfast omelet with all kinds of ingredients. In this case it's bacon, spinach and cheese. There are also fried potatoes and toast with jam.
Make omelets yourself
For an American breakfast omelet you need:
two eggs,
a tomato,
grated cheese (e.g. Gouda or Emmentaler),
two tablespoons of flour,
two tablespoons of milk,
Paprika,
Salt and pepper,
Parsley or chives and
some olive oil.
Preparation
You mix the eggs with flour and milk. Then you cut the tomato into small pieces and stir it together with the cheese under the dough. Season the whole thing with paprika, salt and pepper and fry the omelette in the pan on both sides until golden brown.
You can also add crispy fried bacon strips, fried potatoes or mushrooms to your breakfast omelet. Then your American breakfast is complete. If it should be particularly lavish, add sauce hollandaise over the omelet.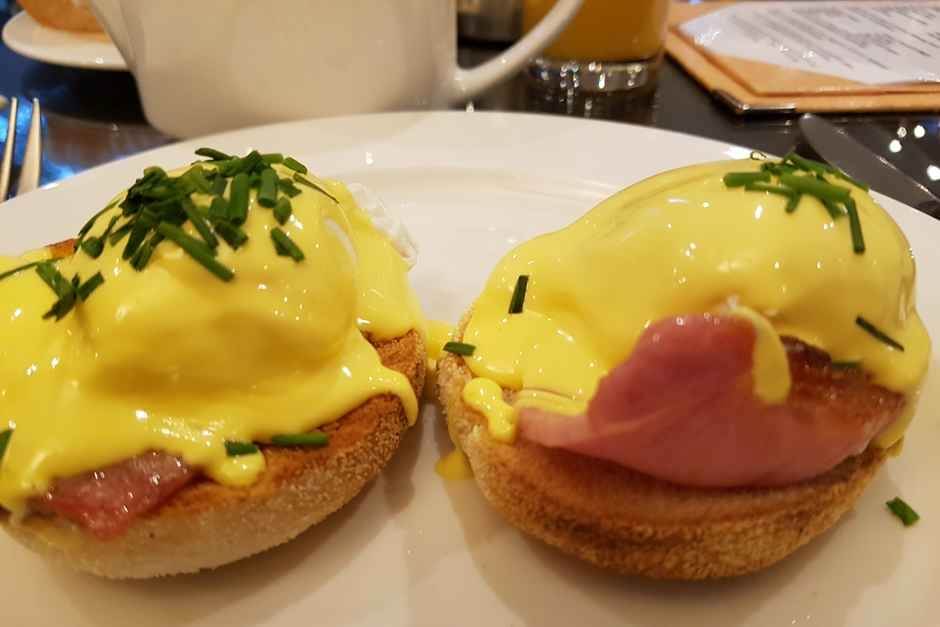 What do Americans have for breakfast?
Guests often find Eggs Benedict on the menus of a breakfast restaurant. Poached eggs are placed on ham and a biscuit. The whole thing is served with a hollandaise sauce. There are also fried potatoes. The Eggs Benedict are offered in many variations. So you can find them with salmon or other ingredients in the offer of breakfast restaurants.
American breakfast with a British twist
Eggs Benedict recipe for home
For us, an American breakfast with Eggs Benedict is part of a pleasure trip. You can easily make Eggs Benedict yourself. You have to poach eggs for this. It works like this:
You boil salt water and add vinegar. Once the water boils, use a wooden spoon to whirl it up. Now you open an egg in a ladle and sink it into the eye of the vertebra. At the beginning, protein threads are still formed. But if you keep pushing the vertebrae with the wooden spoon, they will wrap around the egg and form a poached egg, as you need for Eggs Benedict. If you want the egg to be hard, boil it for three to four minutes. If you want it to be softer, take it out of the water faster.
Now you cut your rolls. Spread a tablespoon of hollandaise sauce on top. They are ready to buy. Put ham or smoked salmon on it. On top is the poached egg, and finally another spoonful of hollandaise sauce. You can garnish the whole thing with fresh herbs.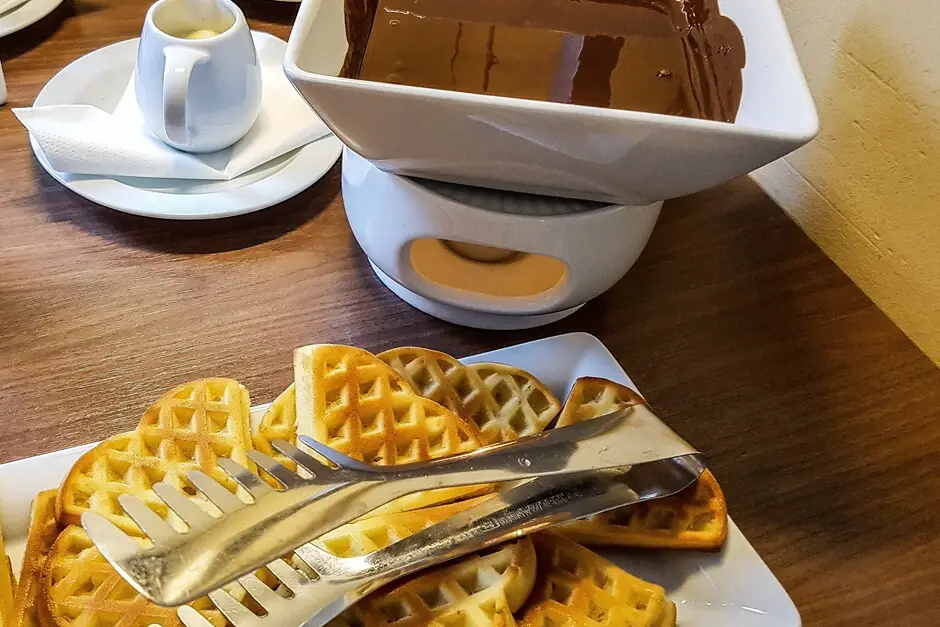 Sweet breakfast
Then there are the Americans who like to eat sweet. For them there are waffles with maple syrup or chocolate sauce. Waffles are also served with fruit or with sausages. Alternatively, French toast - something like "poor knights" - or Pfannkuchen with syrup or fruit available.
French Toast
We prepare it when we have old white bread left over. With this recipe you can make a breakfast that tastes delicious. You need this for four servings:
three eggs
200 milliliters of milk
a pinch of salt
eight slices of stale white bread or toast
Butter for frying
Mix milk, salt and eggs in a flat (preferably rectangular) jar. Leave the slices of toast in there until they are soaked with the liquid.
In the meantime, heat the butter in a pan. Fry the toast slices golden brown on both sides.
Traditionally, French toast is served dusted with powdered sugar or drizzled with maple syrup. You can also sprinkle nuts on it.
But you can also be more inventive. Compote with blueberries, strawberries or raspberries. Later in the year you can vary the fruit and serve the toast with apples, pears or figs.
You can refine the egg milk with sugar, vanilla sugar or cinnamon.
Waffels basic recipe
If you want to make your American breakfast with waffles at home, you need these ingredients.
Three eggs,
125 grams of sugar,
a packet of vanilla sugar,
125 grams of margarine,
a teaspoon of baking soda,
a quarter pound more,
a quarter liter of milk and
a pinch of salt.
Mix the eggs, sugar and vanilla sugar together. Then stir in the margarine underneath. Finally, add flour, baking powder, milk and salt and mix everything together. You bake this dough into waffles in waffle irons.
Chocolate sauce, cherries, maple syrup, Nutella, cinnamon sugar or powdered sugar go well with this.
Where can I find an American breakfast restaurant?
If you want to enjoy breakfast, you can either find it in a hotel restaurant or in a restaurant like Denny's or IHOP in Florida, which specialize in breakfast. Hotels that offer bed and breakfast rarely offer these dishes to their guests. Their breakfasts often consist of toast, muffins and coffee in plastic cups. Therefore, we advise in individual cases to prefer not to have breakfast in the hotel and to go to the trouble of going to a breakfast restaurant. You will enjoy it! Choosing "bed and breakfast" as the selection criterion when booking a hotel only makes sense for those who do not value breakfast. Culinary travel is also fun in America if you know where, what and how you can enjoy it.
With these tips you can enjoy a typical American breakfast on your trips to Canada or the USA. We don't just do this on our travels. Instead, we always prepare an American breakfast at home. Of course, not all of these dishes are always available. But they are always there, and variety is fun and appetite. We hope that the recipes and tips will also help you plan your trip. And maybe they will bring beautiful memories of your trips to America to your own kitchen.
Do you already know:
Source for typical American breakfast: own research on site
Text: © Copyright Monika Fuchs, TravelWorldOnline
Photos: © Copyright Monika Fuchs, TravelWorldOnline
What does a typical American Breakfast look like ?