Altzella Monastery in Saxony

There is not much left of Altzella Monastery. At first I'm a little disappointed when we parked in the monastery parking lot Sachsen arrive. In front of us I see a few houses that remind me more of a farm. I would never have thought of a monastery if I did not know that we are in the right place. However, this impression changes quickly as we walk through one of the monastery buildings that is still standing. Behind it we come into a romantic world.
A monastery in Saxony - Medieval Romanticism
We have long been fascinated by monasteries. In recent years we have visited monasteries a lot. In contrast to the monastery complexes that we know so far, the Altzella monastery is largely a ruined monastery. In any case, most of the ruins are in the forest or in the monastery park. But this is exactly what makes the monastery so charming.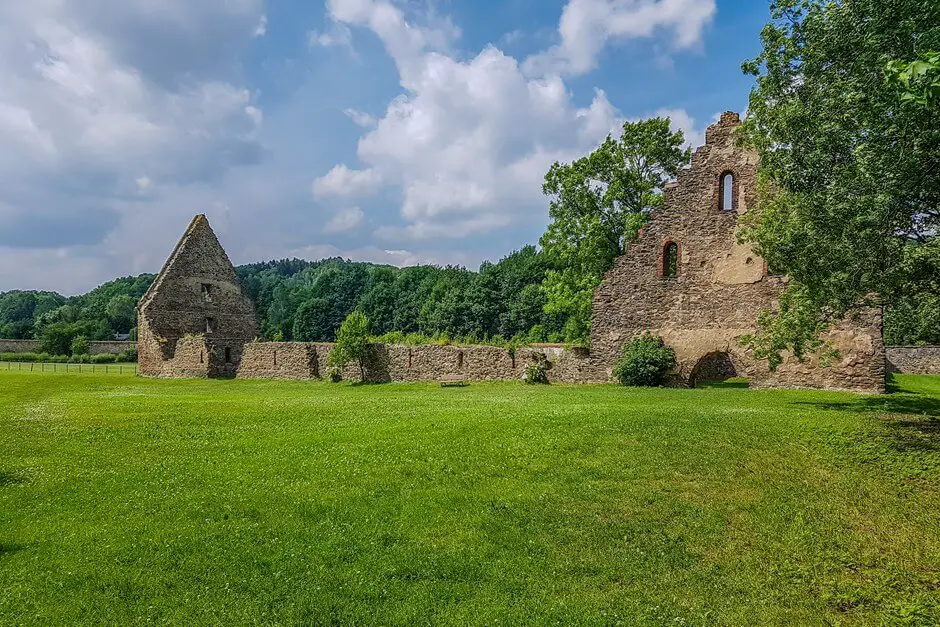 As soon as we leave the main building, the Middle Ages cast a spell over us. Ancient tree giants provide shade in the summer heat. Narrow paths lead through the forest. Weathered stone walls protrude behind the bushes. However, it is no longer possible to see what was once in it. A dormitory of the monks? The refectory? Or a stable for the cattle? We do not know it. In any case, the ruins look like witnesses from a sunken world. A stone staircase leads under the ruins. We follow her and finally get to a wine cellar. "People still celebrate here today," explains Koreen Vetter, who leads us through the monastery garden.
We leave the forest and turn to the large meadow below the monastery buildings that have been preserved. There is also a half-dilapidated building on it. "The Cistercian monks once used this as a camp," says Koreen. Here they sold their products to dealers. Except for the outer walls and a well-preserved gable, there is nothing left of it. A stone cross at the top of the gable testifies to the monastic past of the building. For me it is one of the most romantic buildings in the complex. I like to believe Koreen when she says that wedding couples like to say yes.
In the monastery garden of Altzella
We meet Koreen for a reason. Years ago, she set herself the task of cultivating the old monastery garden. But she gets up early every morning and spends an hour in the herb garden of the monastery. Then she sows weeds and looks to see which of her many herbs are ready for harvest. She has a lot of that. Rosemary, basil, oregano, marjoram are just as much as various mint varieties or lemon balm. However, she does not only know the usual culinary herbs.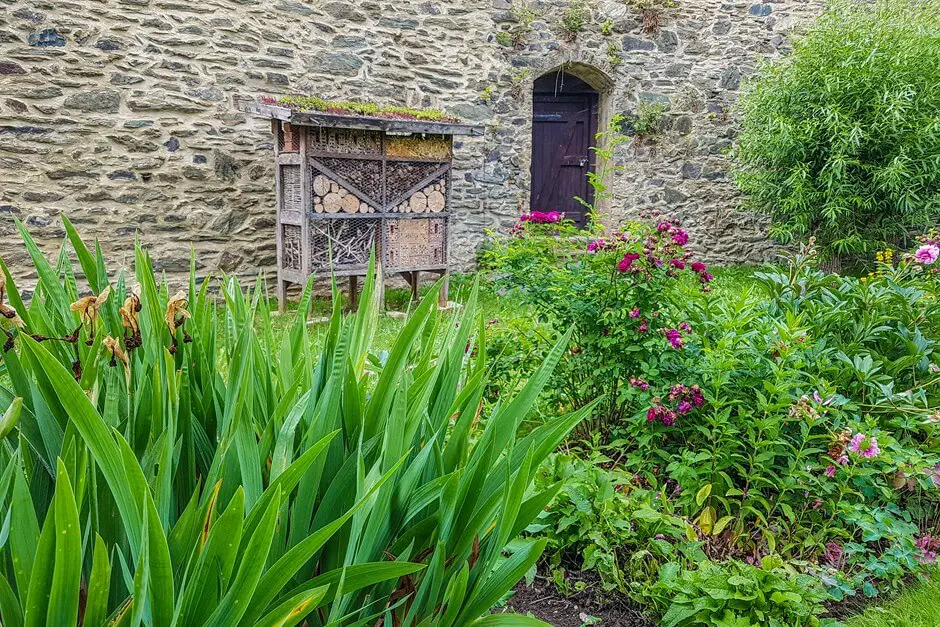 On our way through the meadow, Koreen stoops again and again, picks an inconspicuous plant and holds it out to us. "Do you like to go hiking? You will always have a blister on your foot. Then just take the leaves of this plant on the way, rub it between your fingers and apply it to the wound. After a few minutes it doesn't hurt anymore. "Several bushes grow on the wall of the monastery garden. Koreen walks up to it and puts the small fruits in her mouth. "Go ahead!" She laughs. "You can eat them." And indeed! What I had previously regarded as non-edible berries turned out to be a sugar-sweet delicacy. "You only need a lot of time if you want to make jam out of it," giggles Koreen. "It takes a long time to collect the necessary amount of berries."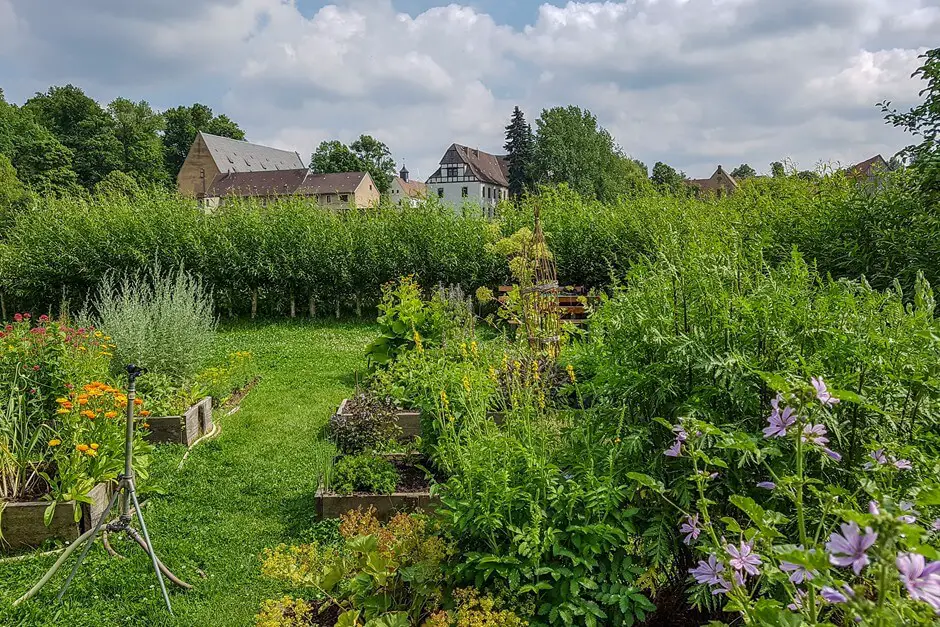 Gather herbs in the monastery garden
However, we do not intend to make jam. Instead, we visit the herb garden to gather herbs that we need for our lunch. We are in Altzella Monastery to learn more about the herbal cuisine. This works best when we cook with herbs ourselves.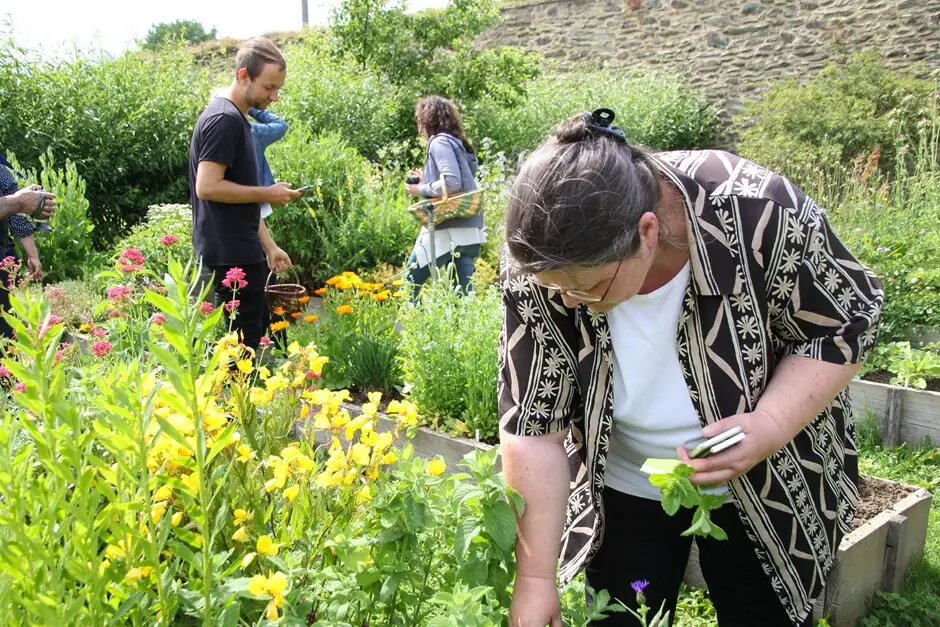 Together with our blogger colleagues we cook a three-course menu in which herbs play the main role. The menu includes pea and herb waffles, a strawberry chia dessert and a mint and mango smoothie.
Koreen Vetter now not only looks after the herb garden. She also offers herbal cooking classes in the monastery kitchen. Therefore, we follow your instructions and collect herbs that we need for these dishes. Petar and I are preparing the mint-mango smoothie. For this we cut off some branches of lemon mint. The peppermint tea from fresh peppermint Koreen has prepared before we arrived. This must take some time, so that he takes on the intense aroma of mint. All other ingredients are waiting for us in the monastery kitchen.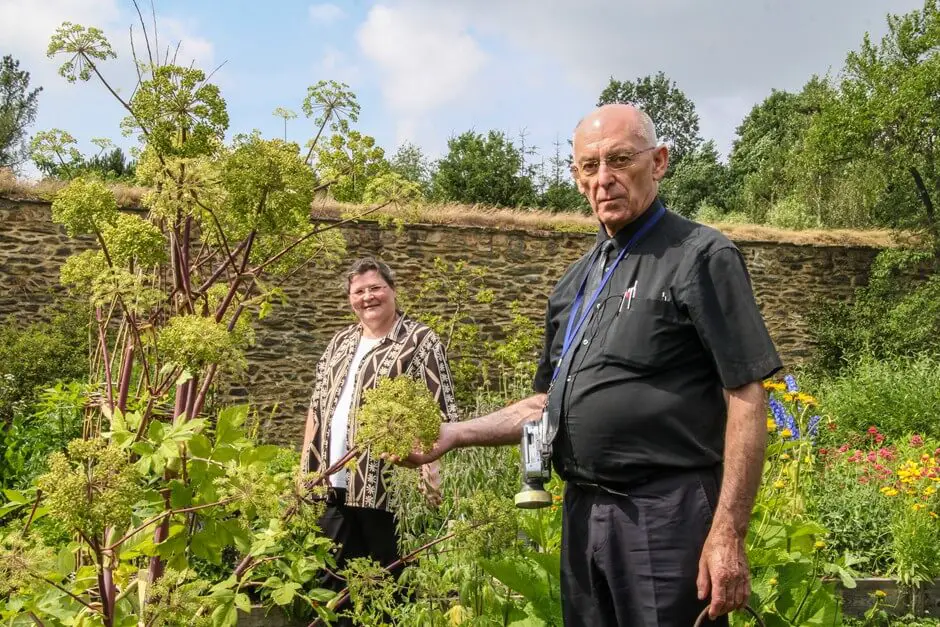 It's fun to harvest the fresh ingredients in the garden. It also goes perfectly with the culinary experiments that we have started this year with herbs from our own herb garden. Therefore, the suggestions are just right for us.
Mint herb smoothie from the monastery garden
Back in the monastery kitchen, we cut the mango into bite-sized pieces. We pluck the leaves of the lemon mint from the stalks and cut them into strips. We puree the mixture together with the previously prepared peppermint tea, some sugar, a finely chopped orange and a cup of Greek yoghurt. Then ours Mint herbal smoothie finished.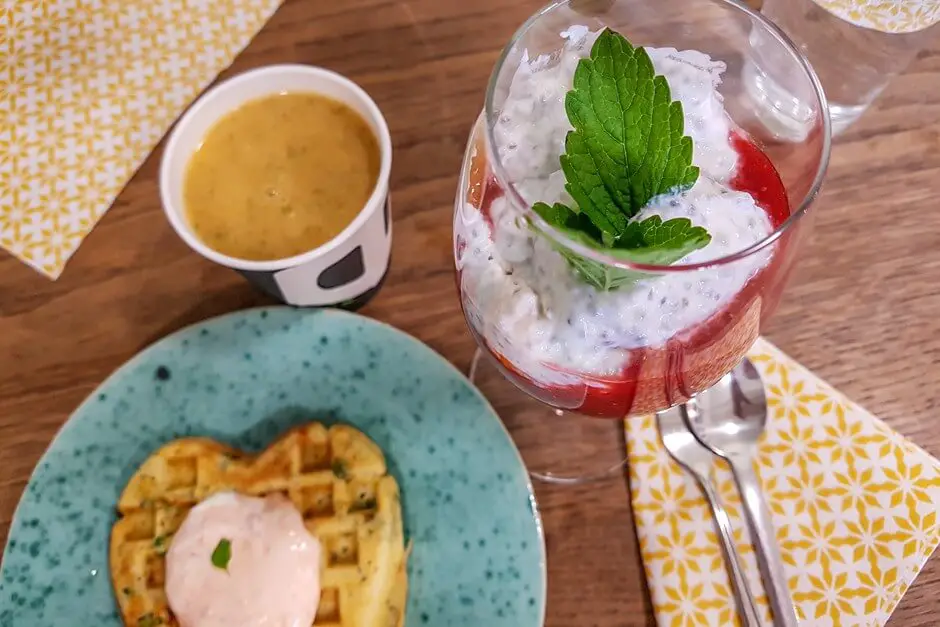 The others need a little longer to prepare their food. Are the recipes for their dishes a bit more complex? After a few minutes, all the food is finally ready. With a lot of fun, we cooked a herb menu for a summer lunch in a short time and then enjoyed together. With us, the mint herbal smoothie is now regularly at home.
Do you like to travel by motorhome?
You need this for a visit to the Altzella Monastery
---
Travel Arrangements
Altzella Monastery
Zellaer St. 10
01683 Nossen
Koreen's cousin
Tel. 0172 / 2353705 or
Tel 035241 / 817570
Parking at the airport
Here you can reserve your parking space at the airport.
Arrival to the Altzella monastery
Book yours here Arrival by plane, bus or train*.
By car to Altzella Monastery:
A 14 (Leipzig - Dresden)
Exit Nossen-Nord, follow the signs to Nossen
A 4 (Chemnitz - Dresden)
Exit Siebenlehn, direction Nossen, follow the signs
B101 (Meißen - Freiberg)
B 175 (Döbeln - Nossen)
S36 (Waldheim - Nossen)
With public transport to the Altzella monastery
Bus line 424 (Dresden - Altzella)
Bus line 418 / 412 (Meissen - Nossen) - only goes to market Nossen, then change or walk
Accomodation
Hotels in and around Nossen * In the area around Altzella Monastery you can also book online at booking.com.
---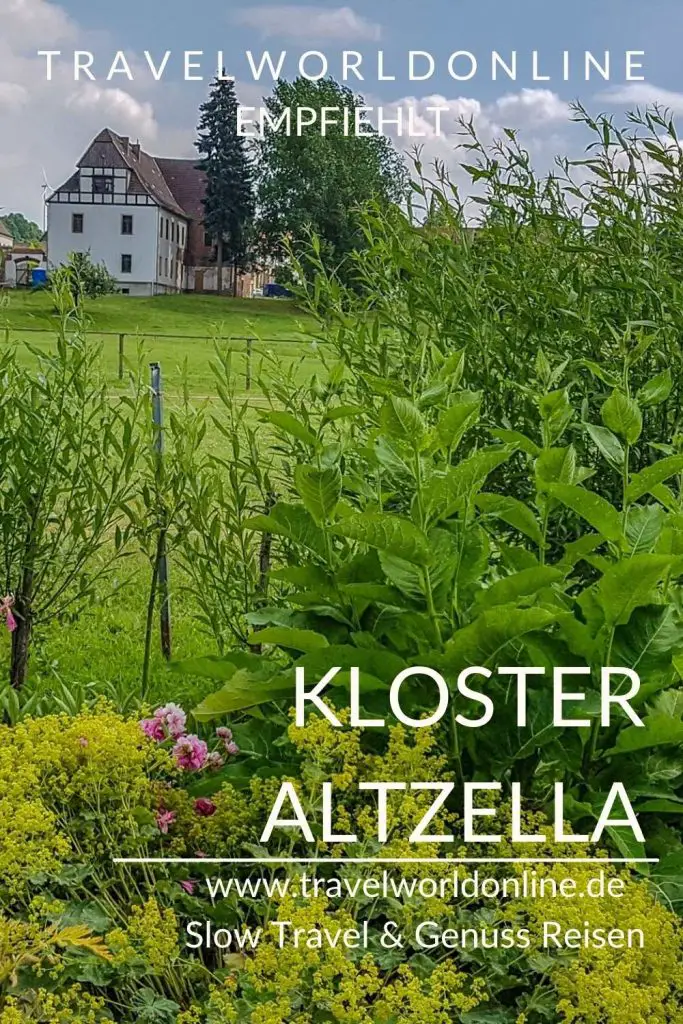 Do you already know:
Find more Slow Travel Tips here.
Source Altzella Monastery: On-site research at the invitation of Schloesserland Sachsen. However, our opinion remains our own.
Text Altzella Monastery: © Copyright Monika Fuchs, TravelWorldOnline
Photos: © Copyright Monika Fuchs, TravelWorldOnline
Video: © Copyright Petar Fuchs, TravelWorldOnline
What monastery Altzella teaches about the herbal cuisine