Four restaurants in the Spreewald
At our Short trip through the Spreewald we were on a tour of discovery through the gastronomy in the Spreewald in Brandenburg. What we discovered here, we present at this point: First of all - it was a journey that took me back to my childhood, showed us Spreewald specialties, put us in a romantic mood and finally let us dine in an elegant setting. In any case, the restaurants in the Spreewald are one of them: varied and good. These are the four restaurants in the Spreewald that we got to know: the Spreeblick restaurant in Lübben, the Zeitlos café - a charming restaurant in Lübbenau, the Spreewald beach house in Lübben and the Spreewald restaurant in Lübbenau Castle. Some of them are also among the hotels and guest houses in the Spreewald that we recommend for overnight stays in the region.
The Spreeblick restaurant in Lübben - perfect for lunch
Not far from the city center of Lübben is the Spreeblick restaurant, which belongs to the hotel of the same name. Here we had an appointment for lunch and met a well-kept Spreewald inn, where several lunch guests were enjoying their food when we arrived a little late from our boat tour through the rivers in and around Lübben. Since we only ordered our food around half past one, we soon had the restaurant to ourselves. In the neighboring room, which was only separated from our restaurant by the small lobby, the seniors of the city obviously met to celebrate carnival there, colorfully and colorfully dressed or disguised - depending on your mood. Again and again guests came to the restaurant to get freshly baked "pancakes", as they call the carnival donuts. Apparently the restaurant is known for it.
And our lunch wasn't long in coming either. I asked if it could not be sped up a bit because we were already late with our schedule and the staff went out of their way to do so. A big plus for the service. Petar ordered fried pikeperch fillet with Spree Forest cucumbers, parsley potatoes and cucumber salad, and I was after something exotic: turkey breast gratinated with peaches on ribbon pasta with pineapple curry sauce. Both were good and tasty and corresponded to the standard of the restaurant. After we had to try a "pancake" at the end, we can confirm that in the Spreeblick restaurant you eat well and well.

Hotel-Restaurant "Spreeblick" *
Gubener street 53
15907 Lübben / Spreewald
Tel 03546 / 2320
 Coffee break in Café Zeitlos in Lübbenau
When we are on our feet for a whole day and talk a lot, as we often do on our travels, we are usually happy to take a break in a café with a cup of coffee and a piece of cake. In Lübbenau, the Zeitlos café in the middle of the city's market square was ideal. As soon as I crossed the doorstep, I felt transported back into my grandparents' room: with its wooden furniture, the dim light and the ambience. Another thing that contributed to my nostalgia was the "cold dog", which was presented to me as a specialty of the region. My mother used to make this for us on holidays - a cake that was only available for birthdays or other occasions.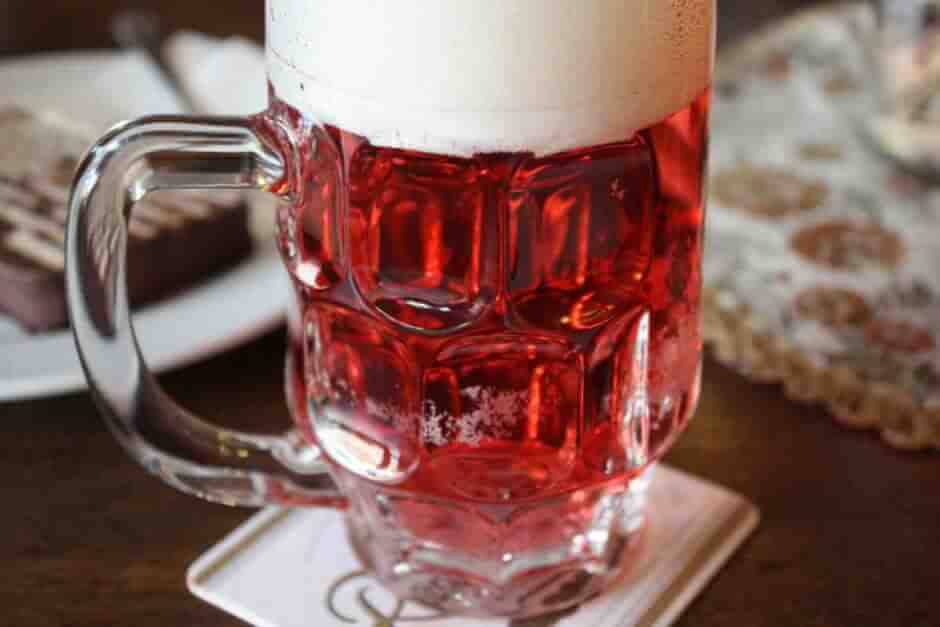 And so Café Zeitlos couldn't go wrong with our coffee break, which gave us a break from our tour through the Spreewald.
Café Timeless
Ehm Welk Street 37
03222 Lübbenau / Spreewald
Tel 03542 / 8899861
Do you like to travel by motorhome?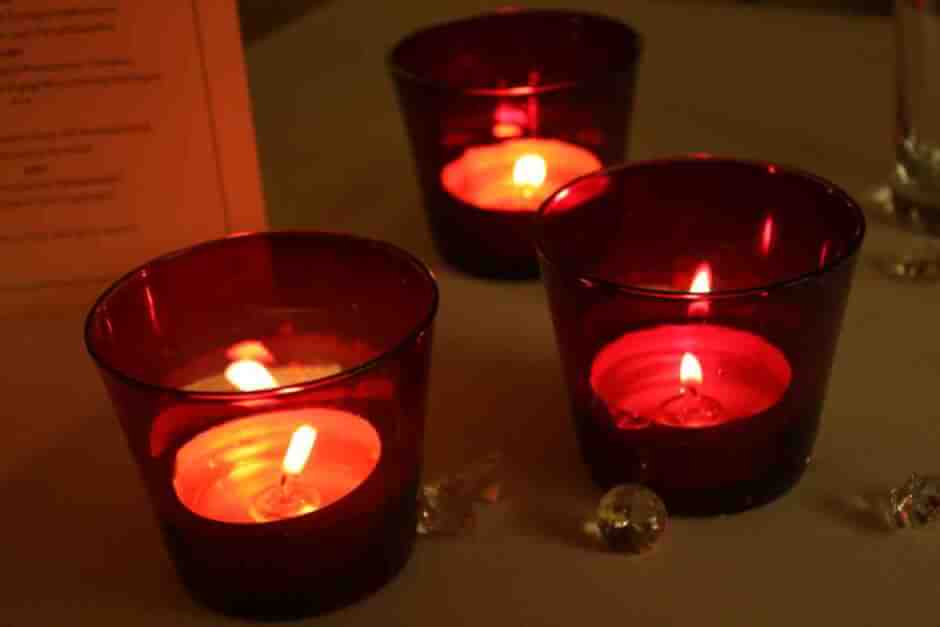 A restaurant in the Spreewald for romantics: Candlelight dinner in the Strandhaus Spreewald in Lübben
Dinner at Strandhaus Spreewald in Lübben was an experience: we had reserved a candlelight dinner and were curious to see what it would look like. We didn't expect too much. The staff at Strandhaus Spreewald had set our table with tulips, candles and napkins. For the aperitif there was a house cocktail made from pear juice with Prosecco.
The greeting from the kitchen - couscous salad - was followed by a firework of culinary art. Petar opts for salmon fillet with asparagus salad and free-range egg vinaigrette as a starter, redfish fillet with tomatoes, basil raukepest and olive gnocchis for the main course and a selection of French cheeses with grapes and fig mustard. I choose creamy spinach soup with beetroot leaves and fresh goat cheese, saddle of veal steak with tarragon hollandaise, beans and potato waffles and chocolate cream with raspberry pulp and Amarena cherry ice cream. It wasn't just the ice cream that melted away at this meal.

Beach house Spreewald *
Ernst-von-Houwald dam 16
15907 Lübben / Spreewald
Tel 03546 / 7364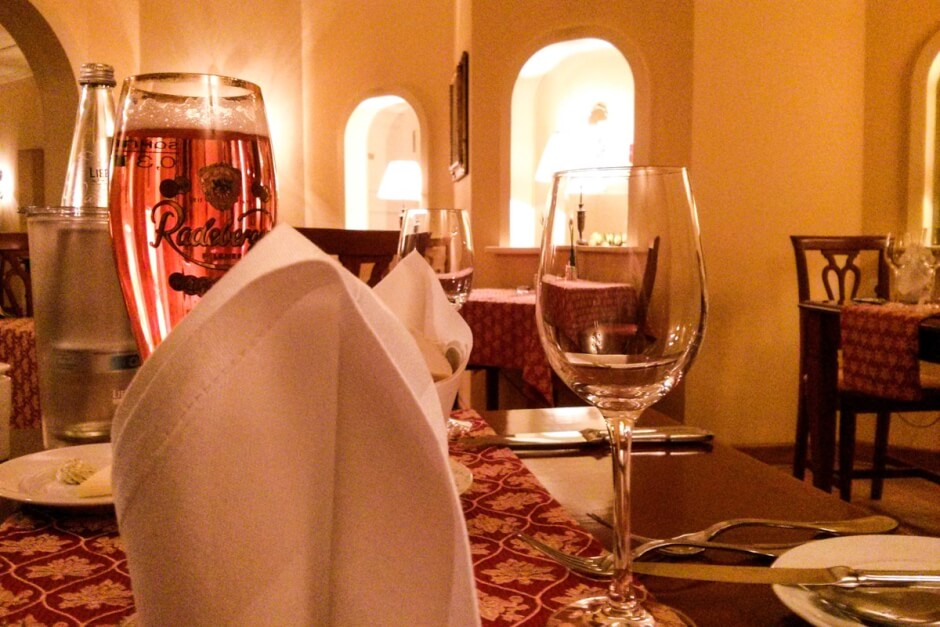 A restaurant in the Spreewald full of elegance: dining in the Schlosshotel Lübbenau
The restaurant full of elegance on our tour through the restaurants in the Spreewald was that in the Schlosshotel Lübbenau. Today the castle is again in the possession of its owner. They run it as a hotel and restaurant. It is a beautiful sight in the evening with its main portal, the doors of which open onto the hotel's reception area. The receptionist knows who we are as soon as we introduce ourselves. She leads us to the hotel restaurant. This consists of two rooms. A family celebration is apparently taking place in the larger one. Therefore, she leads us into the dining room, which we initially have to ourselves.
If we originally expected that we would hardly find Spreewald specialties on the menu here, we quickly changed our minds when they brought us a "Potsdamer" to the table. This is a Spreewald beer specialty: beer with raspberry lemonade, which turns the drink pink. The dishes that we are served are not gourmet cuisine either, but dishes such as tomato soup, roast duck with potatoes and dumplings and a mousse at the end. These taste wonderful after a day full of activities in the Spreewald!
Lübbenau Castle in the Spreewald *
Castle district 6
03222 Lübbenau / Spreewald
Tel 03542 / 8730

Conclusion of our voyage of discovery through the restaurants in the Spreewald: we have found everything from country inns to cafés to restaurants in the Spreewald. The cuisine was regional, which we liked a lot, and it was tasty, which is nice after a day full of experiences. So let us invite you to try out the restaurants in the Spreewald for yourself.
You need that for a trip to the Spreewald
Comfortable walking bootswhere you can go well
A backpack is definitely practical for everything you need on the go.
In our hiking checklist you can check whether you have packed everything for your hike.
The region offers beautiful photo opportunities. Therefore you should bring your  Camera .
Travel guide for the Spreewald:
---
Travel Arrangements:
Parking at the airport
Here you can reserve your parking space at the airport.
Arrival
Arrival by plane, bus or train*. Lufthansa and others will follow Berlin. From there we continue with the rental car. It is also possible to travel by train to Lübbenau or Lübben train station. You can reach Burg by train and bus: Timetable and booking*
Car Rentals:
Rent a car - book quickly and easily!
Hotels in the Spreewald:
We stayed in the Beach house Spreewald *. Hotels in the Spreewald * you can find under this link.
Tips for the Spreewald:
UOur tips for the Spreewald you can find under this link.
---
Do you already know:
Discover Enjoyment travel tips here.
Source restaurants in the Spreewald: Research on site at the invitation of TMB Tourismus-Marketing Brandenburg GmbH
Text restaurants in the Spreewald: © Copyright Monika Fuchs, TravelWorldOnline
Photos of restaurants in the Spreewald: © Copyright Monika Fuchs, TravelWorldOnline
Video restaurants in the Spreewald: © Copyright Petar Fuchs, TravelWorldOnline
Restaurants in the Spreewald