A Liechtenstein vacation for connoisseurs
Enjoyment in the Principality of Liechtenstein - that's what we had planned for the weekend. It should be a Liechtenstein vacation for connoisseurs. A culinary journey. So far, however, we had always passed this country with its 37.000 inhabitants on the way to Switzerland. However, we always asked ourselves what there was to discover there. Except for Vaduz Castle, we haven't seen anything of it so far. You can already see the castle from the autobahn on the Swiss side. This time, however, is Liechtenstein our travel destination. We are very curious about what to expect. First of all, we start looking for culinary delights.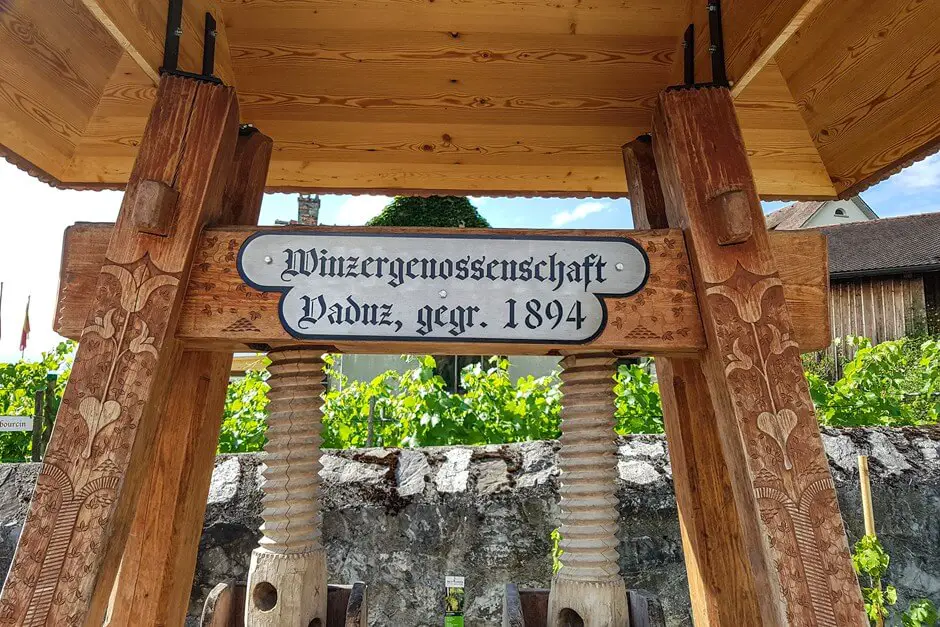 Enjoy in the Principality of Liechtenstein for gourmets
First of all. Enjoying in the Principality of Liechtenstein means eating and drinking well. The number of award-winning chefs, converted to the number of residents, is very high. But not only gourmets will find it here. Also everyone who likes or likes regional products and specialties hike, are in the right place in Liechtenstein. Especially because you can only get many of the products in the country.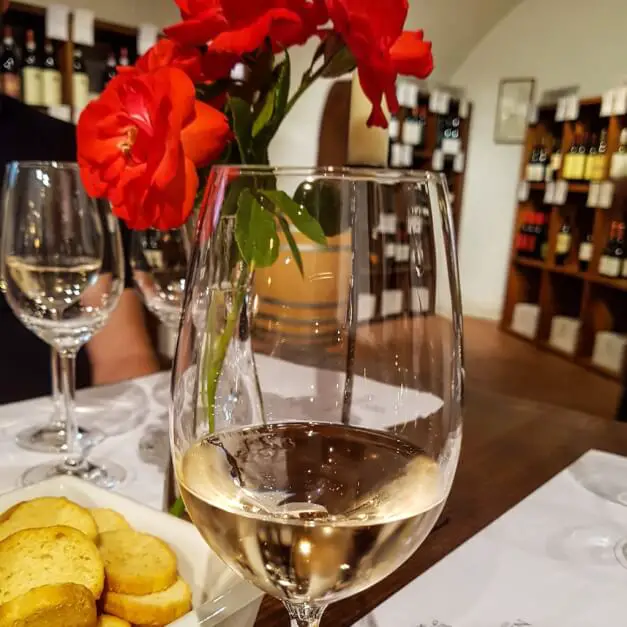 Wine and cheese directly from the producer
This applies to the wines, for example. The cultivation areas are too small to export the wines of the Princely Hofkellerei or other winemakers abroad. It is better to drink the wines in the country. If you want to taste Liechtenstein wines, you either have to make a stop on the trip to the south or drive there specifically. The vineyards are mainly located on the slopes in the Oberland. This means the higher regions of Liechtenstein in the southern part of the country. The vineyards are concentrated there. None of them are big. Many people use their gardens for growing grapes. The vineyard of the Princely Hofkellerei in Vaduz is slightly larger. We visit her in the late afternoon. So we learn that the royal family also owns wine regions in the Waldviertel. We try Grünen Veltliner, Vaduzer Pinot Noir, Riesling, Herawingert and Riesling-Sylvaner.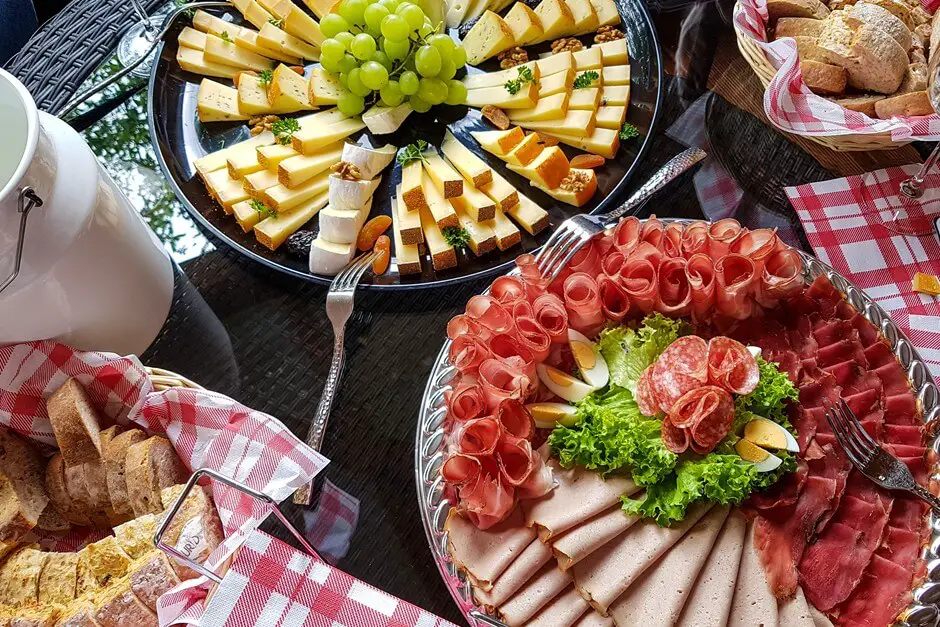 Liechtensteiner Schildbürger
The same applies to agricultural products. The first stop of our pleasure trip is the Bangshof in Ruggell. While the place is one of the country's industrial centers, the farm is just a few hundred meters outside the town on the edge of the Ruggeller Riet nature reserve. The Bangshof specializes in the production of cheese. "It was a bogus prank," says Norman Hasler. "We either had the option of giving up our farm or specializing." He chose the latter. He had no idea about cheese. "I taught myself that. I just started. "It was difficult when he wanted to sell his cheese. Nobody was interested. No supermarket. Certainly not a farmers market. Nobody.
So ideas were needed. "If I don't find any buyers, I just bring them into the house," thought Norman Hasler. He set up a few tables in his yard, made cheese platters, and invited the neighborhood. His Saturday brunch attracts hundreds of visitors every week. We are not surprised. His cheeses also seduce us.
Bangshof
Fallagass 41
LI-9491 Ruggell
Tel + 423 373 49 30
Liechtensteiner Single Malt Whiskey
A good meal is best concluded with a glass of home-made. To find it, you do not have to go far in Liechtenstein. Marcel Telser in Triesen produces single malt whiskey. Telser, who is a lawyer in the main profession, has learned the whiskey burning in Scotland. Therefore, he distills his whiskey twice over wood fire. Just like the Scots do it. Only that he uses wood fire for it, not peat as in Scotland. His whiskey also matures in red wine barrels. This gives it its special taste.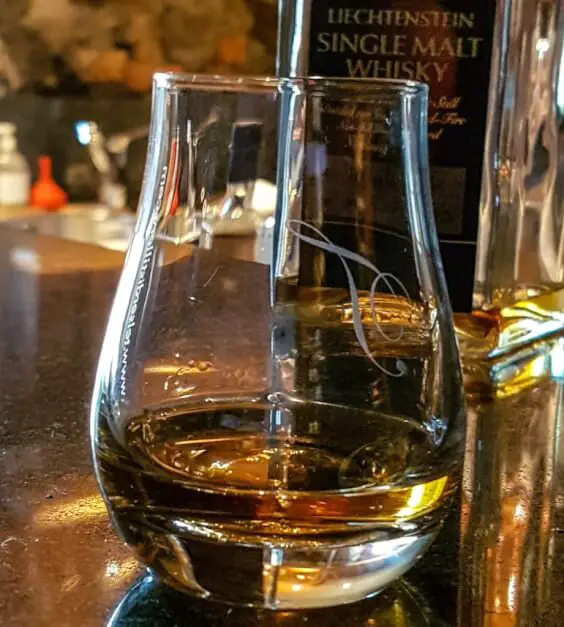 I must confess that I am more of a friend of triple-distilled whiskey. This is milder and softer in the finish. That's why the single malt does not necessarily match my taste. However, friends of smoky whiskey will surprise him. If you want to taste Liechtenstein whiskey, we recommend a visit to the Distillery Telser in Triesen.
Telser Distillery Ltd.
Village street 67
9495 Triesen
Principality of Liechtenstein
+423 392 53 73
Eating well in the Principality of Liechtenstein
As a border region between Germany, Switzerland and Austria, specialties from neighboring countries are cooked in Liechtenstein kitchens. These include Vorarlberger Käsknöpfli as well as Kratzete from Baden. However, there are also specials from the local kitchen such as Ribelstrudel or the castle pineapple from the cook from the Princely House. We were surprised by the number of award-winning restaurants in Liechtenstein. The Principality's chefs have earned Gault Millau toques and even Michelin stars. Rightly so. We tested that in these restaurants.
You need that for hiking in the Principality of Liechtenstein
With this packing list for hikers you will never forget anything on your hikes.
Comfortable You need walking shoes for wide feetwhere you can walk well even on rough paths
A backpack is definitely practical for everything you need on the go.
Along the hiking trails there are also opportunities for a picknick on the roadside.
Hiking destinations in the Principality of Liechtenstein offer beautiful photo opportunities. Therefore, you shouldn't forget your camera.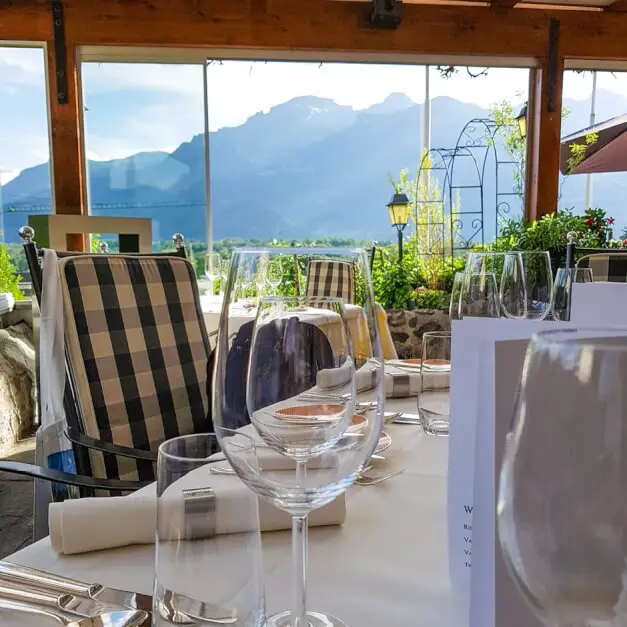 Dinner in the vineyard
The Torkel restaurant is located above the vineyards of the Princely Court Cellar. The view of the vineyard and the mountains enchants us. Ivo Berger cooks here. The chef has received multiple awards. His motto is not to follow any trends. He is hosting us with dinner. An Amuse Bouche is followed by a Black Angus Beef Tartar with watercress and "tomato sandwiches". He fries the angler fish with braised carrot, broccoli ponge and serves it on orange cream. This is followed by a summer deer with berries, arugula, parsley and strudel, a Liechtenstein specialty. At the end there is passion fruit, sour cream and chocolate and a chocolate cake that melts in the mouth.
Enjoy in the Principality of Liechtenstein in the Torkel restaurant in Vaduz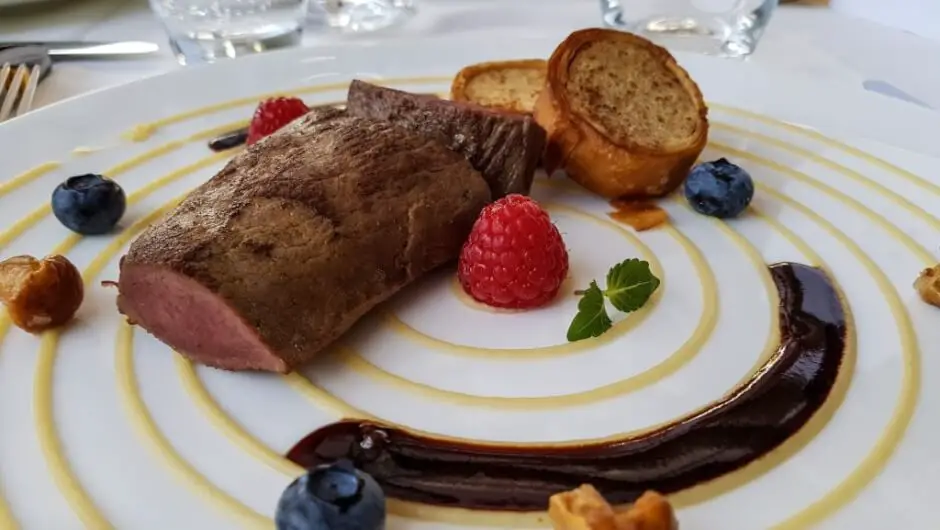 Restaurant Torkel
Hintergass 9
FL - 9490 Vaduz
Principality of Liechtenstein
Tel. + 423 232 44 10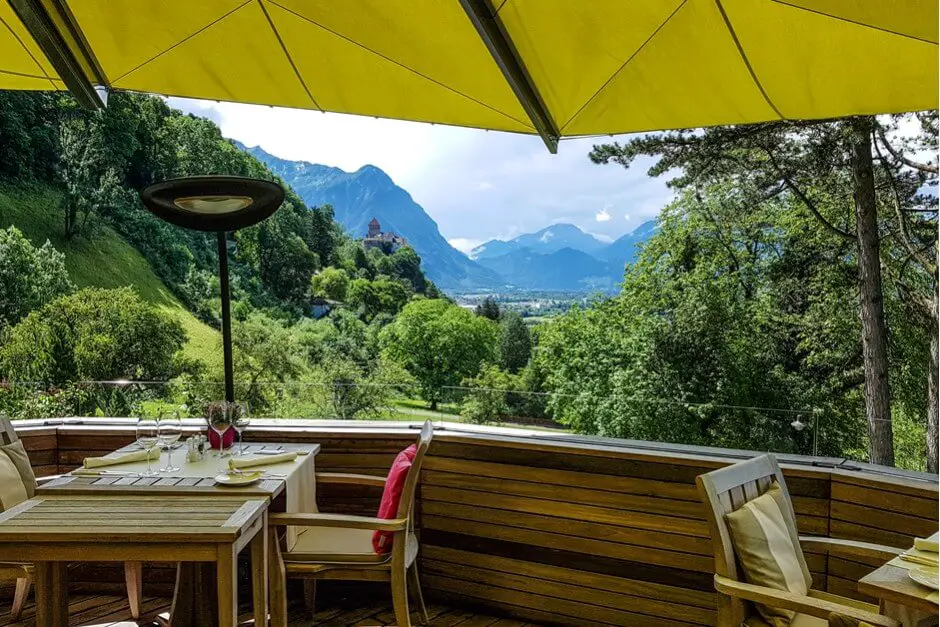 Lunch with a view
Enjoying lunch with a view in the Principality of Liechtenstein will not be forgotten. The view from the terrace of the Park-Hotel Sonnenhof is even more beautiful. From there we have a view of Vaduz, the castle and the Rhine valley. The view alone makes a visit to this restaurant an experience. However, this is crowned with the delicacy from the kitchen of star chef Hubertus Real. After a three-way amuse bouche, he serves us tomato mozzarella in a completely different way, namely as a soup with mozzarella cream. This is followed by a veal tartare marinated in lemon thyme and mint stock and a crispy wild salmon. The meat course consists of venison medallions on chanterelles, cherries and lovage. There is also Spätzli. For dessert there is elderflower jelly and lemon balm sorbet, topped with strawberries. The whole thing is doused with Prosecco.
Enjoy in the Principality of Liechtenstein with a star chef in Vaduz
Star chef Hubertus Real picks up at the Park Hotel Sonnenhof in Vaduz in the Principality of Liechtenstein.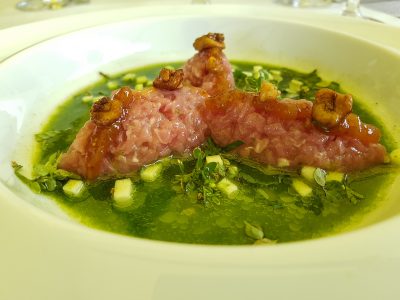 Park Hotel Sonnenhof
Mareestrasse, 29
FL - 9490 Vaduz
Liechtenstein
Tel .: + 4232390202
You can also stay overnight at the Sonnenhof Vaduz.
Do you like to travel by motorhome?
And finally ...
Enjoyment in the Principality of Liechtenstein is an experience for lovers of regional specialties as well as for gourmets. We were surprised how many opportunities this country offers for this. Resourceful producers as well as star chefs help that connoisseurs find the right thing for themselves here. Liechtenstein is definitely worth a multi-day stopover to discover these delicacies.
In Petar's video there are also more tips on what to do in Liechtenstein. It's worth taking a look:
---
Travel Arrangements:
Check in:
Book yours here Arrival by plane, bus or train*. Liechtenstein does not have its own airport. However, airports are in Friedrichshafen (85 km), Altenrhein (50 km) and Zurich-Kloten (115 km). It is also possible to travel by train
Car Rentals:
Accommodation in Liechtenstein
We stayed in the Hotel kommod in Ruggell *. Hotels in and around Liechtenstein * You can also book online at booking.com.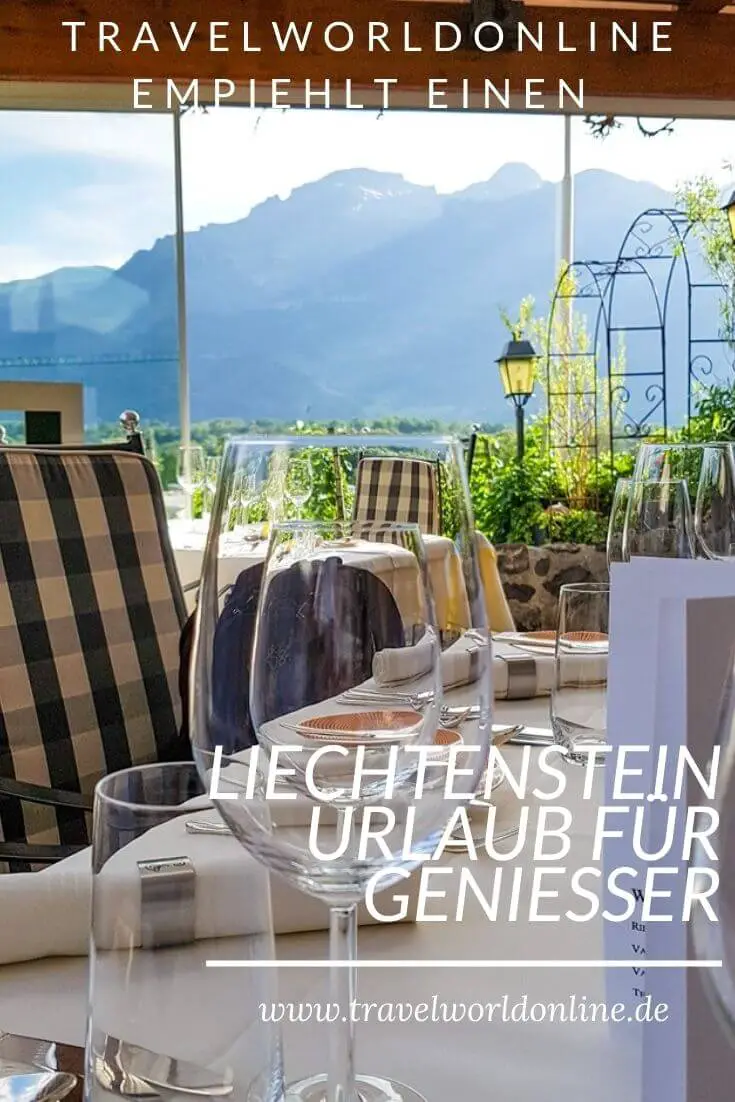 Do you already know our articles about:
Discover more travel tips for trips to savor on our blog TravelWorldOnline.
Tips on wine and drinks can be found at Wine tourism - wine regions.
Quelle Enjoyment in the Principality of Liechtenstein: On-site research at the invitation of Liechtenstein Tourism. However, our opinion remains our own.
Text Enjoyment in the Principality of Liechtenstein: © Copyright Monika Fuchs, TravelWorldOnline
Enjoy photos in the Principality of Liechtenstein: © Copyright Monika Fuchs, TravelWorldOnline
Enjoy the Principality of Liechtenstein - where is that possible?