The villagers of Franconia used to clean their wells of winter dirt before Easter. Then they decorate the Easter fountains in Franconia. The fountains are usually in the middle of the village square. In spring they are Excursion destinations in Franconia. They were cleaned before the Easter holidays so that fresh and clean water could be fetched from there for the Easter festivities. Over time, this developed into the custom of decorating the fountains. Especially in Franconia and the Upper Palatinate, Easter fountains can be seen in the village squares of many rural communities in the weeks before Easter. One of the largest Easter fountains is in the center of the small village of Bieberbach in Franconia, which is just under an hour north of Nuremberg off the main transit routes in the heart of Franconian Switzerland.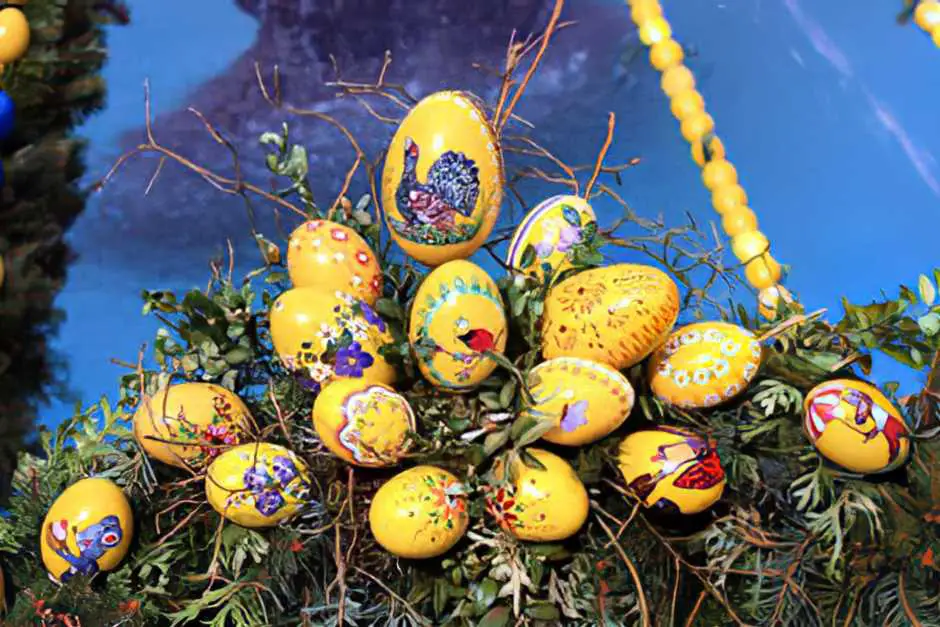 Easter fountains are decorated with Easter eggs and a crown
It is customary to cover an Easter well with a crown of garlands. These are made from pine cones. Easter eggs of all shades of color are attached to it. In Bieberbach this is all a bit bigger. The inhabitants of this village in the hilly landscape of Franconia have been working on the preparations for a long time. They dye eggs red, yellow, blue, or pink. They also decorate a crown with it. But this towers over arches over the village fountain. These are decorated with Easter eggs. On top of that. The fountain is surrounded by wreaths and arches of many colors. The result is an ensemble of crowns, wreaths, bows and garlands on which Easter eggs of all colors create a magnificent picture.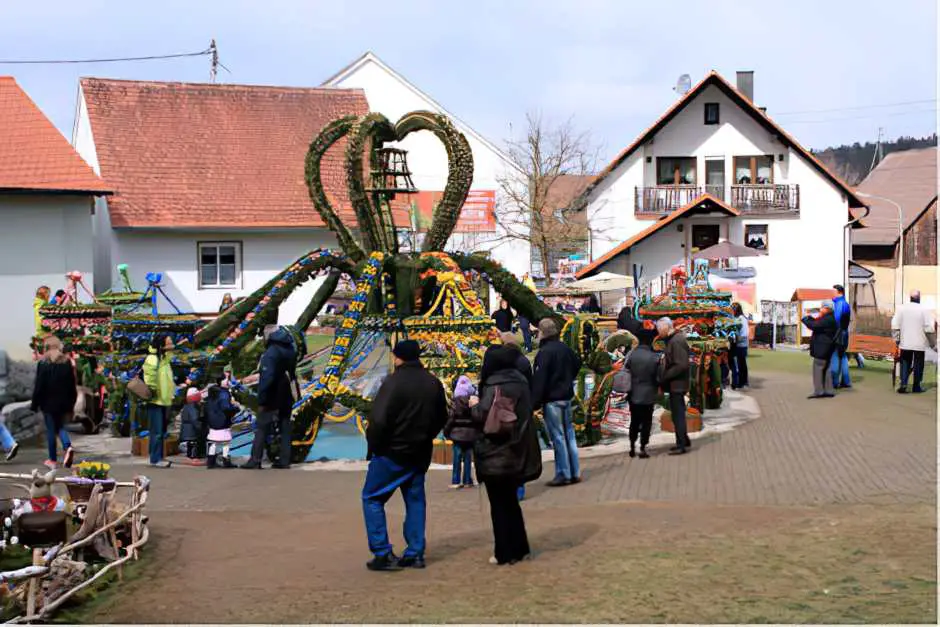 When is the best time to visit the Easter fountain in Bieberbach?
There's just one thing you shouldn't do: how we drive to the Easter fountain in Bieberbach on Easter Sunday, because it shows that this fountain is no longer an "insider tip" and you have to "share" the fountain with many visitors. During the week, the hustle and bustle at the Easter fountain in Bieberbach should be less. Nevertheless, a trip to the Easter holidays there. This Easter fountain is by far the most beautiful we have seen in the region. There are also plenty of opportunities for comparison in the Bieberbach area. On our way to Nuremberg, we keep noticing signs at the entrances to other villages pointing to the Easter fountain.
Do you like to travel by motorhome?
Do you also know:
Source Osterbrunnen in Franconia: Research on site
Text: © Copyright Monika Fuchs and TravelWorldOnline
Photos: © Copyright Monika Fuchs and TravelWorldOnline
Easter fountain in Franconia: The largest is in Bieberbach