How can you experience whales in New England?

Whale species can be seen and experienced on a whale tour along the Whale Route in Massachusetts and whale watching in and around Boston in New England. It is quite an impressive experience to experience when the whales breathe out their breath as they emerge from the depths of the sea. Sometimes this can be heard over long distances. The cameras on the whale watching boats click incessantly when a whale dives. Then he says goodbye with an elegant wave of his tail fin, the fluke. After that, however, you need patience as a whale watcher.
Depending on the species of whale, it may be minutes or more before it resurfaces elsewhere to take a breath. It is exciting when a whale heaves its body out of the sea. When "breaching" he often jumps high in the air and catapults his massive body out of the water. Not every time you experience such spectacles when whale watching in Massachusetts. But the chances are good.
And not only that. There are also some very interesting museums in the northeastern United States, that provide information about whale species, historical whale hunting and life on board whaling ships. Massachusetts was once the center of whaling in New England. Whaling ships departed from New Bedford or Nantucket and cruised on the world's seas. Only when their storage rooms were filled with the valuable oil of the marine mammals did they return home. Today visitors can look for the animals themselves on a whale tour. These stay in the Stellwagen Bank and around Cape Cod every summer.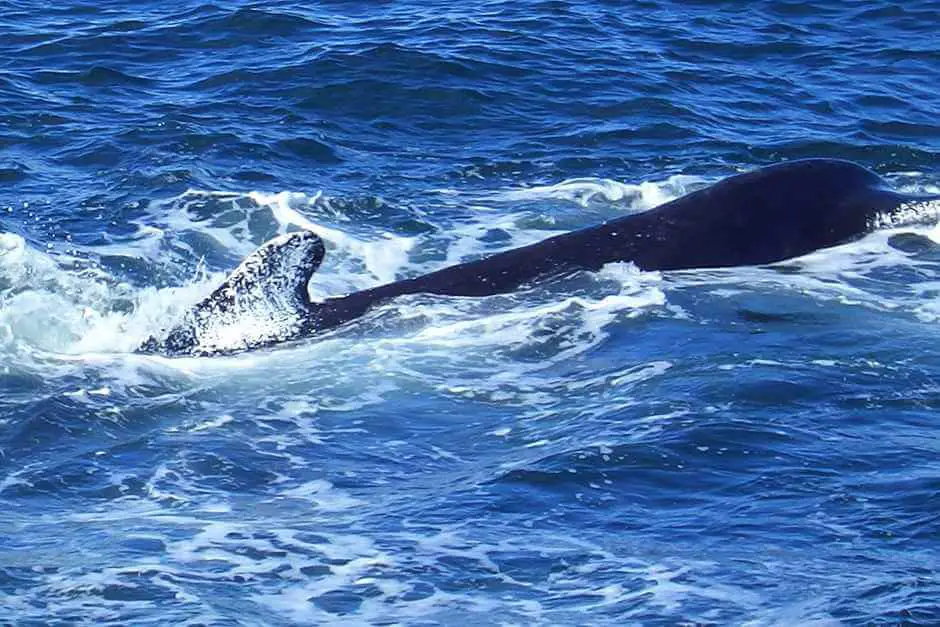 What kinds of whales can you see off New England?
Humpback whales are often found on whale watching tours off the coasts of Massachusetts sees. On a whale watching tour from Provincetown on Cape Cod, we were lucky enough to be able to observe a whole group at their feeding grounds in the Stellwagen Bank. The Stellwagen Bank are between the Atlantic waters off Boston Rockport and Cape Cod.
This region in the waters off Boston is one of the best regions in the world for whale watching. The animals find a richly laid table here. Rich populations of herring, mackerel, krill and other fish guarantee them food for the summer months. No wonder they return to this place every year. The operators of the whale tours wait year after year for the whales to return, which they even name. Since every whale fin and whale fluke is different - like a fingerprint - they can easily recognize the animals they know. If one of them is spotted, there is usually a big hello on board the whale watching boats. As if the operator met an old friend again. Between May and October there are excellent conditions to watch them on their way to their feeding grounds.
What do you need for whale watching from Boston?
Arm yourself against seasickness
The feeding grounds of the whale species in the Stellwagen Bank National Marine Sanctary, the Jeffreys Ledge or the Golf of Maine are relatively far out in the sea. This means that the journey takes a little longer. Whale watching tours usually take between three and four hours. The wave conditions can often change during this period. If you get seasick easily, you should be prepared for it. Therefore, it is advisable, especially with the small excursion boats, to have means to treat seasickness. There are suitable medications that are best taken from home.
Take a warm jacket with you
Even in summer it can be quite fresh on the water. A breeze often occurs unexpectedly on a whale tour. It is therefore good to be prepared for it even in the summer months. Well suited for this Hooded sweatshirts *, which you can simply pull over if necessary. If it looks like rain, do one windbreaker or raincoat good services.
Don't forget sturdy shoes
On the small boats it happens that water sometimes splashes into the boat, when the waves are higher. But even if it starts to rain on the way, the bottom of the boat can become damp and slippery. We therefore recommend wearing non-slip shoes on a whale watching boat. Flip flops or high heels have no place on board a whale watching boat.
Don't forget your camera for memories of your Massachusetts whale watching tour
Chances are that you will see whales on your whale tour in the waters around Boston. Therefore, you should definitely take a camera. Ideally with a telephoto lens if the whales are further away from the boat.
You should know that the whale watching boats are only allowed to approach the whales up to a certain distance. If you spot whales, drive up to the prescribed distance from the whales. Then it is up to the whales whether they want to approach the boats further. On our whale watching trips in New England we were always lucky that the animals swam right up to the boat. However, this cannot be guaranteed.
In order not to put the animals under stress, they are given the choice of approaching the boats. However, it is not only humpback whales that show themselves to the whale fans. Humpback, fin, right, pilot and minke whales also frequent these waters. Watching one of the giant fin whales swim past a small whale watching boat is an exhilarating experience. In moments like this, I always pray that he doesn't suddenly change his mind and poke fun at our boat with his tail fin.
From which locations are whale watching tours offered?
Maine whale tour
Kennebunkport, Maine
Portland maine
Boothbay Harbour
Bar Harbor, Maine
Massachusetts whale watching
Boston, Massachusetts
Gloucester, Massachusetts
Plymouth massachusetts
Hyannis, Massachusetts
Provincetown, Massachusetts
New Hampshire
Hampton Beach
Rye Harbour
Seabrook Beach
Rhode Island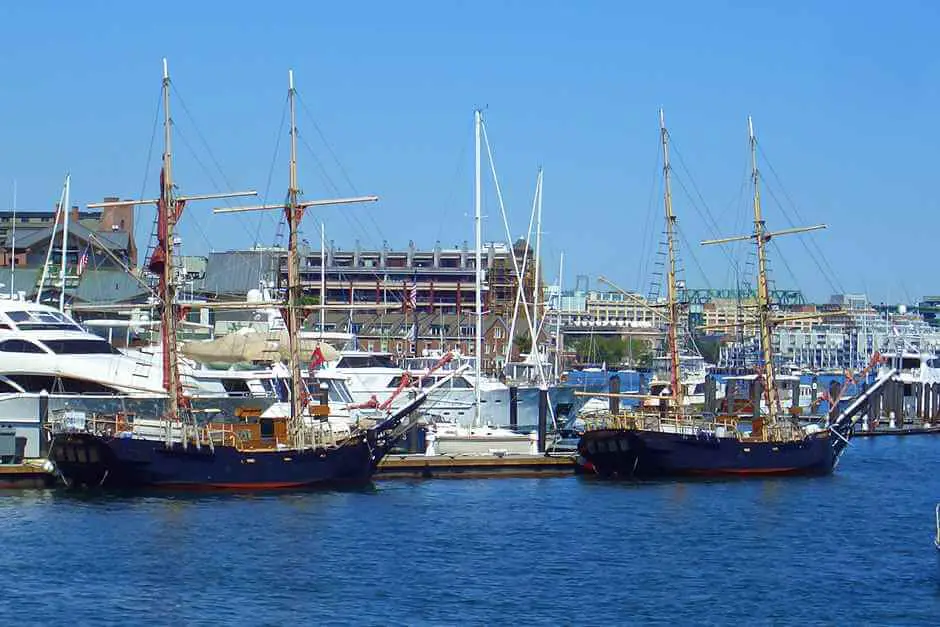 The secret life of the whales
If you want to see what the life of whales looks like underwater, then you can look forward to the underwater pictures of whales, which Brian Skerry shows in his photo book about whales. The National Geographic photojournalist dives with whales and documents their behavior under water, of which we only get a part of on whale watching trips. You can do the illustrated book Order here *.
A look at the history of whale species off New England
New England is a mecca for whale watchers today. However, this was not always the case. It wasn't that long ago, that whalers sailed from New England's ports out to the oceans of the world. In those days, whales supplied the valuable oil used to operate lanterns and street lamps. And not only that. Whale bones served as support rods for corsets or umbrellas. The seafarers on the whaling ships passed the waiting time until the next whale sighting with the carving of Scrimshaw. These are whale bones, which they decorated with artistic carvings.
Another substance, that certain whale species provided, was worth as much as gold. On the Dutch island of Texel one found so much of it in the belly of a whale, that the profit even financed an entire museum. Amber is a gray, waxy mass, that sometimes develops in the digestive tract of sperm whales. This was used in the manufacture of perfume.
Show
Have you thought about applying for ESTA?
To enter the USA you need an ESTA entry permit. You can do this directly at the US embassy or consulates apply for a price of $ 21. Do you need help with this? Then you can get yours here Make an ESTA application at a higher price.
You can find out which role the whale species played in New England in the course of history in one of the museums. We got to know several of them on our travels, which we are happy to recommend here:
New Bedford Whaling Museum
One of the most famous is the Whaling Museum in New Bedford. In the 19th century, the place replaced Nantucket as the center of whaling. Wooden ships were built here that were used to hunt whales. You can learn a lot about whaling and whale species in general at the New Bedford Whaling Museum. Also of interest is the information on Herman Melville's New Bedford. After all, this author describes the port in his masterpiece about Captain Ahab and Moby Dick, the whale who chased him on his whale tour across the oceans.
New Bedford Whaling Museum
18 Johnny Cake Hill
New Bedford, MA 02740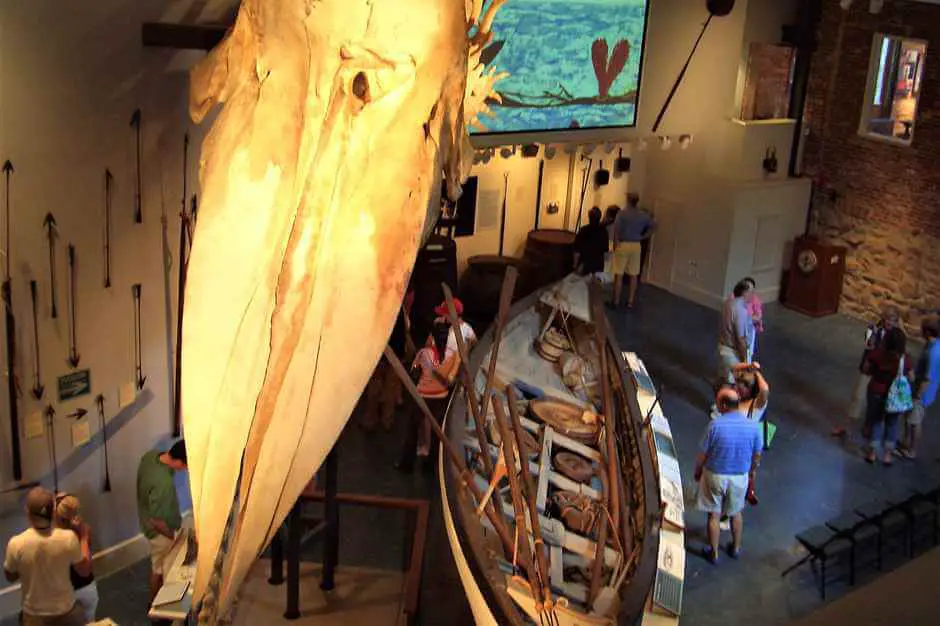 The Nantucket Whaling Museum
Even though whale watching tours are offered from Nantucket today, the island is better known as the former center of whaling in New England. In the Nantucket Whaling Museum you can learn a lot about the history of whaling, but also about the whale species that played a role. We found the whale skeleton hanging from the ceiling in the exhibition hall particularly impressive.
Nantucket Whaling Museum
13 Broad St
Nantucket, MA 02554
Find more Tips for Nantucket can be found here.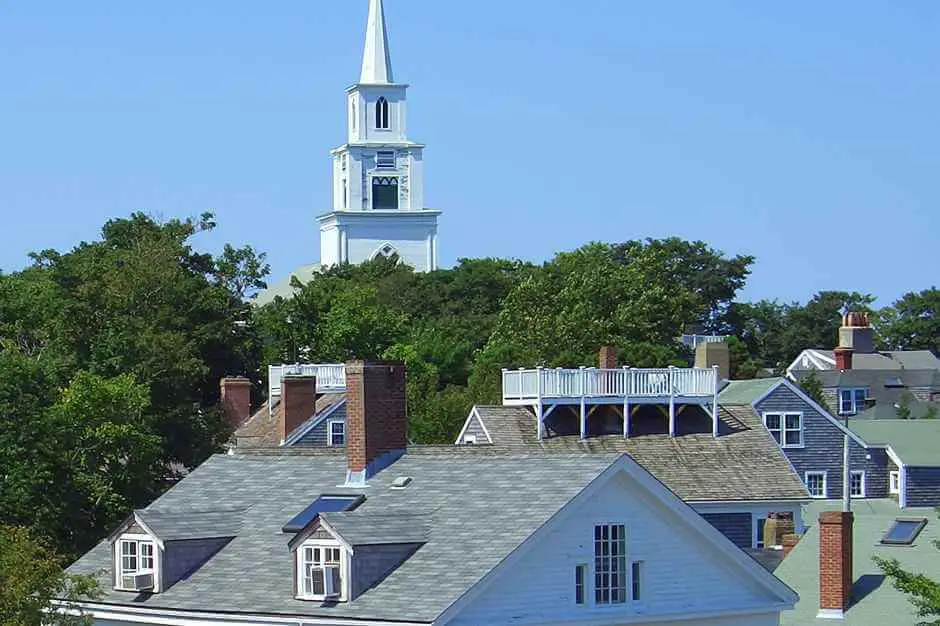 Whale watching on the island of whalers - Nantucket
Traces of that time can still be seen in Nantucket today. There are balcony-like structures on numerous roofs, the captains lookouts. From there, the whalers' wifes kept an eye out for their husbands' ships. They never knew, when they would return from their whaling tour. Sometimes this could take years. Today visitors can go on whale watching tours from Nantucket.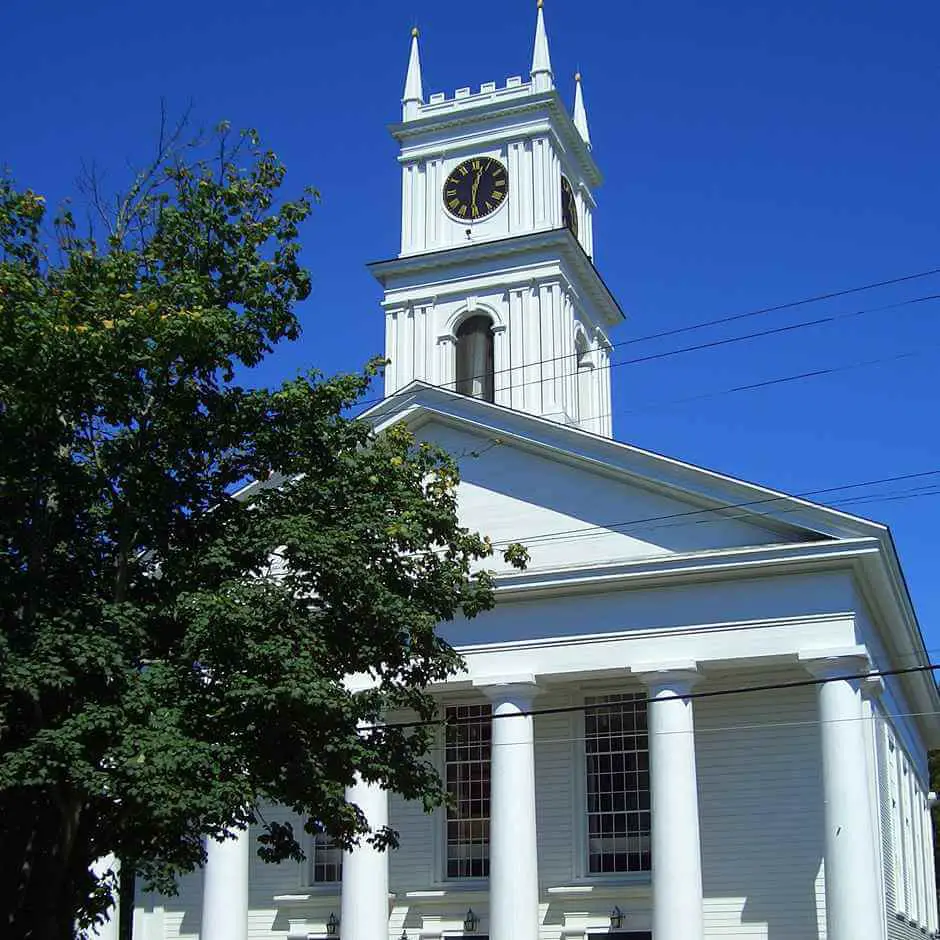 A visit to Martha's Vineyard
Even if Nantucket's neighboring island Martha's Vineyard did not play the same prominent role in the history of whaling, there are traces from the whaling era. In Edgartown you can see the Old Whaling Church. Near the ferry to Chappaquiddick Island, a whale sculpture commemorates the importance of these marine mammals in the region.
The Peabody Essex Museum in Salem (not just about whale species)
There is a museum in Salem north of Boston, that is not exclusively dedicated to whaling and whale species. However, there are very interesting exhibits in the Maritime Art Gallery, that date from the time of the whalers. These include paintings, that show how dangerous the hunt for whales was. The seamen's scrimshaw works are also worth seeing. The museum is mainly dedicated to shipbuilding in the region and merchant shipping. All topics, that are interesting for whale watchers in New England.
Peabody Essex Museum
161 Essex St
Salem, MA 01970
With these tips you are well prepared for whale watching in New England around Boston. Whale watching Massachusetts as well as an exploration tour on the traces that the different whale species leave in the region to this day makes a trip to New England a varied and exciting experience.
---
Travel Arrangements
Parking at the airport
Here you can reserve your parking space at the airport.
Arrival
Arrival by plane, bus or train*. The nearest international airport is in Boston. Several airlines fly to it. You can also rent a car there.
Car Rentals:
Cheap Car Hire - Book Fast and Easy! *
Camper Rentals:
Compare motorhome prices here.
Accomodation
Hotels and accommodations in and around Boston * You can also book through our partner booking.com.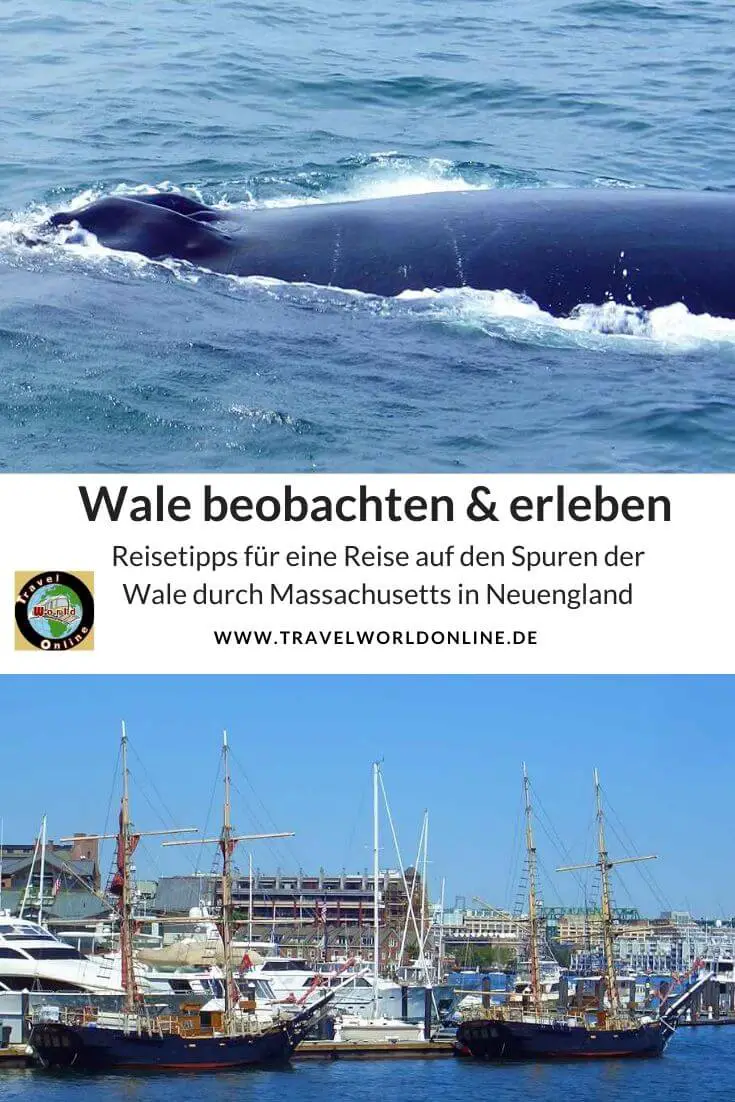 Do you also know:
Source for Where and How to See & Experience Great Whale Species in New England: On-Site Research. We financed the trip ourselves. The article was sponsored by Apply for an ESTA visa. However, our opinion remains our own.
Text Whale Watching New England: © Copyright Monika Fuchs and TravelWorldOnline
Photos Whale Watching Massachusetts © Copyright Monika Fuchs and TravelWorldOnline
Where and how to see & experience whale species in New England