Restaurants in the Kleinwalsertal

The Kleinwalsertal in Austria is one of the Gourmet regions of Austria. "We don't grow much, but we have beef and game. And that's what we use to make our enjoyment products ". We were told that during our visit. There's a little more, as we can try in two restaurants in the Kleinwalsertal in Riezlern and Mittelberg. Eat well in Kleinwalsertal, we tested that on our autumn visit. We can recommend two restaurants.
Restaurants in the Kleinwalsertal - Wirtshaus Hoheneck
"We stood on the summit of the Widderstein and declared the area that we could see from above to be the reference region for our products," laughs Jürgen Denk as he welcomes us to dinner at his Hoheneck inn in Mittelberg. From Munich to Bodensee,, from Bavaria to Styria - these are the regions from which one can travel in the Tavern Hoheneck sources its ingredients. Jürgen Denk and his wife Kirsten, who, as sommelier, serve the wine to accompany our menu, run one of the restaurants in Kleinwalsertal that place emphasis on sustainability. Their ingredients do not travel long distances. We have chosen the menu "Önsche Walser Chuche" (our Walser kitchen). This is the Heir of the Walser Kitchen - authentic, contemporary and inventive.
Authentic and contemporary
What came out of it can be seen: there is a greeting from dr Chuche (greeting from the kitchen) Ravioli from Ausseer Arctic char with a pesto from North Tyrolean Ruccola. The culinary region of Kleinwalsertal game and beef is represented with a starter, a strudel bag of venison with Eferdinger red cabbage - and yes, it is an iced cabbage. There was also Wachau Apricot. The intermediate course was an essence of porcini mushrooms with ravioli from Kästen (chestnuts) from Burgenland and caramelized pumpkin seeds from Styria. A rack of lamb was served as the main course, which even convinced me.
I usually prefer fish dishes when lamb is on the menu, but this lamb was excellent. There was also polenta and paprika vegetables. The dessert trio consisted of a caramel dumpling, a ragout of rosemary and mirabelle plum and semi-frozen plums from Stanzer. If you want, you can also get the "Önsche Walser Chuche" vegetarian. How it tastes describes Christina of City, Sea Country on her blog.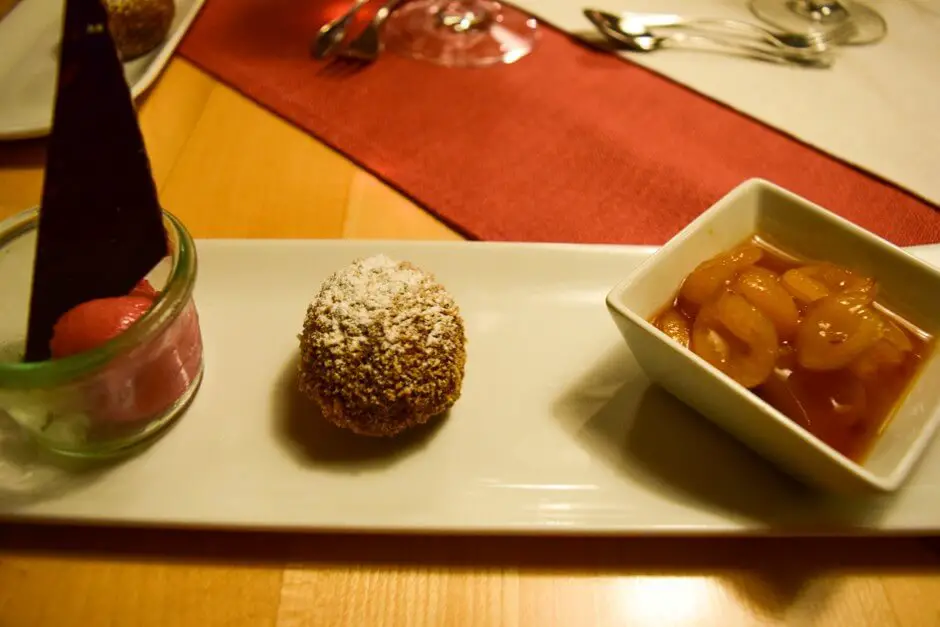 Pleasure host of the year 2018 among the restaurants in the Kleinwalsertal
By the way, Jürgen Denk was named Genusswirt of the year 2015 in the Vorarlberg region the day after our visit. Well deserved, as we think. Good eat in the Kleinwalsertal - In the Hoheneck tavern, we can recommend you with a clear conscience.
Restaurants in Kleinwalsertal - traditional food in the Waldhaus an der Breitach
You have to know where it is, otherwise you will only find the Waldhaus inn if you pass it on a hike. We leave our car at the Waldhaus bus stop in Riezlern and walk in about 15 minutes down the steep mountain into the Breitach valley. Otherwise you just have to hike along the Breitach. From Riezlern it takes about 60 minutes on foot, through the Breitachklamm (from the German side) it is about 45 minutes. Directly on the river is the log house, which greets us with root heads, wooden owls and wisdom such as "Here in God's glory, enjoy the waiting time. It doesn't last forever. "
A flag from Canada also flies over the bridge over the Breitach. "It reminds us of friends from Canada," explains Peter Schikora, the landlord. "We have a webcam installed and whenever you look at it, you see your flag and know that we are thinking of you," he laughs.
Happily divorced
Peter works as a cook in the tavern that belongs to his partner Sandra Staara. He puts his arm around her and grins: "We were both happily divorced, just not from each other." That Tavern Waldhaus is already owned by the third generation of the Staara family. Sandra tells us that times weren't always easy. A few years ago the Breitach flooded so much that they feared the inn would be swept away by the water. But it went well again.
Prominent chefs visit the restaurants in Kleinwalsertal
The celebrities among the chefs have also been guests at the Waldhaus: they proudly show me photos of celebrity chef Alfons Schubeck, who was our guest with his cooking crew to celebrate the 100th anniversary of the traditional inn on the Breitach. The block house was built on the Breitach in 1906, when the Breitachklamm was opened to the public. "To this day, nothing has changed in this house," says Peter. "It is built in the old Walser tradition, from thick logs."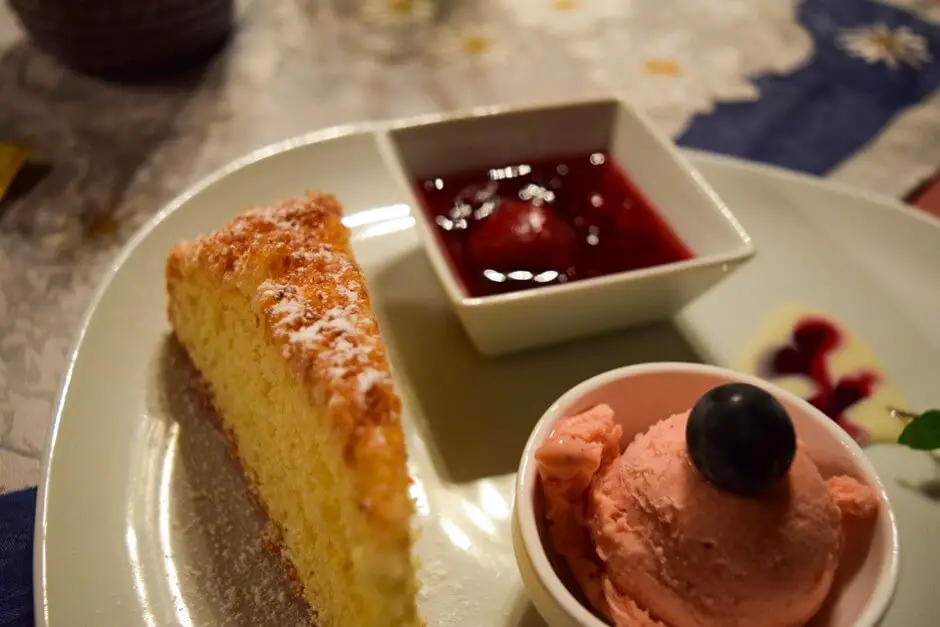 Then Peter Schikora disappears into the kitchen of his restaurant in Kleinwalsertal and conjures up his food for us. There is a pumpkin soup with pumpkin seed oil, a beef goulash with potato dumplings and a three-way dessert. We can't refuse a self-distilled drink at the end. So, after an evening full of fun, we say goodbye to the host couple in the Waldhaus an der Breitach. You can often eat well in Kleinwalsertal in places where you would not expect it.
This is what you need for a trip to Kleinwalsertal Vorarlberg
---
Travel Arrangements
Parking at the airport
Here you can reserve your parking space at the airport.
Arrival by plane, car, bus and train

Arrival by plane, bus or train*. The nearest airport is Munich. It is also possible to travel by train. The train goes to Oberstdorf. From there, bus #1 will take you to Kleinwalsertal: Timetable and booking*
Car Rentals:
Cheap car hire - book quickly and easily!
Rent Motorhomes:
Book motorhomes in Europe here!  Or do you like to travel with him roof tent on the car? Also the overnight stay in  camping tents is possible. At Alpencamping Haller, Köpfleweg 10a, 6991 Riezlern, Austria, you will find a campsite. With our Motorhome packing list You'll never forget anything again.
Accommodations in the region:
Accommodation for online booking is also available in Kleinwalsertal* via Booking.com.
---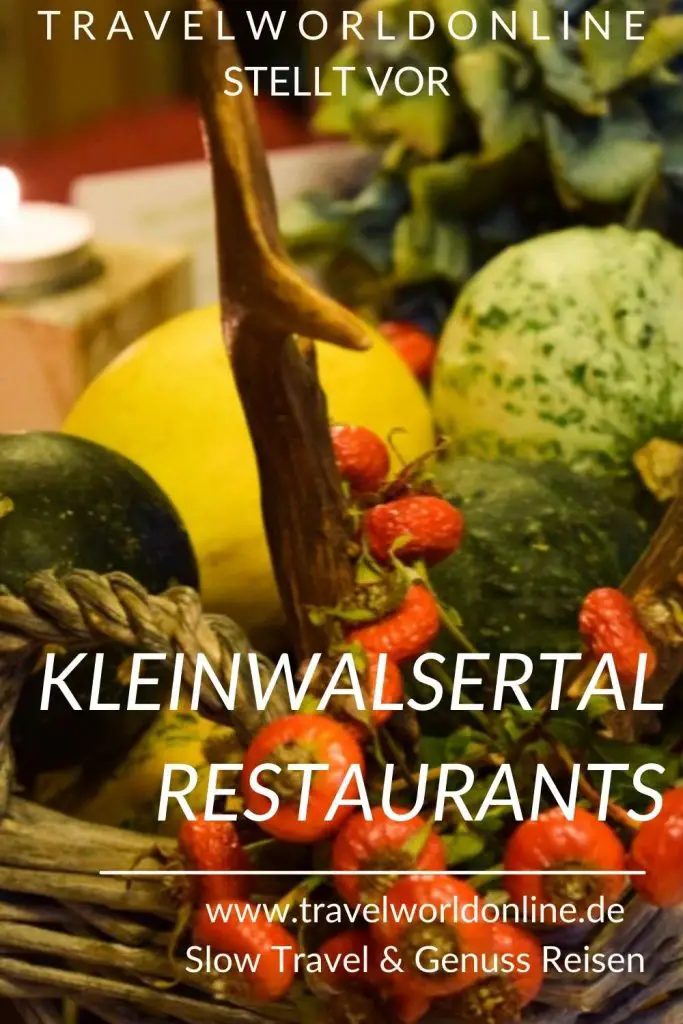 Do you also know:
Source Restaurants in the Kleinwalsertal: On-site research. We would like to thank Kleinwalsertal Tourismus and Berghaus Anna Lisa for the invitation to this trip. However, our opinion remains our own.
Text Restaurants in Kleinwalsertal: © Copyright Monika Fuchs and TravelWorldOnline
Photos of restaurants in Kleinwalsertal: © Copyright Monika Fuchs and TravelWorldOnline
Restaurants in the Kleinwalsertal - two inns