You can make sculptures yourself in the small village Dorfprozelten am Main. The stonemason and sculptor Alexander Schwarz offers workshops for this purpose. We already heard from him at our first Visit to Churfranken in spring, That had made us curious. That 's why we have him on our Journey along the Route of Delights visited. Anyone who follows us for longer knows that us Creative and creative people interested. We wanted to find out what Alexander Schwarz's sculpting courses are all about.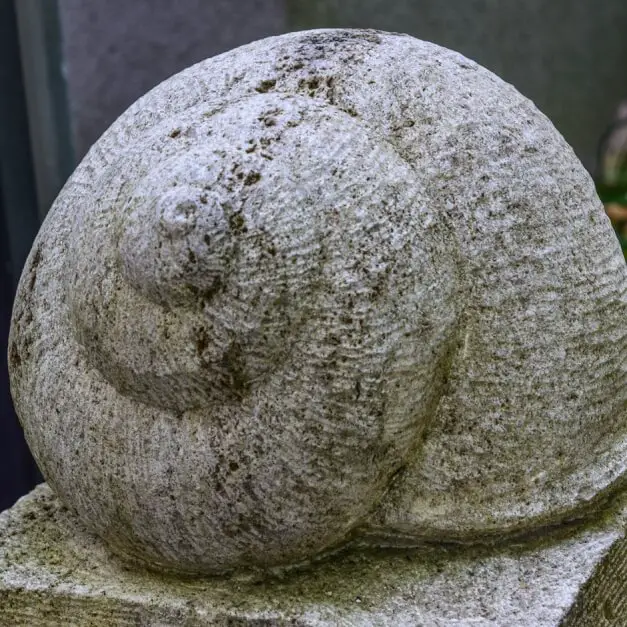 You can learn to do sculptures yourself
When we pull up in front of Alexander Schwarz's sculpture workshop, we immediately see that we are at the right address. In the garden there are unprocessed stone blocks along the garden fence. Right next to it we see roughly hewn figures and fable heads. Some of them are works from his sculptor workshops. This is what Alexander Schwarz tells us when he greets us right afterwards. He shows us a stone snail and says: "This is the work of a woman who regularly takes part in my courses." That is why the lady always travels to village processes. "He also offers his workshops in the surrounding schools. "This is how the children learn that persistence is necessary to create something."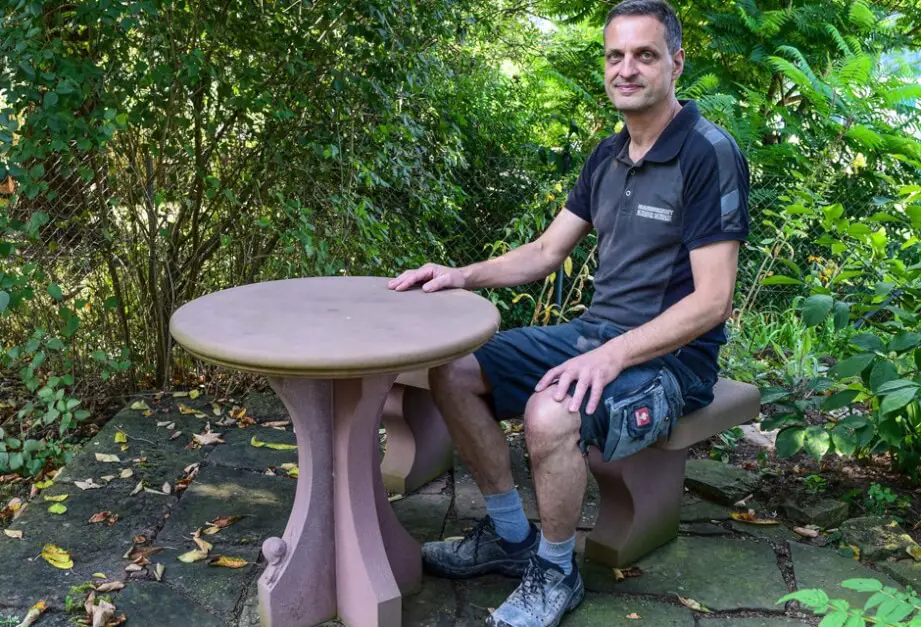 From the stonemason to the sculptor
Alexander Schwarz learned his art as a stonemason in a company nearby. However, he always wanted to devote himself to art rather than to undertake simple commissioned work for tombstones. And so he finally went into business for himself. He looked for a house on the outskirts. Because sculpture is a dusty and noisy affair. The stones have to be hewn and ground. Not every neighbor agrees. He laughs and points to the company opposite his garden: "Today our neighbor is louder than we are."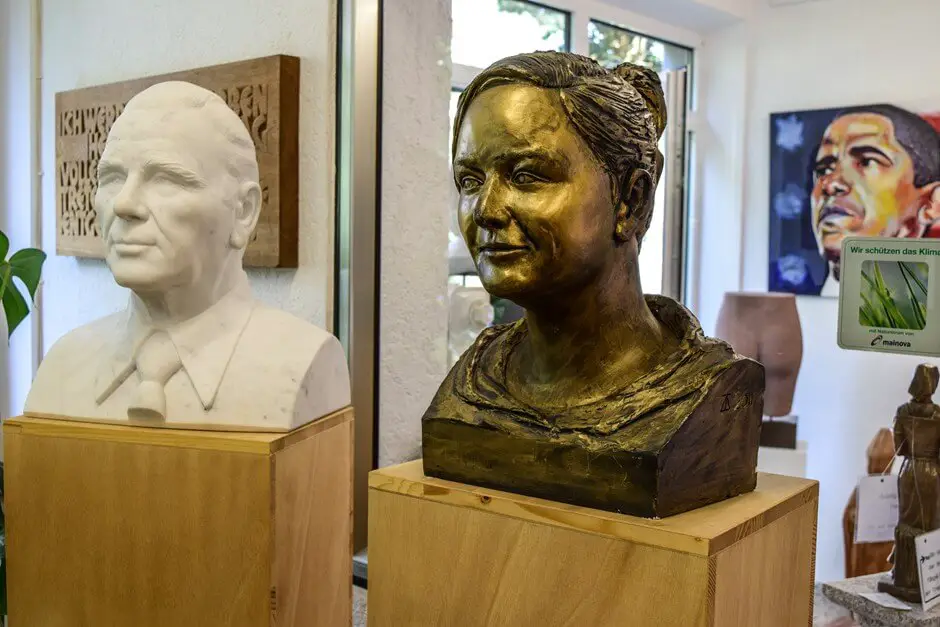 From portraits to stone sculptures
It is not an easy lot to become self-employed with sculpture. "The first few years were tough," Alexander Schwarz tells us. "You have to make a name for yourself first. Today I only take on commissioned work. "When I ask him what the orders are, he leads us through his showroom and his workshop. We see busts that portray the clients. "This man," and he points to the stone head of an older gentleman, "participated in one of my workshops. He liked the work so much that he let himself be portrayed. "Next to it is the bust of a young woman. "This is his daughter," explains Alexander Schwarz. "So one order results from the other."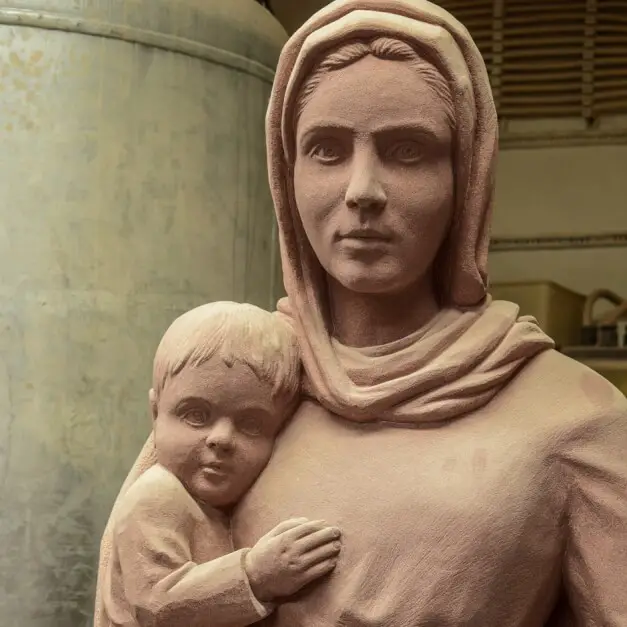 He also takes on orders for larger companies. In his workshop are statues, which he makes for clubs or places in the area. He does not always implement the ideas of his clients right away. His protective mantle Madonna he was allowed to shape only after long discussions with the clients as he envisioned. His version is not a spiritualized Madonna figure with an adult-looking Christ child. She looks more like a worried mother holding her little child protectively in her arms. A touching work, as we find.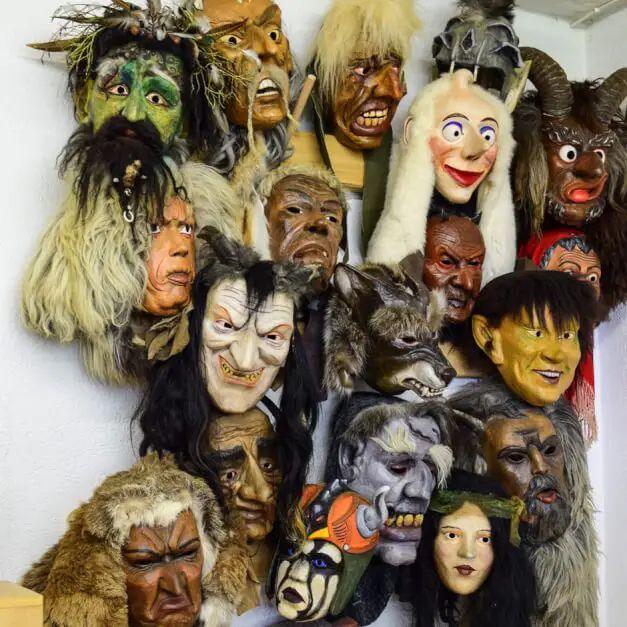 From carnival masks to acrylic paintings
Alexander Schwarz does not only live out his artistic talent today in his sculpture. For years he has been carving wooden masks that are worn during the carnival season. "Every year there are new ones," he laughs. He spins stories to them. There is the old king and his somewhat foolish-looking son, to whom he does not want to hand over control. We see a harlequin and a witch. We also discover blue- and green-faced monsters and mythical creatures whose stories we cannot imagine. During our visit, they hang on the wall and are waiting for their next assignment in the coming year.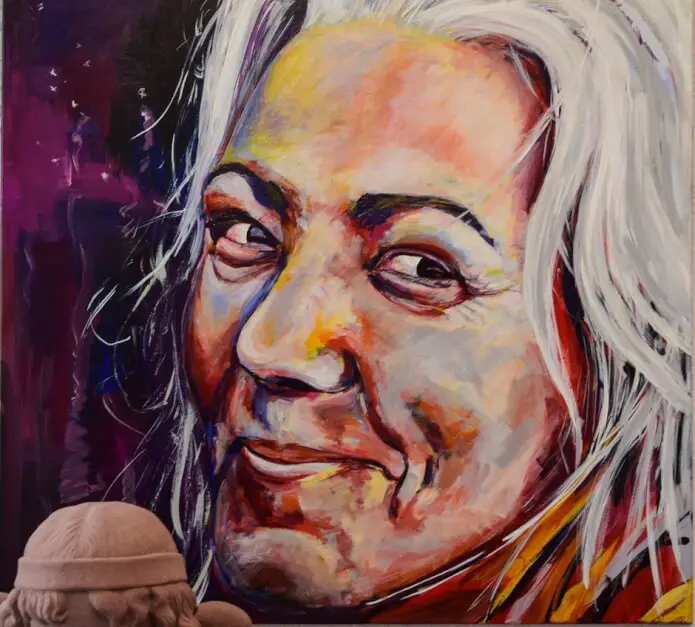 I was also impressed by the acrylic paintings hanging on the wall in the entrance area of ​​his workshop. In addition to portraits of Barack Obama and Quentin Tarantino is including a picture of his partner.
Workshops on how to make sculptures yourself
You can do sculptures yourself in the workshops of Alexander Schwarz. He offers them regularly via his website on. You can also register there for this.
Do you like to travel by motorhome?
---
Travel Arrangements
Arrival by plane, car and train

Book yours here Arrival by plane, bus or train*. The nearest airport is Frankfurt. It is also possible to travel to Miltenberg by train.  Timetable and booking*
Car Rentals:
Cheap car hire - book quickly and easily!
Accommodation on the route of the pleasures
Hotels and accommodation in Miltenberg and surroundings * you can book through our partner booking.com. Also offers Wertheim different accommodations *.
---
Do you already know:
Find more Slow Travel Tips here. Creativity and design experiences here.
Source: own research on site. We thank you for the invitation to this trip at Mainland Miltenberg - Churfranken eV and at Tourismus Wertheim. Our opinion, as always, remains our own.
Text: © Copyright Monika Fuchs, TravelWorldOnline
Photos: © Copyright Monika Fuchs, TravelWorldOnline
Video: © Copyright Petar Fuchs, TravelWorldOnline
Sculptures make themselves on the Main