Wine weekend francs
Excursions and tips for Würzburg visitor. Five wine villages in Franconia for a holiday with a winegrower in Franconia or for a wine weekend in Franken? Going on holiday in a wine region in Germany is possible in these places. A Franconian wine route that bears this name does not officially exist. But a vacation on the Main at a winegrower's house comes very close to this experience. When the winemakers harvest their grapes in autumn, things get exciting in the wine regions. How was the summer How much sun did the grapes get? What will the new year be like? A wine of the century, or rather middle class? These questions and more are preoccupying the winemakers in the wine villages on the Main at the end of summer.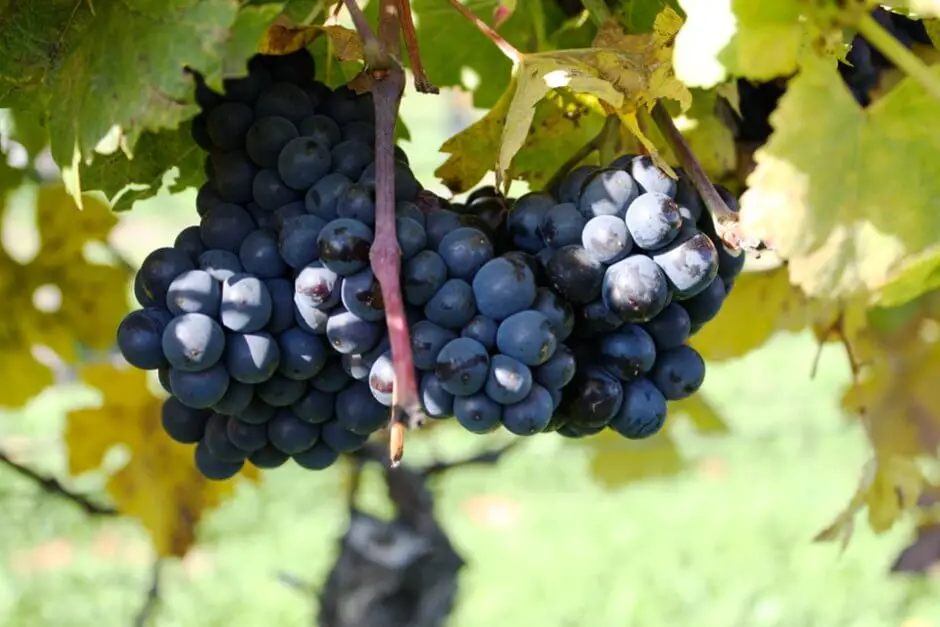 Then they like to celebrate. The beginning of the grape harvest. The first wines of the year. But also the end of anxiety. Of the Autumn is the time when the grapes are harvested. That's worth a celebration. then decorates one the wine shops. Guests are very welcome. Wine and enjoyment are celebrated gladly in the wine country Franconia. The same applies, of course, to the hedge taverns, where you can enjoy the wine in cozy surroundings with regional specialties such as an "onion block" Try it directly at the winemaker can. Therefore, a wine weekend in September or October is particularly fun.
Franconian wine country places for your wine weekend
Franconian wine towns on the Main are perfect for a wine weekend for connoisseurs in Bavaria. In summer and autumn, the residents of the Mainschleife near Würzburg like to celebrate their way of life and their wines. They invite you to wine festivals in the towns on the Main. A visit to the wine shops is also worthwhile. There you can learn about the wines of the Main Region inform. Some even offer courses in which you can acquire special wine knowledge. The best thing is the wine tasting and wine festivalsthat you best combine with enjoying Franconian specialties. Then it works with the experience of the wine towns in the Main Valley in Franconia. That means traveling and enjoying in Franconia. The cities on the Main are well worth a visit.
We present five wine locations in Franconia. There are wine towns around Würzburg. They are located in the wine region of Mainfranken and are close enough that you can comfortably explore them in two to three days. The driving routes between the villages are not far, so there is enough time to take a closer look at the Franconia wine region. Above all, you can enjoy them at leisure. You need them for such a trip to the wineries in Mainfranken. Not only to drink wine, but also to let the atmosphere of these wine towns in Franconia affect you. What could be nicer in a wine region than tasting the wines of the local winegrowers with regional specialties. We start ours Travel along the Main in these Franconian wine towns.
Do you like to travel to a wine weekend in Franconia in your motorhome?
- Do you want to rent a motorhome? Then you will find information here and booking options. Or would you prefer to stay overnight roof tent on the car? Also the overnight stay in a  camping tent is possible.
- Check with ours packing list for camperswhether you have packed everything for your motorhome tour. Then you are ready for your wine weekend in Franconia.
- You want to know where to go with a motorhome stay overnight in Germany can and are you looking for parking spaces and campsites? You can find information about this under this link. This is a great way to explore the Franconian wine region.
– We stayed at a campsite in Schweinfurt, a pitch in Wipfeld, a campsite near Volkach, a pitch in Kitzingen, a pitch in Veitshöchheim and a campsite in Karlstadt. For example, what do you think of Hiking and wine in Karlstadt? There you can after a day trip in a Dutch Oven  or on the portable grill or maybe on that Campfire prepare your dinner. yours backpack you shouldn't forget.
-Why is a folding e-bike useful when camping?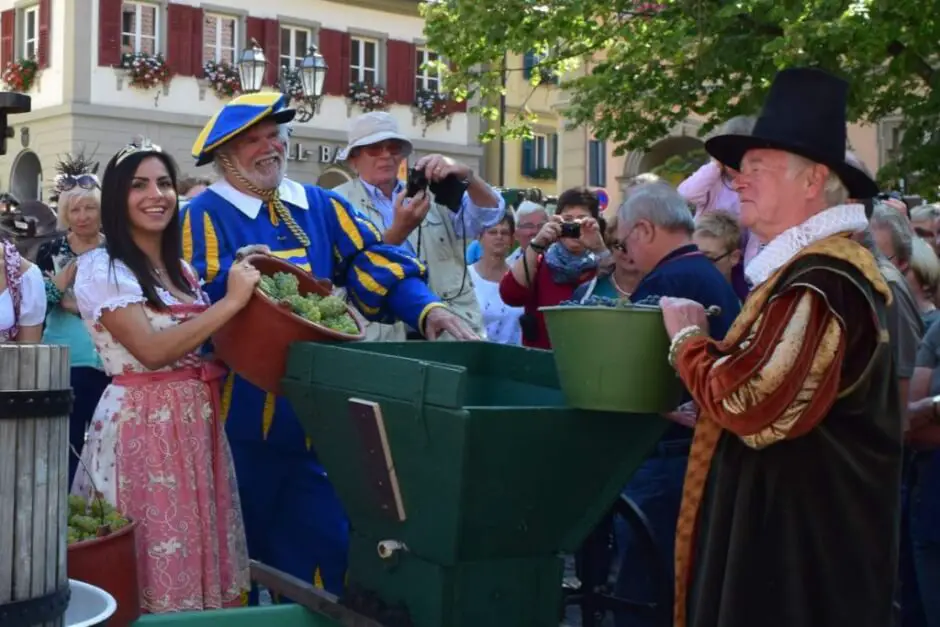 Franconian wine towns for a wine holiday in Franconia
Volkach
Volkach is a Franconian wine village on the Main loop and only a few kilometers away from the Main Island. Delicious red and white wines thrive on this. The wines on the steep slopes on the other bank of the Main are also particularly good. There the grapes get a lot of sun. Volkach is a historic wine-growing town where wine has been produced for centuries. He has a marketplace that is well worth seeing. There are a few restaurants at this square where you can try your first Franconian wines. Best with onion bread or Franconian sausages. A visit to Volkach is especially nice when there are wine festivals. The Volkacher know how to celebrate their wine and themselves. You can combine that with a wine weekend. This is possible, for example, with
- Festival of the Volkacher way of life
- at the Franconian wine festival in August
Sommerach
The Franconian wine town of Sommerach on the Main Island is smaller. There are places in the Franconian wine country that are particularly attractive. Sommerach is one of them. He was awarded the gold medal several times in the competition "Our village should be more beautiful", as well as in the "Entente Florale", in which he received the highest award for his flower arrangements. Town houses and half-timbered houses give Sommerach a very special ambience. Worth a visit is the wine shop of the place, the Winzerkeller Sommerach. There you can not only taste wines. You can take wine tours through the vineyards. The wine school, where you can learn a lot of interesting things about wine, is fascinating. Or do you fancy a cooking class where you learn which wine goes best with which food? Wine is also celebrated in Sommerach. This is what happens every year
– Jazz & wine, musical tour in romantic courtyards and gardens, Info: Tel. 09381 / 802485,
– Silvaner by night, wine tasting in several wineries, 18.30 p.m. to midnight,
– "Style and Fascination", wine festival in the romantic town center around the village fountain; Tel. 09381/1229,
– "Experience and enjoy", farm open days, Tel. 09381 1229 or 09381 718 79 39,
Ochsenfurt
The city Ochsenfurt am Main is not only worth a visit for the wine. It is one of the places in the Würzburg wine region. The city describes itself as the "city of towers". This is because the city wall of Ochsenfurt has been almost completely preserved. City gates and towers still watch over the city today and give it a medieval flair. The New Town Hall from the 15th century and the magnificent half-timbered houses in the city center also contribute to this. With its two breweries, the city is not only popular with wine lovers. But of course Ochsenfurt also celebrates wine:
– at the German-Italian-French Wine Festival
Würzburg am Main wine region
Although Würzburg is a bigger city, wine plays an important role there. That goes back to the time of the archbishops. They had wine grown on their estates along the Main. But the city's hospitals also made a name for themselves with their wines. The Würzburg wine region is known for its good wines. In the Bürgerspital you can enjoy wine in the courtyard of the historic building, as it has been for centuries. The Juliusspital also owns a winery to this day. This is now causing a sensation as the VDP winery with its excellent wines. The Würzburger Stein, a grape variety for which the city is known, grows on the slopes of the Main in and around Würzburg. There are many wine festivals in Würzburg:
– Kelterhallen Wine Festival (March 31 – April 01, 2023 / April 05 – April 06, 2024)
– Culture days at the Juliusspital winery (May 13.05th – May 28.05.2023th, 04 / May 19th – May 2024th, XNUMX)
– The Würzburg Wine Village (Friday, May 26th to Sunday, June 4th, 2023 / May 29.05th – June 09.06.2024th, XNUMX)
– Bürgerspital Hofschoppenfest (June 08 – June 17, 2023 / June 13 – June 22, 2024 / June 12 – June 21, 2025)
– Hofgarten Wine Festival (June 30 – July 09, 2023 / June 28 – July 07, 2024)
– Wein am Stein 2022 (Wed. July 12 – Wed. July 26, 2023 / July 10 – July 22, 2024)
– Hätzfeld Schoffen Days (July 21 – July 23, 2023)
– Wine party at the Bürgerspital depot on Pfaffenberg (Fri. 28 July – Sat. 29 July 2023 / 26 July – 27 July 2024)
– Wine parade on the market square (next dates: August 31 – September 10, 2023 / August 29 – September 08, 2024 (dates subject to change))
– Stone Wine Festival, (state court cellar, Juliusspital winery, Bürgerspital winery) (August / September 2023)
– Night of the open wine cellars (November 19, 2022 / November 25, 2023 / November 23, 2024)
Miltenberg for a wine weekend
For the last wine village on the Main on our wine weekend in the Franconian wine country, we first leave the river banks and drive to Miltenberg on the Main in Churfranken. Miltenberg is particularly interesting for wine lovers because - in contrast to the wine towns mentioned so far - more red wine is grown here. The region owes this to the loamy and clayey Buntsandstein soils and the location in the basin between the Odenwald and the Spessart. This basin location also ensures a particularly mild climate. Therefore, Burgundy wines grow under perfect conditions on the Main slopes around Miltenberg. Of course, Miltenberg also celebrates wine.
- Burgstadt Wine Culture Night (10.06.2023)
– Miltenberger Weinherbst (date 2023 not yet known)
There are also wine festivals in Franconia here
Randersacker Wine Spring (March 18.03.23th, 19.03.23 – March 4th, 18, Saturday – wine tasting with 30 courses, starts at 11:13 p.m., Sunday – the best from 18 winegrowers from Randersacker, from XNUMX p.m. to XNUMX p.m
Sonnenstuhl Halle, Am Sonnenstuhl, 97236 Randersacker, tourist-info@randersacker.de,
for Saturday €75. Sunday 12 € box office
Registration required for Saturday / Sunday at the box office 12 €)
Book your accommodation in Randersacker here*
Rödelsee Wine Festival around Crailsheim Castle (30.06.23 – 03.07.23)
Crailsheim Castle, Schlossstrasse 2, 97348 Rödelsee
Rödelsee Schlossschoppenfest (16.08.23, 14.00 p.m.)
Crailsheim Castle, Schlossstrasse 2, 97348 Rödelsee
Book your accommodation in Rödelsee here*
Wine Festival in Markt Einersheim (21.07.23 – 23.07.23)
Old town / market square, market square, 97348 Markt Einemsheim
Book your accommodation in Einersheim here*
Our tip for a wine weekend in these Franconian wine towns on the Main? Be sure to take the time to enjoy yourself. In addition to good wine, these places offer interesting sights. You can't visit them all in one weekend. Instead, pick the ones that pique your curiosity and come back next year. Enjoyable days await you in the wine country of Franconia.
---
Travel Arrangements
Arrival to your wine weekend

Arrival by plane, bus or train*. The nearest airports are Frankfurt as well as Nuremberg. It is also possible to travel by train or long-distance bus (to Würzburg).
Rental car in the Franconian wine region:
Cheap rental cars - book here!
Camper Rentals:
Accommodations for your wine weekend:
Would you like to spend the night in another wine town in Franconia? Then search for yours on this website Weinland Franken Accommodation for connoisseurs * and go on holiday to the winemaker.
---
Do you also know:
Quelle Holidays at the winemaker in Franconia: research on site
Text Holidays with a winemaker in Franconia: © Copyright Monika Fuchs and TravelWorldOnline
Photos Holiday with a winemaker in Franconia: © Copyright Monika Fuchs and TravelWorldOnline
5 wine places for a wine weekend in the Main Valley